'RHOA' Wives Gang Up On Eva Over Cryptic Money Woes: 'Pay Your Bills!'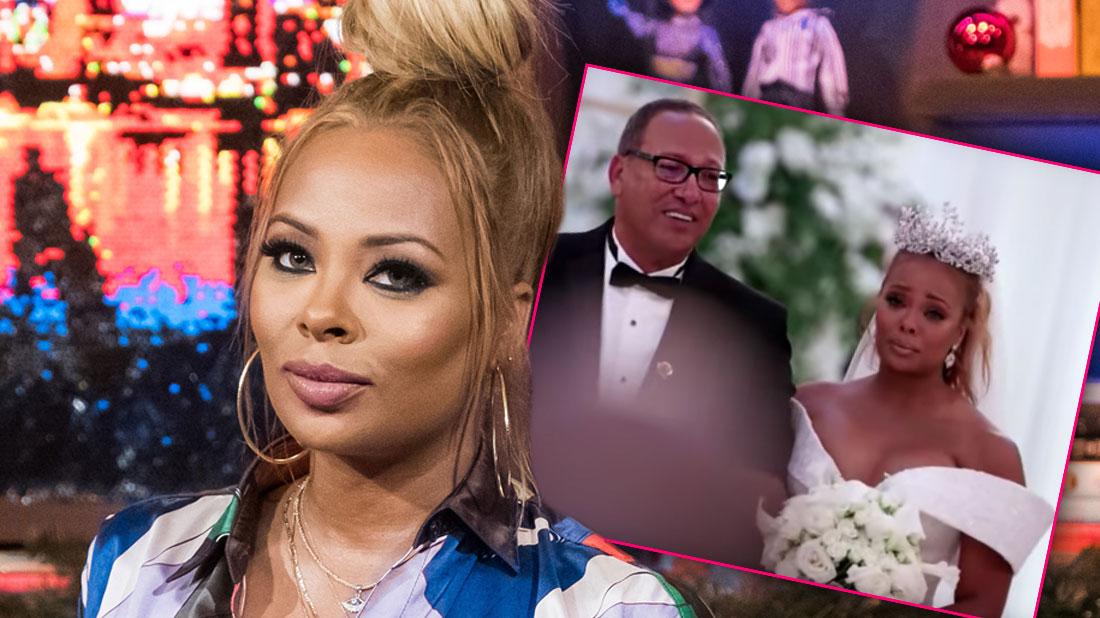 Article continues below advertisement
"She lives in a raggedy little house across the street from the golf course. … The house is in somebody else's name that they live in over there because her credit is too bad. And then his stuff was messed up 'cause they couldn't even get it in his name either," she continued.
Sam seemed shocked, pointing out that Marcille's new husband, Michael Sterling, was a "successful attorney."
Then the bridesmaid dropped the bombshell news that Marcille's car got "repossessed."
The wives agreed someone had to tell Marcille about the rumors being spread about her, and they all decided it should be Leakes. In the end, however, it was Sam who blurted out the news.
The ladies all arrived at the opening of Kandi Burruss' new restaurant, Old Lady Gang II. There, amid cocktails and hors d'oeuvres, the drama exploded.
Sam pulled Marcille to the side to tell her about the rumors, forgetting that she had agreed to allow Leakes to do the talking.
Article continues below advertisement
"I just want to tell you something, but I hate that I have to tell you something," Sam said, and told Marcille about the phone call with her friend. "This girl was spilling some negative stuff," she explained. "Like your credit is bad."
"Did Credit Karma call her?" Marcille joked, but said she knew exactly who the friend was that was trash talking her to Hampton.
"I think it is very juvenile for Marlo to sit around and talk about rumors you've heard. It is beyond petty, it is beyond messy, it is sad," Marcille said.
She then stormed out of the party, ripping off her microphone in the process.
"I am in the midst of my honeymoon. To hear this despicable dirt. This whole thing just stinks, I don't want nothing to do with it. Thank you. And good day," Marcille said in her confessional about why she left.
Leakes was mad that she wasn't the one to talk to Marcille, so she called her and met her in the parking lot.
Hampton had another shocking tidbit of gossip, revealing that the bridesmaid told her Marcille was "a full-blown lesbian in L.A. and she has a girlfriend there."
Article continues below advertisement
Marcille revealed the truth about why she and Michael were moving from one rented house to another (she previously told Burruss they were moving before they bought a house together, a story Burruss called "fishy").
"They don't understand the gravity of our security concerns ," Sterling told Leakes in the parking lot.
"We had the FBI involved," Marcille insisted, referring to the father of her daughter, Marley.
Leakes finally talked Marcille into coming back inside the party.
"Don't let them write your damn story," she said.
After returning to the event and with her microphone back on, Marcille explained why she frequently moved.
"I have a protective order for safety as it pertains to domestic violence for me, my children and my parents. Every time I move, he finds me. Because of that, I live in multiple places. Safety is a priority for me."
Article continues below advertisement
But her story didn't ring true to at least one RHOA castmate.
"I believe that your baby father might be a little cuckoo, but girl, he ain't after you like that," Hampton said in her confessional.
"You post on your Instagram where you're going, where you're making appearances at. That man ain't checking for you like that, baby. That's done and over with," she continued.
At the party Hampton warned Marcille: "Watch who the hell you tell your secrets to. Pay your bills," but Marcille didn't want her advice. "I do the best that I can do… and I sleep well."
More of Leakes' troubled relationship with husband Gregg Leakes was shown on the RHOA episode.
"Gregg and I talked about separation, but I don't want to just throw my marriage away. My brain is just scattered," Leakes said about their relationship.
"I was really feeling like, are we going to make it?" she said.
RadarOnline.com readers know Gregg Leakes is suffering from stage 3 colon cancer.
"I would look like the bad person, leaving him while he's sick. But being married to him, at this moment, I'm not happy," she confessed.
Article continues below advertisement
She and her husband had a heart-to-heart in their home.
"I know you're going through a lot, you've' been really, really grouchy lately. Really mean," NeNe Leakes told him.
"I don't even know where it is coming from," her husband replied. "I am so afraid going through this journey I have emotions that I've never had."
"When you got diagnosed with cancer, I felt like my marriage was lost. It's been really, really hard," she told him, and he agreed.
"It's been hard on both of us. I didn't ask for this," Gregg Leakes said.
"We've had a long relationship we've had a lot of great times. The times you've been extremely mean I felt like I want to break up, I want a divorce. I have felt very alone, and this has been very hard," she told him.
"I wish I could do a whole lot more. Just know, please. Know, as difficult as I do make it, it is not intentional. You have to realize I love you so much and I don't want to make this journey without you. I started it with you, and I want to end it with you," he responded.
Article continues below advertisement
Then, Gregg Leakes told her he wanted to speak with a doctor. He added that he was reconsidering his treatment and was open to discussing radiation and chemotherapy.
"I want to see you smile again. I was to see you happy again. You with me?" he asked his wife.
"I've been with you every step of the way. I know I'm not the best care giver, but I want you to do what is best for you," NeNe Leakes said.
Porsha Williams was not a part of the RHOA storylines on the latest episode, but as RadarOnline.com has learned, she recently revealed the name of her newborn baby. Welcome to the world Pilar Jhena!