NeNe Rips Marlo For Attacking Eva & Telling Her To Lose 10 LBS ASAP!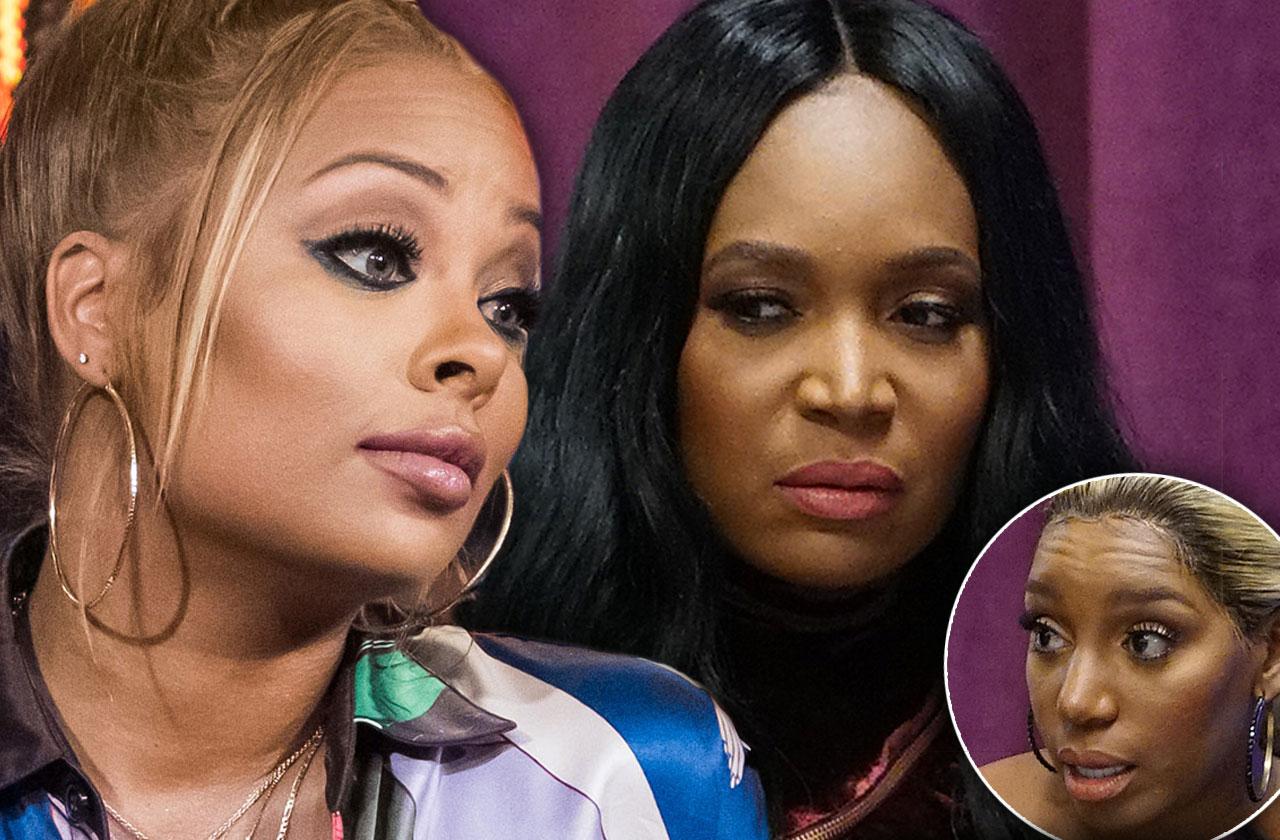 NeNe Leakes plays defense!
The Real Housewives of Atlanta OG ripped into her good friend Marlo for telling Eva Marcille she needs lose weight on the December 30 episode of the Bravo show.
Ending the year with a bang, Leakes didn't let Hampton get away with attacking Marcille while they were wedding dress shopping.
"At least it is couture. Does she know what couture is?" Hampton asked Leakes when they arrived to a fancy dress store.
Article continues below advertisement
"I need one little small request. I just want 10 pounds off," Hampton said to a shocked Marcille.
But Leakes immediately jumped in to defend the bride-to-be.
"B***h you need to f**king stop with your big a** eating cake, ice cream, sandwiches, going to the gas station for potato chips, lollipops," she said to Hampton.
"NeNe is my girl," Marcille said in her confessional, admitting that she was sorry she had not invited Leakes to her bachelorette party.
"I appreciate her coming to my defense. Thank you NeNe for reminding Marlo the circumference of her a** is huge," she added.
Marcille insisted she had "already lost 30 pounds and I had a baby yesterday."
"Not yesterday," Hampton replied.
"13 weeks ago," the new mom said.
"That ain't yesterday, that's 13 weeks ago," Hampton pointed out and noted the dress Marcille was trying on could be altered.
"The slit is going to help in in the weight," Hampton told Marcille.
Article continues below advertisement
"Shut up Marlo," Leakes told her.
Meanwhile, Cynthia Bailey had an emotional episode with her 18-year-old daughter, Noelle, shipping off to college at Howard University in Washington, DC.
"The crazy thing is I don't even want her to go," Bailey confessed.
Bailey's teenage daughter questioned if she was going to actually make it to college.
"I just can't do it," a sobbing Noelle told her mom.
"You can do it babe," Bailey tried to tell her daughter, who was inconsolable. "Don't think about going."
"How can I not think about it? I leave in two days!" Bailey said.
A heartbroken Bailey struggled with what to do for her daughter. "For the first time in my life I don't know how to fix this."
"I've always known that this day would come, that Noelle would fly out of the nest. I just have to let Noelle know she's going to be ok," Bailey said in her confessional.
Article continues below advertisement
"Cynthia, now listen. She has to go. She's gonna obviously think she's gonna be homesick but when she gets there she's going to say to herself, 'Why was I doing that?' She is not going to want to come back home," Leakes said truthfully. "She is going to be meeting so many people from around the world."
"I can't totally relate to this exact experience because I didn't go to college but I did leave home at 18. I feel like I would be doing her a disservice not to be pushing her own life," Bailey said.
Bailey ultimately moved her daughter into her dorm and took her out to dinner before saying goodbye.
On the home front, Leakes was candid about her husband's cancer diagnosis.
"When I met Gregg he already had a basketball team of children and now that he's sick they're visiting a lot more often and it is awesome," said Leakes.
With his sons in the room, NeNe's husband Gregg opened up about his health.
Article continues below advertisement
"You know I was diagnosed with colon cancer, but I have been totally healed by God," he told his grown children.
"When they cut his colon, they cut the cancer out. So, there is no cancer in his body today. What they are saying is a couple of cells penetrated the tissue wall. So, when that happens the normal thing is to do chemo," NeNe told the crew.
Gregg told his sons that they should all get colonoscopies too.
"I can talk to younger guys, go get tested. I'm the result of not getting tested," the dad informed them.
Pregnant Porsha Williams was the comic relief of the episode.
She joked that her baby had been passing her gas! She then blamed her stomach pains on beau Dennis McKinley.
"Ok, listen I woke up and normally he says 'Baby, what do you want for breakfast?' and he goes on downstairs and he cooks and that's my fart time, right? But this morning he decided to just lay there and linger and check emails in the bed so I'm like 'When are you going to cook breakfast?'" Williams explained.
Article continues below advertisement
"She ain't farted since we met," McKinley joked.
The happy parents took a trip to the doctor to see the baby via ultrasound.
"Everything looks real good guys," the doctor told the couple.
"It's like is this baby really growing inside of me. Seeing Dennis' face and how excited he is that we're having a child together I know this is exactly who I should be having a child with. This moment is something I prayed for."