Porsha's Pregnancy Secret Busted! Williams Confesses She's Expecting To NeNe Leakes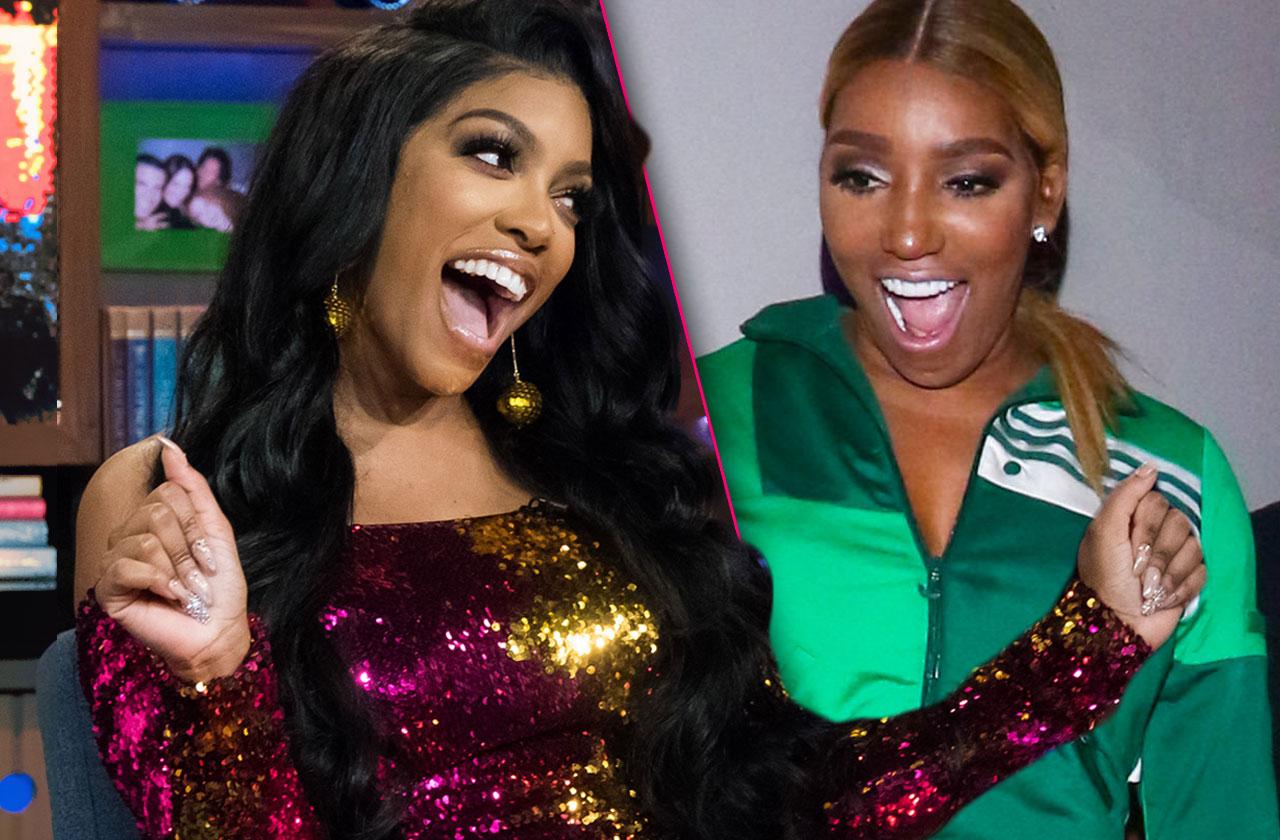 Article continues below advertisement
She concocted a "potion" to pretend like she was boozing by mixing orange juice and Coca-Cola in a Hennessy bottle, which went against everything she stood for.
"This is tough right here, this is a test," the mom-to-be joked.
Her fellow RHOA co-stars were already suspicious of her growing belly.
"She has a baby on the way. I'm going to speak it into existence," Marlo Hampton said about Williams. "Her stomach is looking big."
Detective Cynthia Bailey weighed in. "Wait a minute, wait a minute. Porsha has not been drinking on this trip!" she revealed. "Her stomach is definitely not flat. And you guys, when we pulled up at the gas station — you know how at the gas station they sell those big dill pickles in a jar? I think she bought one!"
She had an idea. "Should we make her take a pregnancy test? She's sleeping, she's gaining a little weight, and she's not drinking…Forget the rest, the fact that Porsha's not drinking? Porsha's pregnant!"
Article continues below advertisement
NeNe Leakes was excited about the prospect of Williams having a baby.
"I would be really happy for Porsha because I feel like a baby would really change a lot about her. It really would. Because I feel like my first child changed my life," Leakes said.
The Hennessy trick almost worked when she pulled out the bottle and started drinking at dinner with all the ladies on the last night of their trip to Destin, Florida.
"It's the last night. I know I haven't had anything to drink with you ladies, but I thought I would do a little something," she said.
Williams explained her trickery in her confessional. "It's just one lie against another. But they eating it up so ladies and gentleman, that's how it's done!"
Hampton believed her, saying,"Dammit I thought Porsha was with child. I hope she's not drinking Hennessy with child."
Article continues below advertisement
And Bailey believed her boozing too. "We were wrong," she said. "The only thing that Porsha's having is Hennessy. She's not having a baby. The bottle don't lie."
But Leakes knew the truth because Williams finally confessed.
"I cannot lie to NeNe!" Williams admitted.
"Ooh wait! Okay wait a minute. I gotta hold my balance. We got to keep that secret. I'm not going to say anything but I gotta tell you though, I'm excited! Just in anticipation of all that," Leakes said.
"For years now, Porsha's wanted to be married and have a baby," Leakes added in her confessional. "This is going to change Porsha's life, from the Hennessy to the God damn baby bottle b***h. It's on!"
Meanwhile, Hampton wasn't only trying to figure out if Williams was pregnant. She was fighting with Shamari DeVoe too.
Hampton burned a bridge with DeVeo after offering her unsolicited fashion advice.
"Anyone at this table can dress you better than how you come," Hampton said.
Article continues below advertisement
DeVoe did not take the advice well. Instead, she proceeded to call Hampton a b***h multiple times.
"Say it one more time," Hampton provoked DeVoe.
Hampton then attacked DeVoe's singing. "Your voice is awful," she said.
"Honey, I sold over 5 million records," DeVoe fired back. "You can Google me back to the '90s, honey. I was a A-list when you was a alias!"
"Girl, that was back then! What are you now?" Hampton said to DeVoe.