Baby Bombshell! Porsha Stuns Boyfriend With Pregnancy News During Birthday Bash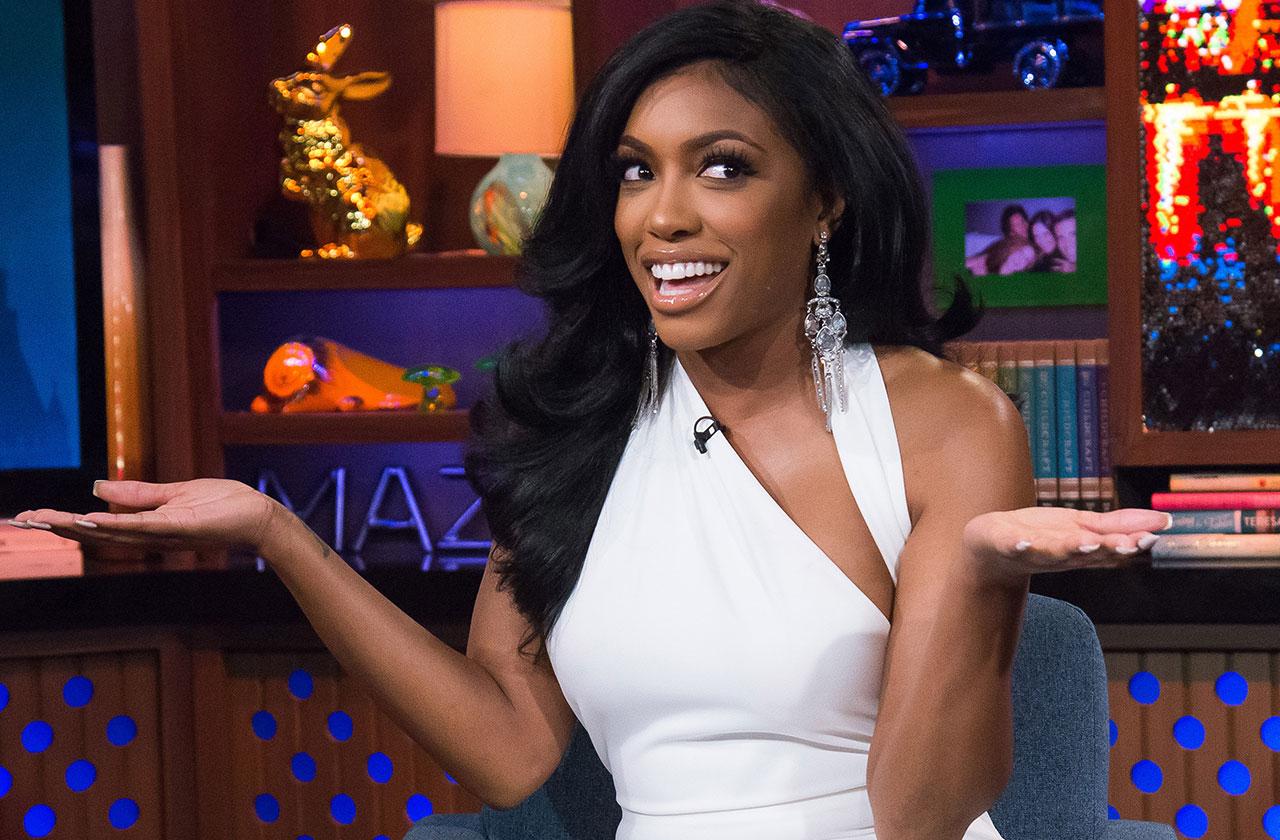 Porsha Williams' boyfriend was not expecting to be a dad!
On the latest episode of the Real Housewives of Atlanta, the star dropped the bombshell during his ritzy birthday bash.
Presenting him with a glass of champagne, Williams gave her beau a present: teeny baby shoes. "Aren't these cute?" she asked him after unwrapping the gift.
Dennis McKinley looked confused, so Williams gave him a pair of baby pajamas.
Article continues below advertisement
"I'm pregnant," she finally blurted out, which only made her boyfriend laugh. Williams showed him her pregnancy test (that she pulled out of her bra) for proof.
"I was drinking apple cider!" she told him about her own drink. "I wasn't really drinking champagne!"
McKinley was overwhelmed by the good news and started crying.
"I have never had someone love me the way that he does," Williams said about her man. "I have never had someone wanna be there for me, so that's why this pregnancy is like a miracle to me because I'm starting to see all these things that I have prayed for and wanted for so many years actually happen."
Then, Williams and Kandi Burruss had a come to Jesus meeting that didn't exactly go as planned.
Burruss had been trash-talking McKinley and his past lovers, and Williams wanted that to end.
While Burruss tried to explain why she'd been talking about McKinley's exes, Williams dismissed his past.
"Most people's vaginas and they penises ain't exclusive, honey," she told Burruss who responded: "Yeah but we don't tattoo everyone's name that we had sex with."
Article continues below advertisement
Burruss tried to explain her concern to Williams about her new boyfriend: "Let me just say this. In my opinion you get caught up in the relationship real early… I feel like somebody should give you a heads up."
But Williams didn't want to hear her advice.
"I'm just warning you to go slow," Burruss said. "That's all. Yeah, I may be shady sometimes. I feel like we've been shady the last couple of years. It can get better."
"The last thing I want to do is start a whole beef with Kandi," Williams said. "If you're done with being messy I'm gonna let it go. Let's just move on."
In another scene NeNe Leakes was seen hosting another of her wild parties: Boobs and Bourbon. And all was fun and gamed until Eva Marcille and a random friend got into a heated fight.
Marcille did not remember the woman named Yovana, and that made her mad.
Article continues below advertisement
You're really good friends with Tiffany, which is my BFF," Yovana said. Tiffany was one of Marcille's bridesmaids and Yovana was angry that Marcille did not remember her.
"Let me get to my point!" Yovana screamed. "Can I spit out what the f**k I'm trying to say?! My problem is…" but Marcille wasn't taking the bait.
"I don't recall meeting you before?" Marcille told her but Yovana was irate.
"That's impossible!" she yelled again. "I mean, I was that b**ch! I was Yovana from Clark! C-A-U! I'm just trying to understand why she never spoke!"
Marcille finally exploded too. "Because it was 16 years ago, and I don't remember people I saw at the grocery store two days ago!" she said.
Marcille ripped into Yovana in her confessional. "There's absolutely no way I'm going to hang out with anyone that opts to wear a flammable yellow dress, reminiscent of a banana-flavored condom. Not happening!"
Stay with RadarOnline.com for weekly recaps of the Real Housewives of Atlanta.
We pay for juicy info! Do you have a story for RadarOnline.com? Email us at tips@radaronline.com, or call us at (866) ON-RADAR (667-2327) any time, day or night.