Uh-Oh! Kandi Bashes Porsha's New Boyfriend Over Shady Dating Past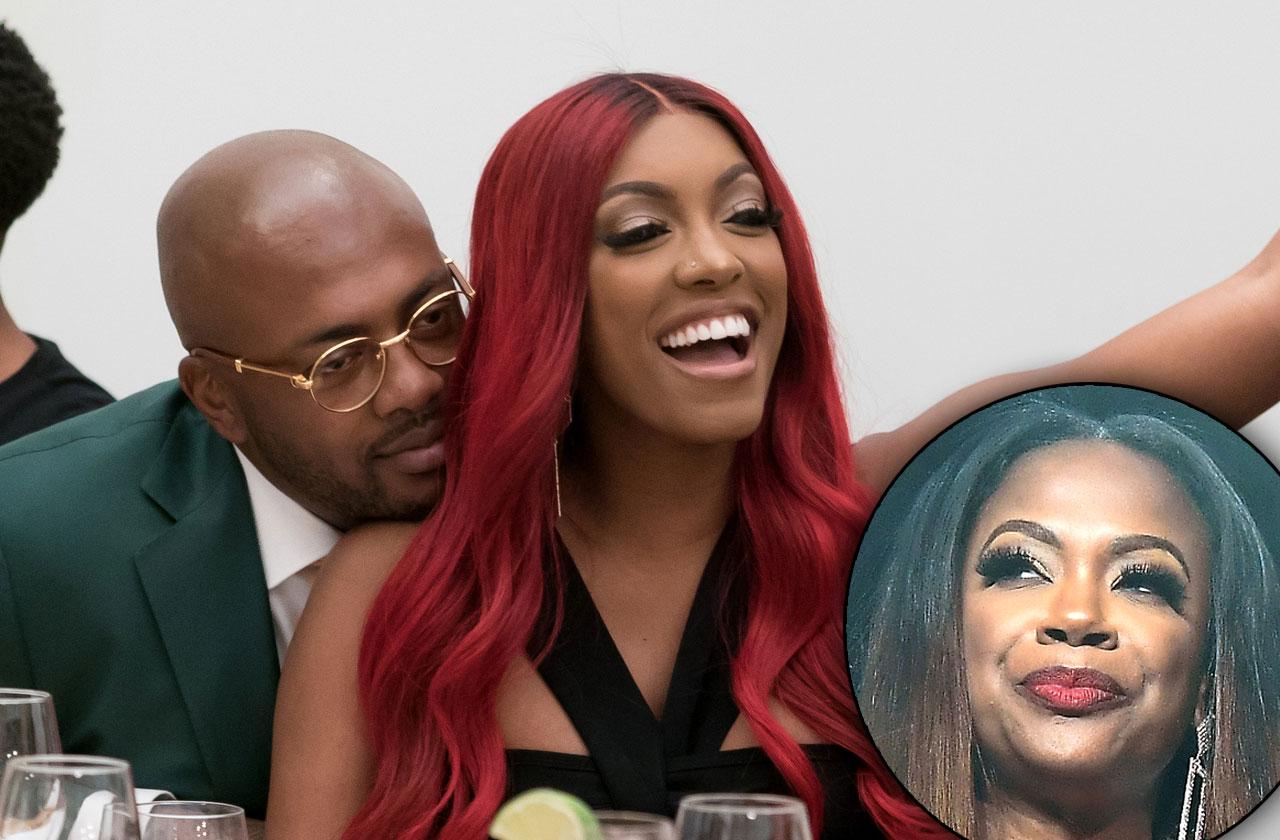 Porsha Williams' new boyfriend's shady dating history was dramatically revealed by Kandi Burruss — who just couldn't wait to spill the tea.
On the latest episode of The Real Housewives of Atlanta, Burruss revealed Dennis McKinley was not only dating two other women when he got together with Williams, but that he actually got tattoos of both their faces and names!
"She was talking to us about her new boyfriend, child," Burruss, 42, told her friend Carmon about Williams, 37, gushing over McKinley, 42, before introducing him to the rest of the RHOA ladies.
Article continues below advertisement
"I mean, obviously, we know people that he kicked it with before. He went and bought her a little Rolex, girl!" Burruss spilled.
Carmon snickered, "Oh, he likes Rolexes, huh?" and Burruss said: "I guess he does, cause didn't he buy that other girl a Rolex?" Burruss asked.
"That's what I heard," Carmon said.
Soon, Jami Ziegler, who had a nasty fight with Williams three years earlier, showed up to talk to Burruss and Carmon.
"Yeah, I know him," Ziegler said about McKinley.
"My friend dated him. But when we were in Africa, she found out 'cause her friend texted her and said that he's with Porsha now, and so it was a big situation. She was crying!"
Burruss was stunned. "You mean, she didn't know he was dating somebody?"
Ziegler said her friend and McKinley dated for "two-and-a-half, three years," but Burruss said she wasn't his only girlfriend.
Article continues below advertisement
"That can't be right because I know a couple girls that he was dating during that time," she dished.
Then Burruss revealed McKinley's trademark move.
"He falls pretty quickly — and he tattoos people's names on him. I think he got her face and her name," she said about another woman he dated.
"She said that he had a tattoo of her name," Ziegler revealed about the other woman.
The three shrieked and laughed about the prospect of McKinley getting a tattoo of Williams.
Switch to Williams talking to her mother about her new boyfriend.
"We're down in Miami, we have this beautiful dinner, he gives me my Rolex watch," she revealed and then she showed her mom a picture of a tattoo on McKinley's thigh – of her name!
Williams dropped another bombshell on her mom.
"I didn't tell you the other part! He's gonna put my face on his back! This is for real, like, he ain't going nowhere," she said about her boyfriend's plan to get a new tattoo.
Article continues below advertisement
"He said, 'You're the first person that has brought this type of happiness and joy in my life,'" she explalined. "It's like a freaking dream! He said, 'If I can't make dinner, I order freshly prepared meals from a meal-prep company.'"
Amid the romance drama, NeNe Leakes' husband Gregg continued his cancer treatment, but decided against chemotherapy despite his doctor's advice.
"Chemo is not something that Gregg is thinking about doing at the moment," Leakes, 50, said after they visited the University of Texas MD Anderson Cancer Center in Houston.
"Obviously we hear all the report of people doing chemo and being very sick. So, he feels like if there's any other options that can take, I'd rather take those options and let chemo sit on the back burner for now," she continued.
Dr. Kopetz spoke to Gregg about the risks he still faced.
"There other areas of cancer that may still be in the body that we just don't know about. Microscopic cancer cells floating around somewhere in the body that, if we don't do anything for those, will grow back and show back up as cancer," he explained.
Article continues below advertisement
"I would use chemotherapy at this point to try to reduce that risk of the cancer coming back. What we do know is that chemotherapy can reduce that risk of the cancer coming back by about half," he added.
Leakes and her hubby asked about alternative medicines, but Dr. Kopetz said none of those "have been studied in a more rigorous way," or had been found effective.
"We're certainly supportive of patients who want to think about how to integrate that. Unfortunately, there's nothing that we have that I can recommend in lieu of the chemotherapy that we know could help reduce that risk."
"I don't want to miss out of the big picture, which is this is something we can fight," Dr. Kopetz told the couple.
But they decided against chemotherapy.
"I'm very much on the same page as Gregg," Leakes said. "I'm not sure I would do chemo. We've watched chemo destroy people, so it's not something that he is even interested in."
"Gregg is definitely on a rollercoaster. His emotions are all over the place. He cries, he's short patience, he's frustrated. I feel like because he is weak at this moment, he needs someone who is going to be strong, so I feel like I have to be his rock as he has been my rock for so many years," she said.
Article continues below advertisement
Leakes then joked about the drastic measures she would take for her husband.
"I'm here to do whatever I can to make Gregg heal. So, Toni Braxton called us and gave us her holistic wellness person to talk to. If someone tells me I need to buy trees, I buy the whole damn forest. 'Cause I want my Gregg back. The one I married," the star concluded.
Stay with RadarOnline.com for weekly updates on The Real Housewives of Atlanta.
We pay for juicy info! Do you have a story for RadarOnline.com? Email us at tips@radaronline.com, or call us at (866) ON-RADAR (667-2327) any time, day or night.