'I'm Pregnant!' Porsha Drops Baby Bombshell Amid Epic Fight With Eva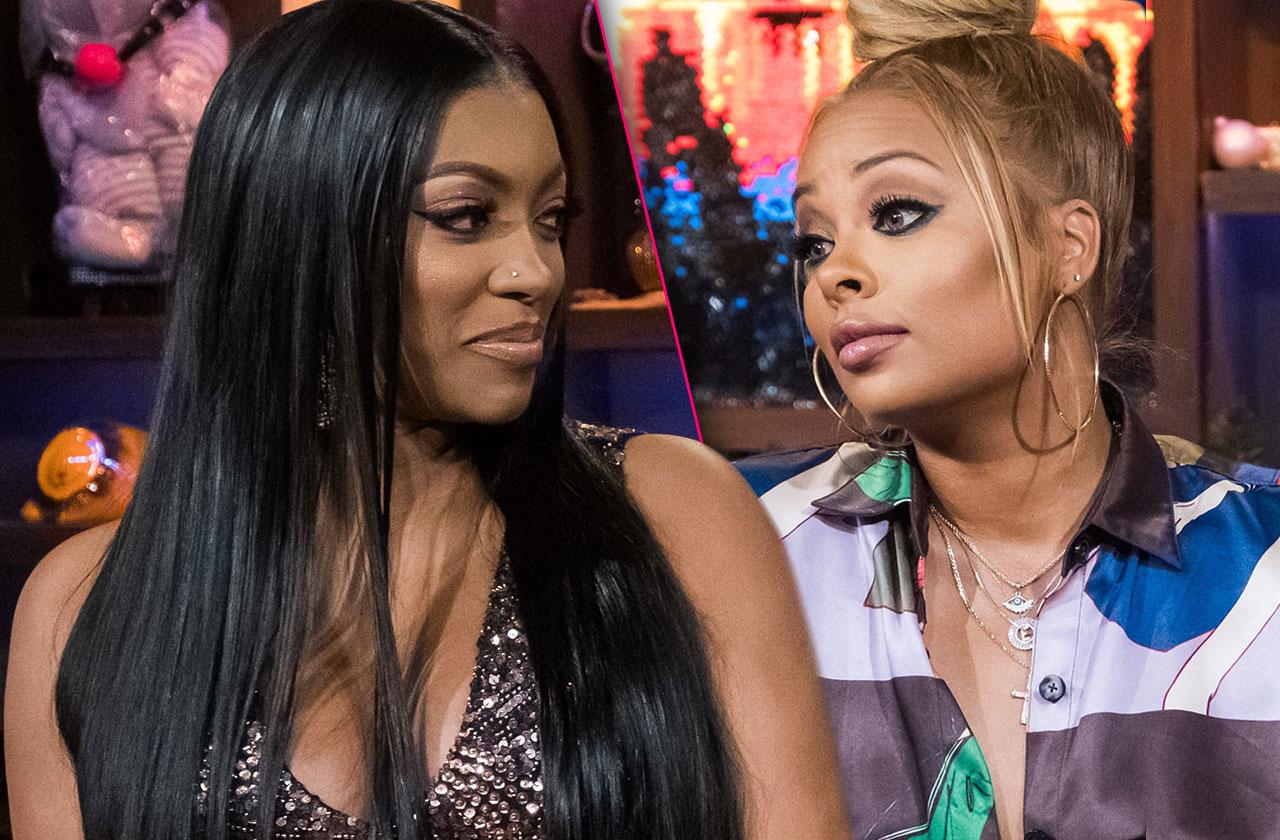 Porsha Williams finally dropped a massive bombshell on the latest episode of The Real Housewives of Atlanta. Following a heated fight with Eva Marcille, the star told the ladies she was pregnant!
Williams dropped the baby news during a girls' trip to Tokyo. Wearing a Gucci fanny pack, she told the group that she wanted to teach them a new Japanese word.
"Ninshin – Chuu," she had them repeat before tearing off the fanny pack to reveal her baby bump.
Article continues below advertisement
"I'm pregnant ," she said as the ladies cheered.
"I am happy she is finally going to be a mother," Kandi Burruss said despite their ongoing feud.
"I knew Porsha was pregnant," Shamari Devoe said. "You were not drinking, you were detoxing!"
And Cynthia Bailey said she couldn't hide it anymore because she had "popped front and back."
Before they left for the trip NeNe Leakes visited Williams and made fun of her poor hygiene.
"You are in the early trimester of pregnancy, I can't wait to see what six to eight months is like, you ain't gonna be taking no bath!" she said.
Before Williams' happy announcement, she and Marcille had a nasty exchange.
"I like you Porsha. I feel like you and I tried to get to know each other. But when we were at Tanya's house to throw me on blast for being shady," Marcille said. "That's a character assassination."
Article continues below advertisement
But Williams had her own take on the situation.
"I don't understand why Eva has such a big issue with her being shady," she explained in her confessional. "To me that's just guilty because guilty people don't want to be labeled. Welcome to the group, you fit right in b*tch."
"In this group of women if you're going to talk about somebody behind their back, somebody is going to call you out. Porsha is calling Eva out on her sh*t," Leakes said.
But Marcille's trip took a tragic turn after the dinner when her mother called to tell her that her grandfather had a heart attack and wasn't expected to survive.
"He was the son of a sharecropper who was the son of a slave. With all the racism discrimination, Jim Crow, he still taught us to be the best we can be in spite of humanity's flaws," she said through tears about her grandfather. "This sucks on a whole other level of sucking."
Article continues below advertisement
Meanwhile, Leakes told the ladies that she and Gregg were not in a "good place," amid his cancer diagnosis.
"I need to get through the telephone and choke the f*ck out of him," an exasperated Leakes said.
She ended up having an ugly fight with her friend and new RHOA cast member Tanya Sam, who questioned why Leakes said she wasn't going to marry her fiancé of three years.
"Do we have a piece of paper in a legal courtroom that says we are married? No," Sam said about her relationship.
The ladies asked her if she was secretly married and she said no, after which Leakes snapped that maybe her romance was "not that serious."
"It ain't that serious to me," she teased.
In her confessional, Sam was confused by Leakes' negativity, saying "I don't know who NeNe is now."
"Please don't think I care about your marriage," Leakes told her.
The ladies had previously visited a sacred temple where Leakes said that she thought Sam might end up marrying someone else and she didn't apologize for what she said.
"It was not a joke. I have been married over 27 years I'm very serious about love. If you took it personal too bad," she said.
"Woah why are you wishing for me to marry someone else?" Sam asked her.
"I'm not wishing a mother f**king thing," replied Leakes. "I don't give a f**k."
Stay with RadarOnline.com for the "to be continued" fight on the next episode of the Real Housewives of Atlanta.
We pay for juicy info! Do you have a story for RadarOnline.com? Email us at tips@radaronline.com, or call us at (866) ON-RADAR (667-2327) any time, day or night.