'RHOA' Recap: NeNe Leakes' Divorce Shocker Outshines Eva Marcille's Lavish Wedding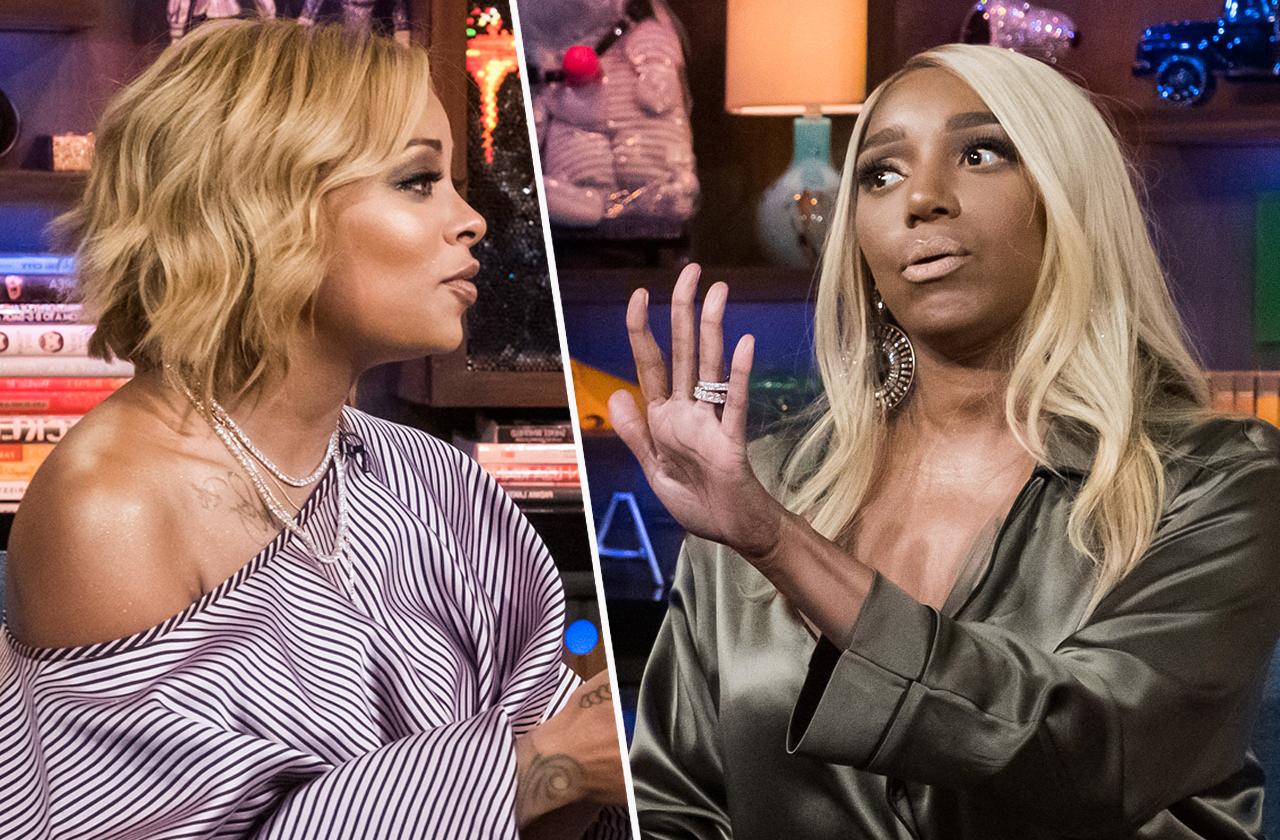 Even with Eva Marcille's gorgeous wedding, NeNe Leakes' marriage issues were the highlight of the latest Real Housewives of Atlanta episode.
While Eva's $1,000 guest ceremony was the epitome of glamour, the RHOA ladies couldn't stop focusing on NeNe and her husband's wild drama, as it was revealed Gregg Leakes was thinking of divorcing his famous wife amid his ongoing cancer battle.
"I wasn't sure if I was going to make the wedding ," NeNe said in her confessional. "But I promised Eva I would do a toast for her and Michael. Even though my brain is scattered I really want to try and be here for her and Michael."
Article continues below advertisement
Wearing a crown and a princess gown, Eva was a beautiful bride.
"As I am getting ready to walk down the aisle, I see the most important men in my life first. I see my dad, waiting to give me away, I see Mikey and I see his dad, Michael and I am just overwhelmed with emotion," she said in her confessional after the beautiful ceremony.
"You could just see the joy in her face, it's magical. It is definitely making me excited as a bride to be," Porsha Williams said about Eva's stunning look.
"I promise to love you unconditional, unrelenting and eternal. I promise you not only this present love but future love," Michael Sterling told his bride during the nuptials.
"I vow that you will never be alone because no matter where you go my love will always be with you. When God sees fit to take us from this place, I promise you that I will ask her if she will let me be with you in the next life. Because I don't want to imagine this life, or any life, without you," Michael said.
Article continues below advertisement
NeNe fled to the bathroom in tears as the bride and groom walked down the aisle.
"I wanted to leave, but Marlo kept saying to me, 'Don't leave because Eva wanted you to be here,'" NeNe said in her confessional.
A tipsy Shamari DeVoe asked NeNe about her Tweet that said: "When people are sick, is it normal for them to be mean?"
"Is it, like, causing issues between the marriage?" Shamari asked and NeNe struggled to answer.
Article continues below advertisement
"I would say yeah," NeNe told her.
"Don't make her cry," Marlo Hampton warned Shamari.
NeNe then opened up to Cynthia Bailey.
"It's been a really rough day with Gregg and with me," she said. "When Eva said her vows, it reminded me of when we were saying our vows. Right before I came here, he talked about separating."
Cynthia was stunned by her reveal. "Hold on, now. You guys are already in separate rooms. You're talking about separate houses?" she asked.
Article continues below advertisement
"You're doing the best that you can do. You can't control the way Gregg is responding. I really think it is temporary," Cynthia told NeNe, but she had her doubts.
"Gregg lets me take the rap for a lot of things that he's done," NeNe said in her confessional. "People generally point the finger at me, and he just kind of like sits and lets me take that rap, when he knows that it's not that way at all."
In the middle of the wedding the ladies confronted NeNe about the fight in her closet, but she wasn't interested in apologizing.
"B*tch you got it wrong, I need to talk to you about your behavior," she said in her confessional about Porsha and Kandi Burruss.
But she admitted that she was very sensitive about having people in her home after the Kim Zolciak "Roachgate" scandal.
"I felt humiliated last year, my closet was dirty, I didn't want nobody videoing in there," she explained.
Article continues below advertisement
"I'm coming from a place that I don't want to argue about this," Porsha told her.
"It would be great if you guys were rallying around me," NeNe sadly told the women. "It would be nice if you would show me some f**king love."
In her confessional Porsha called NeNe out.
"You never know how upset you're going to get with any given situation. I don't think that she went into that party knowing that she was going to put her hands on someone. But it just happened like that, she got that upset, she put her hands on somebody and it was on camera," she said.
"I've tried to be supportive of NeNe," Kandi confessed. "I don't know what else to do. She' really doesn't open up to me. We don't have as close of a relationship as she does with Marlo or Cynthia."
But the women apologized and made up and NeNe was able to return to the wedding and give a toast.
"To the bride and groom. May you live each day like it's your first, and each night like it's your last. Never go to bed angry. Stay up and fight all night. The secret to a happy marriage remains a secret, but to me, I believe that respect and communication is the key to a happy marriage," NeNe said.