'I'm At My Breaking Point!' NeNe Suffers Meltdown Amid Husband's Hospitalization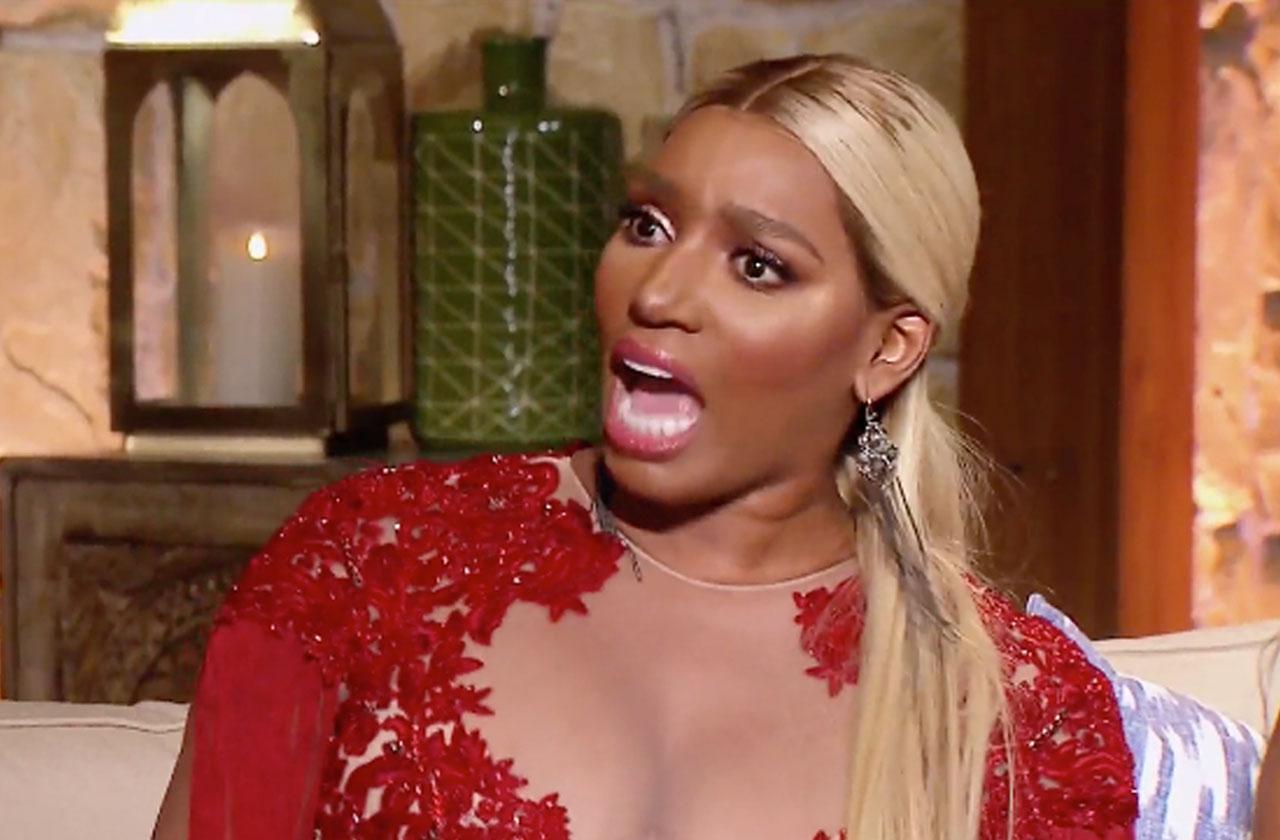 The stress of Gregg Leakes' cancer diagnosis finally brought NeNe Leakes to her breaking point on the latest episode of The Real Housewives of Atlanta.
Despite her husband checking into the hospital for a blood clot, NeNe, 51, decided to go through with a party she was hosting for the girls called "Bye, Wig." But bizarrely, the March 3, 2019 segment ended with her screaming and yelling at her friends and dragging a camera guy out of her closet!
Article continues below advertisement
"Everybody's coming over with no hair," she explained in her confessional about the themed party. "I just wanted to show people that I really have hair."
She gave her bartender the lowdown: "Girls are going to feel insecure, put lots of liquor in their glasses. Feed Marlo lots of crab so that her hair can grow back."
But the day prior to the bash, things weren't going so well for the star. Gregg, 63, began "limping on one leg," and was readmitted to the hospital, terrifying his wife.
"You can die from having a blood clot," NeNe confessed.
NeNe tried to put on a happy face but when Porsha Williams and Marlo Hampton showed up to her party hours late, she completely lost her temper.
In her confessional, NeNe explained that the day before Gregg texted Porsha, 37, and Marlo, 43, asking them to check on her. Marlo couldn't reach NeNe on the phone and drove out to her house, afraid that she was in a desperate situation. But NeNe wasn't home or answering her phone.
Article continues below advertisement
"B*tch please," NeNe said to Marlo.
"I'm late because of you," Marlo told her, but NeNe wasn't stopping.
"Marlo with your big giant mother**king b*tch," she yelled.
"You don't come five hours late b*tch. You ain't Purple Rain b*tch."
"I had a hair appointment yesterday," Marlo explained, saying that she missed it to check in on NeNe.
But NeNe wasn't having her excuse , screaming that Marlo was fighting with her the day before.
"Yesterday I was in tears," Marlo said. "I don't know what's your breaking point."
"Marlo support me b*tch. Don't be f**king fighting with me. I'm going through everything. I am your sister bi*ch. I'm going through a lot of things. You argue with me?" NeNe yelled and broke down in tears.
"I have seen NeNe go from 0 to 100 but this is a total breakdown," pregnant Porsha explained in her confessional. "This is NeNe at her most vulnerable state."
Article continues below advertisement
Marlo told the ladies why she was so worried about NeNe: "I thought she was trying to hurt herself or kill herself."
A sobbing NeNe almost couldn't talk. "He's sick," she said about her husband.
"And when the doctors put him in the hospital, I was devastated. I'm not a devastated person. I don't break down."
"Normally NeNe doesn't allow herself to break down in front of everyone. I'm not used to this. I don't know what to do," Kandi Burruss said in her confessional.
NeNe and Marlo headed up to her bedroom to apologize to each other.
"I'm sorry, I love you and I understand," Marlo told NeNe, who said: "I'm at my breaking point."
Downstairs, Shamari DeVoe got so drunk that she vomited on Eva Marcille's dress and left the bash. Eva, 34, went up to NeNe's room with Cynthia Bailey to borrow a dress.
Kandi, 42, and Porsha followed them up to NeNe's bedroom and asked to see her closet.
Article continues below advertisement
"Oh, hell no," NeNe told them, but Kandi, who said NeNe "has always told me I need to see her closet and how fabulous it is."
"Porsha don't go in my closet. My closet is not together. Cynthia go get them and bring them out," NeNe said. "I'm going to cuss y'all out, all y'all trying to be nosy," NeNe warned.
A camera man dressed in a black shirt followed Porsha and Kandi into the closet and NeNe chased after him and dragged him out of the closet by his shirt.
"Get the f**k back. Get the f**k out of my closet b*tch. Don't f**king play with me mother**ker. I will f**k you up," NeNe screamed.
A terrified Porsha quickly left the room because she was "scared" and the show ended in the middle of the wild bedroom brawl.
Will NeNe Leakes be ok?
Stay with RadarOnline.com for weekly recaps of the Real Housewives of Atlanta.
We pay for juicy info! Do you have a story for RadarOnline.com? Email us at tips@radaronline.com, or call us at (866) ON-RADAR (667-2327) any time, day or night.