Proof: Lee Harvey Oswald Was A Trained CIA Operative!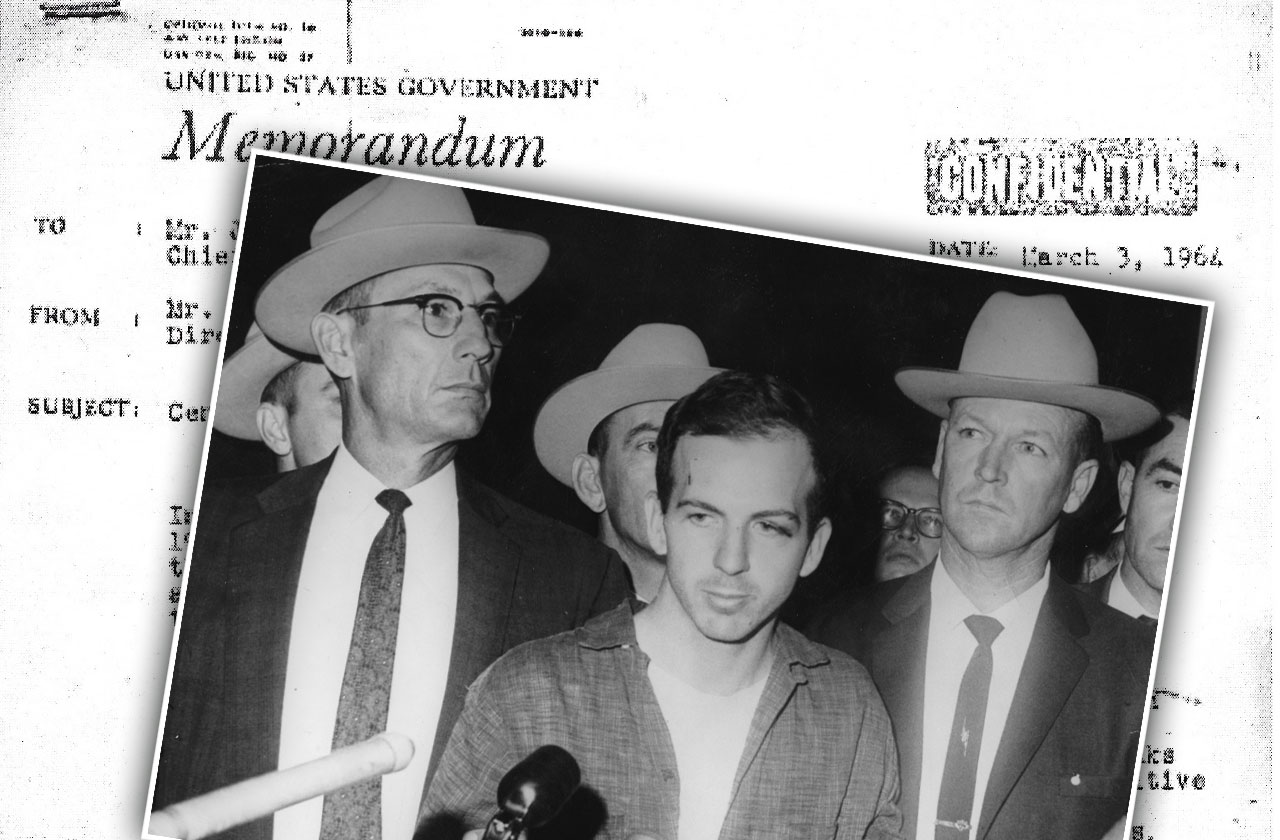 Lee Harvey Oswald was a trained CIA operative, and his American spymasters covered up the secret after he blew John F. Kennedy's brains out! That incredible, long suspected — yet never proven — revelation is finally verified through a bombshell smoking gun memo obtained by RadarOnline.com.
The memo was authored by John McCone, then-director of the Central Intelligence Agency, to James J. Rowley, the chief of the Secret Service.
Article continues below advertisement
The explosive document is dated March 3, 1964 and ominously carries a subject heading, "Central Intelligence Report on the Assassination of John Kennedy."
McCone states he is writing to Rowley, "In response to the request made by your office on 24 February 1964 re: Lee Oswald's activities and assignments on behalf of this agency and Federal Bureau of Investigation, there follows a narrative summary of the internal subversive activities of the Oswald subject."
"Oswald subject was trained by this agency, under cover of Naval Intelligence, for Soviet assignments," McCone continues. "During preliminary training in 1957, subject was active in aerial reconnaissance of mainland China and maintained a security clearance up to the 'confidential' level. His military records during this period are open to your agency and I have directed they be forwarded to the Commission."
Article continues below advertisement
McCone's letter comes to RadarOnline.com by way of Stephen Jaffe, who worked with legendary New Orleans District Attorney Jim Garrison on the only investigation, to date, to bring charges in connection with Kennedy's murder on Nov. 22, 1963.
"I have reviewed 100,000s of JFK assassination documents over my 50-year career as a forensics expert and it is my firm opinion the McCone-Rowely memo is authentic," Jaffe tells RadarOnline.com.
"The tone of secrecy between agency directors is typical of how they worked to suppress the truth about Kennedy's assassination. That tone of secrecy rings true. It's the way these people talked to each other."
What's more, Jaffe adds: "The sentence structure also rings true and the way Oswald is referred to. The fact that they call him 'Oswald subject' — that's agency speak!"
The memo also emerges as the National Archives is poised to release thousands of pages of never-before-seen and previously classified documents pertaining to the Warren Commission's investigation into the president's death.
Article continues below advertisement
But, as Jaffe explains to RadarOnline.com, the McCone-Rowley memo will likely not be part of that document dump — and for the simple reason that, in the letter, McCone instructs Rowley not to turn over evidence Oswald worked for the CIA unless the Warren Commission specifically asked for it!
"I recommend," McCone writes, "that unless the (Warren) Commission makes a specific request for specific information contained herein, that this information not be volunteered.
"This agency has reason to assume that some junior Commission staff members may be potential sources of leaks to the news media or to other agencies; due to the highly sensitive nature of the enclosed material, it would certainly be in the national interest to withhold it as this time – unless there is, of course, a specific request made," McCone continues.
"I am concerned that if this information were in any way disclosed to the wrong persons, it would lead the media to erroneously claim this agency, and perhaps others, were directly involved in the Dallas action."
Article continues below advertisement
For decades, Americans have suspected Oswald worked for the CIA, although proof remained elusive. As history has recorded, he enlisted in the Marines on Oct. 24, 1956, and was posted to Naval Air Facility Atsugi, near Tokyo. That same base also played home to a super-secret CIA facility.
"Subject received additional indoctrination at our own Camp Peary site from September 8 to October 17, 1958," McCone writes, referring to a Virginia military base.
He adds that Oswald "participated in a few relatively minor assignments until arrangements were made for his entry into the Soviet Union in September of 1959."
Historians have long asserted Oswald defected to the U.S.S.R. — although McCone's letter proves it was all part of a CIA plot!
"While in the Soviet Union, he was on special assignment in the area of Minsk. It would not be advantageous at this time to divulge the specifics of that assignment," McCone writes, adding, while there, Oswald may have been flipped by Soviet spies — and turned into a Manchurian candidate!
Article continues below advertisement
"Speculation within this agency — and this is only speculation at this point," McCone notes, "is that Oswald subject became unstable following surgery April 1, 1961, in the Minsk Hospital."
"He may have been chemically or electronically 'controlled' … a sleeper agent. Subject spent eleven days hospitalized for a 'minor ailment,' which should have required no more than three days hospitalization at the most."
Following this medical procedure, McCone informed Rowley the CIA found Oswald had grown "unreliable and emotionally unstable" — and his career with the agency was wound down. He further insists the CIA had no involvement in JFK's murder, or, as he put it, "the Dallas action."
But incredibly, McCone hints the conspiracy to suppress vital information regarding Oswald's U.S. intelligence ties extended beyond the CIA to FBI head J. Edgar Hoover!
"It is my understanding," he writes, "Mr. Hoover has certain sensitive information within his agency, which has been transferred to his own personal files for safekeeping; he concurs that no material should be voluntarily given to the Commission which might affect the status of field operatives or their safety."
We pay for juicy info! Do you have a story for RadarOnline.com? Email us at tips@radaronline.com, or call us at 800-344-9598 any time, day or night.