'Married At First Sight' Star SLAMS Show For Faking Scenes & Forcing Conversations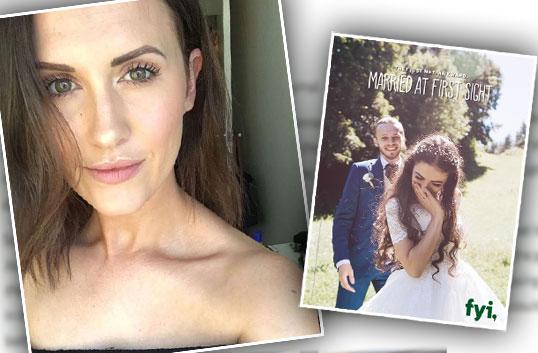 Few couples remain together when Married at First Sight cameras stop rolling – and it could be because of the show's fakery! Simone Lee Brennan, who appeared on the series' Australian version, slammed the show for dooming couples by staging scenes and forcing conversations.
"Reality television, being the usual conniving, clever thing it is, caught hundreds of hours of footage of 'married life' and cut it down to a mere thirteen minutes per episode, per couple," Brennan wrote on her blog. "Needless to say, our relationship, however it turned out, would have never been portrayed to its full authenticity. Not even close. Conversations and events were cut, copied, and pasted."
Article continues below advertisement
She explained how her "fake wedding" was anything but romantic, as she was forced to re-film scenes.
"I walked down the aisle four times," she confessed. "Said my vows three times, and we kissed at the altar twice."
While Brennan trusted the matchmakers to find her a perfect husband, they didn't do much research!
"My faith in the 'matchmaking' process dwindled away somewhat when my TV husband shared with me immediately post-wedding ceremony that he hadn't dated for years and never actually applied for the experiment," she wrote. "He was recruited from a local cafe and thought, 'Yeah sure, why not?'"
She realized the matchmakers failed at their job when her husband was more concerned about getting sports presenting gigs than their marriage.
"Problem was, nobody knew. Nobody but me that is," she wrote. "Week two, day three, of the five-week experiment, while folding a pile of bathroom towels during a filming break, he said to me, and I quote, 'I'm just not that into it'. Needless to say, it just snowballed from there."
Article continues below advertisement
Brennan knew the marriage was over once filming ended.
"I was over the forced conversations that ended abruptly when the cameras switched off," she said. "I was over the staged dinners, literally, set-up by producers only to have to pretend my TV husband had done them himself. I was over overhearing his one-on-one interviews in the next room where he expressed his 'growing' feelings for me #vomit I was over being asked if I was in love yet."
Although Brennan was desperate to return to her old life, it wouldn't make sense for their "story."
"How could I walk away when everything caught on film was nothing short of a blossoming 'marriage' starring the perfect 'husband'?" she wrote. "It was, in one word: f****d."
Are you surprised to hear about the show's fakery? Tell us in the comments!
We pay for juicy info! Do you have a story for RadarOnline.com? Email us at tips@radaronline.com, or call us at 800-344-9598 any time, day or night.