Another 'Married At First Sight' Scandal! 'Possessive' David Norton Once Arrested For Shoving Ex-Girlfriend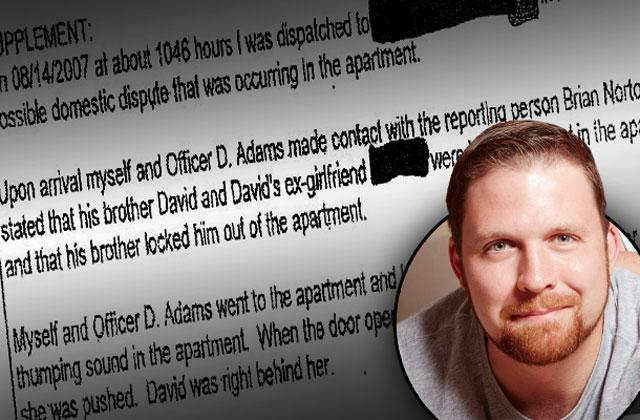 Since splitting from wife Ashley Doherty on Married At First Sight earlier this year, David Norton has said that their relationship has turned "ugly."
However, Ashley's cheating allegations against her estranged husband pale in comparison to cops' claims he became violent with his ex-girlfriend during a blowout fight.
According to a 2007 Peoria, Arizona police report obtained by RadarOnline.com, David's brother, Brian Norton, called authorities when the FYI reality star began acting "aggressive" around his live-in girlfriend— whom RadarOnline.com will call Heidi in lieu of her actual name— following a recent break-up.
Article continues below advertisement
READ THE SHOCKING POLICE REPORT
"Brian said that his brother was a very controlling and possessive person…He became scared for Heidi's safety," responding Officer Adams wrote in the August 14, 2007 report.
When the cop and a colleague arrived to David's apartment and knocked on the door, "the door swung widely open and I saw a larger male subject pushing a smaller female subject down," the officer alleged. "I detained the subject and had Officer Koerner speak with the male subject who was identified as David Norton."
Heidi told the cops that her boyfriend had become "overly possessive" since their split, and when she entered their home that morning, he broke her phone in half and grabbed her.
"I pushed him away from me and ran for the door. When I got there he pushed me and I flew out the door," she said in her witness statement.
Brian alleged in his own witness statement that David, now 30, threatened to "slit my throat and Heidi's" during the violent episode.
MORE ON:
Married At First Sight
Article continues below advertisement
David was placed under arrest for disorderly conduct and criminal damage.
According to Peoria Municipal Court records, he confessed his guilt to the former charge in a plea deal, and the latter charge was ultimately dismissed.
The case was closed after he completed domestic violence classes in 2008.
In Touch was first to report the shocking incident.
David downplayed the incident in a statement to People.
"I was arrested when I was 21, after I got into a loud fight with my brother when I caught him with my girlfriend. I smashed a phone in anger, and I wanted nothing more than to get them out of the house. While I was angry, I never hit anyone," he insisted. "I was young and stupid – it's something that I deeply regret and it isn't something that I'm proud of."
David isn't the first cast member with a dark past. As RadarOnline.com exclusively reported, Samantha Role was arrested for drug possession after a 2003 joy ride in Naples, Florida. (The charges were eventually dismissed after she completed a Deferred Prosecution Program.)