Exclusive
'Unhappy' & 'Controlling!' 'Rehab Addict' Star Nicole Curtis' Mom SLAMS Famous Daughter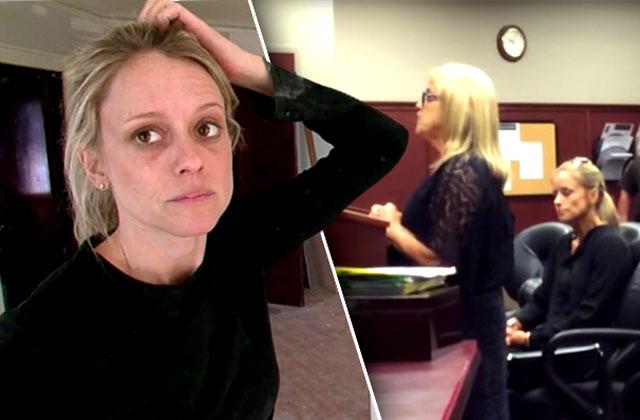 Nicole Curtis is a far cry from the picture-perfect family-oriented star she pretends to be on Rehab Addict, RadarOnline.com can exclusively reveal!
"We don't have a relationship right now," Joan Curtis told Radar of her famous daughter. "She's totally disenfranchised herself from her family — her father, her brother and myself."
The last time Joan, 58, even saw Nicole, 40, was at their Aug. 24 court hearing when she asked for a protective order against her bitter daughter. The judge ultimately denied the request, but encouraged them to stay away from each other. However, Nicole quickly defied the judge and verbally attacked her mom in the court parking lot moments after.
Article continues below advertisement
"She drove a truck over to me and asked if I wanted to hear my mother's last dying words," Joan revealed. "She had them recorded. And her father told her to move because they were videotaping her, and that's the last words she had said to me."
Joan explained that Nicole has always been "a tough person to get along with behind the scenes," but their issues began to explode after Ethan, now 19, moved in with her in 2015.
"He's very close to his mother, but he was having grown up, teenage issues," she said of Ethan's decision to take refuge in her home. "He always kinda resented the show only because it took a lot of his mom away from him. She was always running to the homes and stuff like that. She was always there for him, but not totally because she was either on the phone with things going on or having to run to sights and stuff like that. And he didn't like that all. He didn't want to be alone. He didn't want to be with a sitter. He wanted a regular, routine type thing, and he didn't get that once the show took off."
Article continues below advertisement
Then, Nicole and Ethan got into a fight and "he thought he wanted to be away from her for a while, so he decided he wanted to live with his dad. His dad is California though, and he wanted to stay in Minnesota. So I said I would go stay with him and Nicole was not happy with that. It caused quite a rift." As Radar previously reported, their fights were over his declining grades and Snapchat obsession.
Despite Nicole's allegations in court that Joan discouraged them from having a relationship, Joan maintained to Radar that she told Ethan every day: "You love your mother, I know you do." Regardless, Ethan didn't stay with her for long, as he moved to California to be with Steve Cimini after the school year was over.
"We went to California for his graduation," she told Radar, noting that her and her husband stayed Steve for the occasion. Their relationship has become more distant since he moved back in with Nicole, but he still texts her from time to time.
Article continues below advertisement
She noted this will be the first Christmas that they won't be spending together, but does not believe Nicole is responsible for keeping him away.
Instead, Joan's primary worry is for Nicole's infant Harper, 1, as her custody battle with Shane Maguire continues to heat up. She believes that Nicole needs to settle down to give him a solid foundation, but that unfortunately isn't happening. She added that she has only seen him a handful of times, but Shane, 53, sends her pictures of him behind her daughter's back.
"His dad would love Harper to have a family," she said. "He really wanted to be with Nicole and have a family. He really wanted that. But at this point, I think he's realized that's not going to happen. But, he truly believes that Harper should be in his grandparents' life. Not only me and Nicole's dad, but also his mother who lives in New Zealand. He wants Harper to know all of us."
Radar previously reported that he even fought for the ability to send photos of Harper to his mother through Facebook, as Nicole asked all photos of Harper stay off social media.
Article continues below advertisement
Maguire also asked the judge in their case to require Nicole to undergo a psychological evaluation — and her mom thinks that may be a good idea.
"I think she has some issues," Joan said. "Every person on this Earth has issues but I think that if she could face the reality that she's no different than any other human on this Earth — that she's not perfect — she's brilliant, she's beautiful, she's talented, but she's not perfect. And I think one day if she could realize that, then she would know how to communicate. She does have a control issue and I think that's something she would have to learn to change. I don't know if a psych eval is gonna tell anyone anything. The outcome of a psych eval is only going to be what you tell them. It's like going to a psychologist."
She concluded that Nicole "isn't really happy" in her life, and will probably never be.
"She was my child who grew up wanting to be married, have the white picket fence, 5 children, 10 dogs, that whole thing," she said. "And she could never settle and be happy with life in general. Something always had to be changed or 'he wasn't nice' or it wasn't her way. She had to have it designed and controlled in her way."
"She loves her children, but she's never been happy enough to just settle down," she added. "Deep down inside she's not happy. I don't think she ever truly will be happy. I don't say that from a cold heart; I say that from a mom's heart because I've always said I would sell my soul to the devil to make that child happy, and I don't even think the devil wants to make the deal."
We pay for juicy info! Do you have a story for RadarOnline.com? Email us at tips@radaronline.com, or call us at (866) ON-RADAR (667-2327) any time, day or night.