Exclusive
Monster Mom! Nicole Curtis's Battle For Older Son Exposed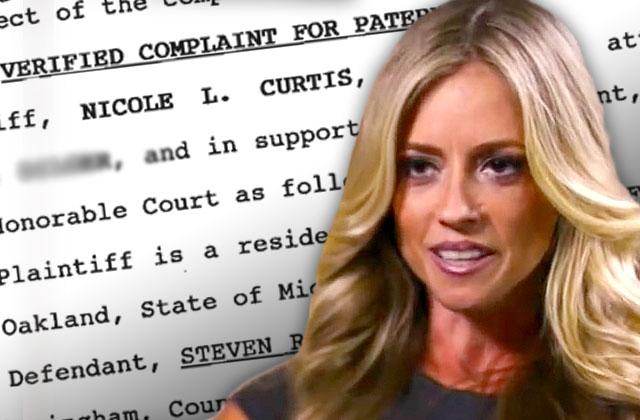 Nicole Curtis's picture-perfect relationship with her son Ethan is all for show, RadarOnline.com has learned.
The reality star gave birth to Ethan, 18, when she was just 20-years-old. His father, Steven Cimini, was incarcerated for a DUI manslaughter at the time, and missed his birth.
The couple lived together after his release but separated in September 1998, according to court documents obtained by RadarOnline.com. The documents also hint at a possible marriage between the two — but an Oakland County clerk confirmed to RadarOnline.com that a marriage license does not exist.
Article continues below advertisement
The Rehab Addict filed for child support and full physical custody (joint legal custody) when Ethan was 4-years-old, but Cimini requested joint legal and custody in response. A 15-year-long legal battle began. They later agreed to Cimini having visitation two days a week (and every other weekend), but the arrangement didn't last for long.
Cimini and Curtis's fight soon became bitter, as a judge ruled in 2004 that Cimini was entitled to more parenting time, with the couple exchanging Ethan at a police station. Their fight for child support lingered though, and at one point Curtis claimed she was "being financially drained" by him.
Their battle turned into a war after Rehab Addict was picked up, as Ethan began to develop deeper issues. Curtis put him in therapy, and began to rely on her mom Joan to help her raise him in place of Cimini, who moved away to California.
But then a high-school-aged Ethan and Curtis got into an explosive fight in 2015, and their relationship was changed forever.
https://www.facebook.com/nicolecurtisrehabaddict/photos/a.209090099107071.67244.165441646805250/867429119939829/?type=3&theater
Article continues below advertisement
"As is often the case between teenagers and their parents, Plaintiff and Ethan have had difficulties and disagreements, particularly in light of Ethan's struggles at school," the bombshell papers revealed. "Despite these difficulties, Plaintiff has remained Ethan's one and only custodian and has at all times raised Ethan to the absolute best of her abilities."
"On March 8, 2015, Defendant, without permission or legal authority, removed Ethan from Plaintiff's home," the papers continued. "Plaintiff arrived home to find her house in disarray and her front door broken-in. After several attempts to contact Ethan, Plaintiff called the Police. She was advised to file a a report, and the Minneapolis Police Department came and took photos of the damages."
She believed he went "on the run" after a fight over his incomplete homework assignments, "after which Plaintiff informed Ethan that she would be restricting his cell-phone data plan and prohibiting him from using Snapchat until his assignments were completed."
"After a week spent without knowing her son's whereabouts, Plaintiff finally received verbal notice that Defendant had taken Ethan to Michigan and filed an emergency motion regarding custody with this court," the papers read. "The allegations in Defendant's Motion were completely untrue and without any support, which, of course, makes sense given that Defendant lives in California, has never exercised any type of regular parenting time, and has absolutely no personal knowledge about Ethan's daily life. In fact, until March 12, 2015, Ethan had refused to speak with Defendant since August 2014."
Article continues below advertisement
Ethan refused to return home unless he lived with his grandmother instead of Curtis, and she "agreed to an order that was a disruption on Ethan's daily life in order to further her one and only priority — getting Ethan back to school immediately so that he would graduate on time, and getting Ethan back into therapy immediately." However, "almost a month later, Ethan has only fallen further behind and Defendant is nowhere to be found after he fled to Northern California."
Curtis claimed that the order had provisions for Cimini to follow up with Ethan, but he became "completely negligent" and"has chosen instead to abdicate his parental obligations entirely in favor of Joan Curtis."
"Meanwhile, Plaintiff has been unable to obtain even the most basic information from Defendant or Ms. Joanie Curtis, forcing Plaintiff to spend immeasurable time following up with school administrators, doctors, and law enforcement agents just to remain informed as to Ethan's well-being, often only to be told that Ms. Joanie Curtis or Defendant specifically requested that she be excluded from such communications," the documents read, noting that she "suddenly found herself completely cut out of her child's life after seventeen years."
Article continues below advertisement
Curtis also claimed that Cimini was not following up with Ethan's therapy sessions, and was putting him in great danger.
In response, Cimini claimed "Plaintiff was aware that Ethan was suffering in school but allowed it when it was good for ratings" and that "Plaintiff's concern is not for the minor child but for herself. the information regarding these proceedings will not be nearly as damaging or harmful to the child as his appearances on the television show because they came at the expense of his school work and a normal social life."
He retaliated that the only reason he moved to California was to follow Curtis and her fiancé, but "Mother had a change of heart when she caught her fiancé cheating on her, and never went to California." He argued that he had to fight for "every minute of parenting time" and only wanted the best for his son.
He claimed he did not break into Curtis' home, and that he was only there because Ethan called him for help. He denied cutting Curtis out from Ethan's life, as "she failed to attend parent-teacher conferences" and sat in on guidance counselor meetings. He said Ethan was refusing to talk to her because she was "hostile." He also understood Ethan had to follow up with therapy, but it was conflicting with his after school activities and were working on a new schedule.
Article continues below advertisement
"Defendant walked into a situation where Ethan was 'woefully behind' in his schoolwork, without a plan for completion of his volunteer work requirement, and in serious need of therapy," he claimed. "This was a situation that had been developing under Plaintiff's care...Plaintiff threatened Defendant that if he pursued this course of acting (what amounts to helping Ethan), that she would bury him in litigation....Defendant is NOT the host of a national television show and can't afford to travel to Michigan and pay legal fees in response to Plaintiff's attempts to 'bury him in litigation.'"
The resulting order was confidential, but a hearing transcript suggested that Ethan moved to California after the school year was over, and would be getting a summer job not working with his dad (who indicated to the court that "his work does not involve selling marijuana").
"Steve and I struggled for many years to find our way when it came to shared parenting," she detailed in her book, Better Than New. "Even though I was convinced that my being on my own would bring us peace, the relationship went from bad to worse. I hadn't planned on a custody battle that involved lawyers, court dates, and strangers having an opinion about our parenting. Luckily, we came to our senses and realized that this fight wasn't about a meaningless futon — it was about our baby. We went from being the couple who exchanged the baby at the police station to the family at Disney World together. It wasn't perfect, but we had a good run for a long time."
Article continues below advertisement
"By the time I was completing work on the Grand Boulevard house, Ethan had made the heartbreaking decision (for me, at least) to spend his senior year of high school with his dad in California," she detailed. "I felt like a failure. Everyone told me I shouldn't, but I did. I was devastated. Deep down, I knew that this young man just needed a male figure more than a mommy in his life at that point, but that didn't make the sting any less harsh."
Curtis recently posted a photo of her son on Instagram, implying that they may have made up after all, but he remains absent from her Facebook page.
Ethan and his dad both declined RadarOnline.com's request for comment.
Stay with RadarOnline.com for more.
We pay for juicy info! Do you have a story for RadarOnline.com? Email us at tips@radaronline.com, or call us at (866) ON-RADAR (667-2327) any time, day or night.