'Rehab Addict' Shocker! Nicole's Ex Killed Innocent Bystander In Bloody DUI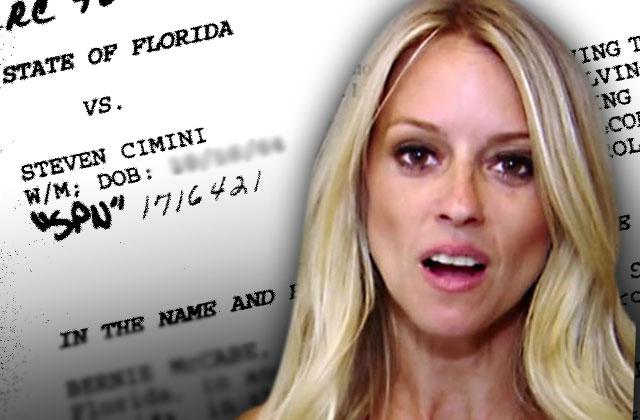 Nicole Curtis claimed that her ex-boyfriend missed their son's birth for a work obligation in her memoir, Better Than New, but RadarOnline.com can exclusively reveal that he was actually in prison!
Steve Cimini was convicted of driving under the influence and leaving the scene of a crime on May 12, 1997 and was ordered to surrender himself for a year-long sentence the following month. Ethan Curtis was born on Christmas Eve 1997, just seven months into his sentence.
Article continues below advertisement
His troubles began when a warrant for his arrest was signed off on March 13, 1996, based off of a highway patrol officer's traffic incident report, according to court documents obtained by RadarOnline.com.
The cop "arrived at the scene of the accident and located an individual later identified as redacted, who was pronounced dead at the scene of the accident," the papers read. He later "determined from his investigation that the victim had stepped out in front of a vehicle later determined to be driven by Steven Cimini."
The cop reported that he spoke with a witness who "informed your Affiant that she was driving eastbound on State Road 600 when friends in the car with her told her to stop after they noticed a body lying in the road. Redacted further informed your Affiant that a car, later determined to be driven by Steven Cimini, backed up towards her and the driver opened his driver's side door."
Article continues below advertisement
The witness informed the cop that she "was able to get a good look at the driver, and she provided a physical description of him." She noted that he "had blood dripping down his face, and that the front windshield of his vehicle was smashed in."
"She further noticed that no air bag had been employed, although the area of the vehicle where the air bag would have employed from was open," the documents continued.
But, Cimini, now 52, drove away shortly after — and the witness never saw him again.
He quickly pulled up next to another witness, who told the cop that he "came over to redacted and asked for a ride over the bridge. Redacted further informed your Affiant that at first he told Steven Cimini he would not give him a ride, but then noticed that Steven Cimini's face was covered with blood."
"Redacted then asked a friend to give Steven Cimini a ride over to Tampa," the warrant read. "Redacted further informed your Affiant that he then noticed that the car being driven by Steven Cimini had obviously hit something, due to the damage done to the front of the vehicle and the windshield and the blood on the car."
Article continues below advertisement
Instead, the witness called the police and an ambulance while his friend went back to the scene of the accident. His friend informed him that Cimini hit a pedestrian and left them for dead.
Cimini was then transported to the hospital, where he confessed to driving the car involved in the accident. He asked the officer what exactly happened, and "stated that he thought something had been thrown at him or that he had been shot at." At that point, the officer "smelled alcohol on Steven Cimini's breath and noticed that Steven Cimini had bloodshot, glassy eyes. Steven Cimini further seemed incoherent about why he did not stay at the scene of the accident."
A blood test was requested, and his alcohol level was recorded at .12.
Curtis' ex pleaded no contest, and was ordered to prison. Upon his release, he became involved in a bitter custody war with the HGTV star.
Stay with RadarOnline.com for more.
We pay for juicy info! Do you have a story for RadarOnline.com? Email us at tips@radaronline.com, or call us at (866) ON-RADAR (667-2327) any time, day or night.