Donald Trump's Secret Finances EXPOSED!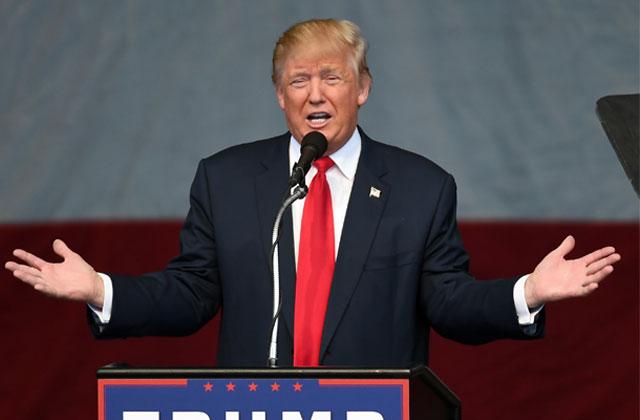 Donald Trump's refusal to release his tax returns has left voters speculating about what exactly the billionaire is hiding. RadarOnline has sifted through business filings, disclosure forms, and specific financial documents to exclusively reveal the financial past of the wealthiest man to make a bid for the White House.
Though the GOP nominee won't release his tax returns until Hillary Clinton releases her thousands of deleted emails, for RadarOnline.com readers, the wait is over.
Article continues below advertisement
Trump's was just a kid from Queens who rose to prominence as a business mogul in the 1970s. After graduating from the University of Pennsylvania in 1968, he gained control of his father, Fred Trump's, construction and real estate firm. Soon the young entrepreneur was trading in massive amounts of cash and conducting major deals.
Trump disclosed his federal income taxes from that period as part of his application for a New Jersey casino license in 1981.
Records uncovered by RadarOnline.com reveal that from 1975 to 1977, Trump earned an average annual income of $140,314 ($557,674 in 2016 dollars). At the time, the average annual income was dramatically less — only about $9,000.
Though critics have accused Trump of not paying federal taxes, his tax filings show otherwise. During this period, Trump's filings reveal he paid an average of $23,977 ($95,296 in 2016 dollars) in federal taxes per year — an average rate of roughly 17 percent.
Article continues below advertisement
In subsequent years, he had a reported tax contribution of zero, but according to renowned celebrity accountant John Bolan, that was well within his rights as a real estate tycoon.
"He's in a great field to do it because he has lots of depreciations," Bolan, a respected accountant for 46 years, said.
"He could claim the expenses used to fix or repair his buildings as capital improvements. With the laws now and the depreciations he's able to take, it protects his income. Bolan went on to say there was "absolutely nothing wrong with what he's doing. That's what you are supposed to do!"
But he isn't getting off scot-free. RadarOnline.com reviewed Trump's New York City property tax bills for 2016 and discovered that he shells out tens of thousands per year in property taxes on his penthouse condo at Trump Tower.
According to one bill issued in June, the 2016 assessment on the Manhattan penthouse, which is worth a whopping $5.2 million, was $193,222.
Trump's reach extends far beyond the Big Apple, however, with multimillion-dollar international business dealings in Turkey, Panama, Dubai, Scotland, India, Azerbaijan and more.
Article continues below advertisement
In Scotland, corporate filings obtained by RadarOnline.com offer a glimpse into his global empire.
The renowned Turnberry golf course was hemorrhaging cash prior to Trump's arrival. In 2013, the course reported an $8.3 million loss for the year. Trump assumed ownership in mid-2014. Though the billionaire spent $1.4 million to renovate the property, the reported loss for the year was only $1.3 million.
The total amount of annual debt also nosedived from a whopping $42.8 million in 2013 to $649,000 under Trump's leadership.
And the value of the property is only expected to grow as Trump plans to build hotels and residences at the course.
"My golf holdings are really investments in thousands, many thousands of housing units and hotels," he's explained. "At some point the company will do them. Hopefully, I won't because I will be president."
In the financial disclosure form Trump released earlier this year, the Turnberry course is now valued at over $50 million.
Article continues below advertisement
That same financial disclosure form revealed Trump's golf courses brought in a staggering total of $382 million from January 2015 through mid-May 2016. And his total income during that period was reported to be nearly double that at $611 million.
Trump also submitted a list of assets topping more than $1.4 billion. Several of his crown jewels — the Turnberry links, Trump International Hotels Management LLC, and his commercial real estate firm, Fifty-Seventh Street Associates — are valued at over $50 million each.
In sum, Trump reported a net worth soaring past $10 BILLION!
All told, CPA Bolan told RadarOnline.com that Trump's financial documents reflect a thorough understanding of tax law and the ability to make savvy decisions for business growth.
"He's doing a great job. I'm sure he can pay for the best accountants in New York and they are right on the mark," Bolan said.
While critics have derided Trump's out-of-the-box thinking on the issue, Bolan said it makes "perfect" business sense — the kind of thinking that Trump's millions of supporters believe will make America great again.
We pay for juicy info! Do you have a story for RadarOnline.com? Email us at tips@radaronline.com, or call us at (866) ON-RADAR (667-2327) any time, day or night.