Hillary's Nightmare: Beauty Queen In Clinton's Trump Attack Linked To Attempted Murder Plot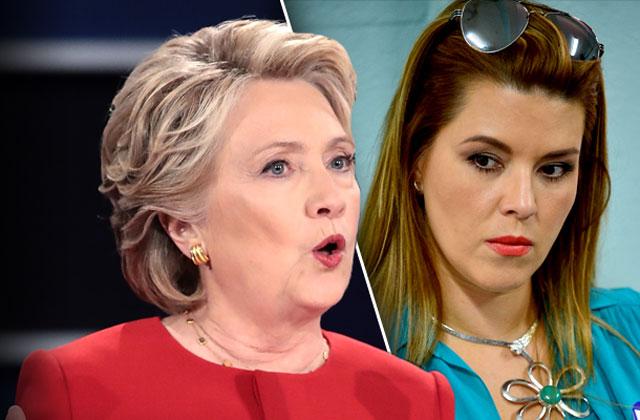 Hillary Clinton could regret recruiting former beauty queen Alicia Machado for her campaign: RadarOnline.com has learned that the one-time Miss Venezuela, who is now appearing in Clinton's campaign ads, has a bloody secret past!
Venezuelan police claimed that in Nov. 1997, the beauty queen acted as her lover's accomplice in a brutal murder attempt.
It all started when the sister of Machado's boyfriend at the time, Juan Rodriguez Reggeti, committed suicide. Reggeti reportedly blamed his brother-in-law Francisco Sbert Moukso for driving the woman to her death, and brooded over how to enact his revenge, authorities in Caracas said. Then, at his sister's funeral, gunfire was unleashed and his brother-in-law was shot twice outside the El Cafetal church in Caracas.
Article continues below advertisement
The victim suffered brain damage after the bullets punctured his skull. The gunman made a high-speed escape and Machado was accused of driving the getaway car! "Our accusations against Alicia Machado are based on coinciding testimony from witnesses, who place her in the vehicle in which Juan Rodriguez fled the scene," the victim's lawyer said at the time.
Machado breezed into court to answer the shocking charges, and insisted, "There has been a gross exaggeration. The situation has caused me great sadness." She claimed that people were taking advantage of her name to create publicity.
Her lawyer said that she had an alibi: As an aspiring actress, Machado was taping her first episode on a Venezuelan soap opera until late at night the day of the shooting. "Alicia Machado never was present at the scene of the crime, neither before nor after it occurred," her attorney added. "It was simply a fight between members of two families and nothing more."
Though she was exonerated, the claims sent shockwaves through the Miss Universe organization. At the same time, there was a growing problem with her weight.
Article continues below advertisement
Machado had packed on the pounds after winning her beauty title, and Trump demanded she get back in shape. Trump, who co-owned the pageant at the time with CBS, was so alarmed by her behavior that he called her "an eating machine," and said, "Quite frankly, we're happy to see her reign end." He also reportedly called her "Miss Piggy," a point Clinton harped on in the debate.
Machado was accused of gaining 70 pounds after winning the international beauty competition, but said in 1996, "I have gained only 6 pounds. And I only gained that much because, as Miss Universe, I've traveled all over the world and I've been eating all kinds of different foods that I'm not used to." She added, "I'm only human and it's only natural to expect that my weight would change a little bit."
The 5-foot 7-inch stunner admitted she went on a crash diet and vomited up her food to stay thin during the 1996 pageant, winning the title at 116 pounds. But once the pressure was off, Machado let herself go and ate everything she craved, including pasta, chocolate and arepas, a buttery corn pancake made in Venezuela.
Machado was furious when Trump alerted the media to watch her sweat through her workout routines, calling it "bad taste." And Trump replied that Machado "was a big disappointment as a representative of the pageant."
Article continues below advertisement
Now Machado is trying to help Clinton reach the White House.
At Monday night's presidential debate, Clinton slammed Trump for his treatment of women saying, "And one of the worst things he said was about a woman in a beauty contest," referring to Machado. "He loves beauty contests, supporting them and hanging around them. And he called this woman 'Miss Piggy.' Then he called her 'Miss Housekeeping,' because she was Latina. Donald, she has a name."
We pay for juicy info! Do you have a story for RadarOnline.com? Email us at tips@radaronline.com, or call us at (866) ON-RADAR (667-2327) any time, day or night.