Exclusive
Baby For Bey? Jay Z's Cheating Scandal Causing Fertility Issues For Beyonce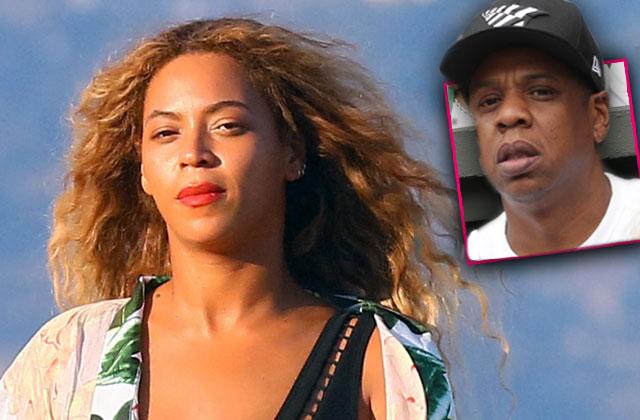 Beyonce is getting her baby making plans into formation! RadarOnline.com has exclusively learned the singer has turned to Kinesiology treatments after stress from her husband Jay Z's suspected infidelity has hindered her chances of conceiving a second child.
Insiders reveal traditional fertility methods and alternative therapies such as acupuncture have failed to give their only child Blue Ivy, 4, a brother or sister.
Article continues below advertisement
Beyonce, 34, is now turning to an Italian expert to help overcome her fertility issues by getting rid of the negative energy that could be decreasing her changes of conceiving.
"The couple is consulting with an expert who specializes in kinesiology the scientific study of movement to identify what imbalances might exist that could be preventing successful reproduction," the source said. "Beyonce and Jay have daily sessions in person or by Skype with the specialist who evaluates their diets and finds out the points of stress in their relationship and in their bodies…then works to detoxify these elements with magnets, massages and weak electrical current."
The specialist discovered that their busy work schedules and emotional issues such as jealousy have caused pent up tension between them.
The cheating rumors began when Beyonce released tracks from her "Lemonade" album that hinted at infidelity. In one of the clips, she swung a baseball bat and called out her husband for cheating. The video ended with the songstress dropping her wedding ring on the ground.
Article continues below advertisement
"Beyonce has always worried about Jay Z straying – that could be blocking the possibility of conception," the insider said. "She's taking as many relaxing breaks as possible. Beyonce feels like she cannot have a baby until she has totally forgiven Jay Z! She still must have deep down concerns that their marriage might fail."
Beyonce has been working on "trying to rid her system of anger."
"She shouts things like, 'Pig! Cheater! Loser,' while the sounds of the ocean play in the background," the source said. "It makes her feel better… She puts large precious stones over her head, like crystals but more expensive, which are supposed to absorb all the dark thoughts."
The "Formation" singer feels "all the effort is worth it to get her daughter a sibling!"
Do you think Beyonce will welcome her second child soon? Tell us in the comments.