Met Gala Madness: Rita Ora & Beyoncé Cozy Up For A Selfie Amid 'Lemonade' Scandal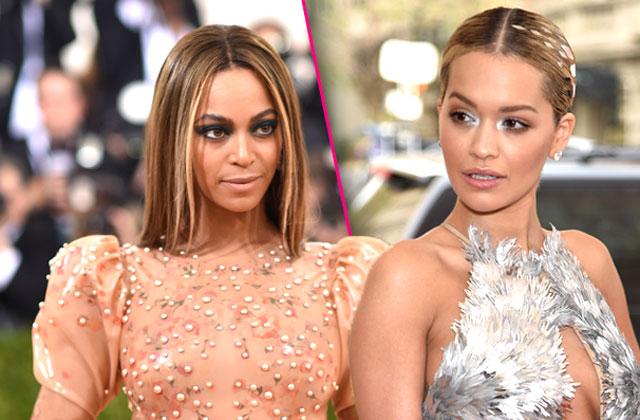 Rita Ora and Beyoncé attempted to slam "Becky" rumors at the 2016 Met Gala, posing for a friendly selfie together.
As RadarOnline.com previously reported, one prevalent theme of Beyoncé's latest album, Lemonade, is infidelity.
"He better call Becky with the good hair," the lyrics of her song, "Sorry," go, which fans believed she directed at husband Jay Z's rumored affairs with either Rachel Roy or Rita Ora.
But it was all friendly behavior between the two during last night's gala, as Ora made sure to post a cozy selfie of the pair to her Snapchat story, captioned: "Family."
Article continues below advertisement
Of course, that still leaves the "Becky" slot up for grabs.
One fan even joked that Beyoncé's Met Gala gown resembled that of human flesh, commenting: "Omg is she wearing Becky's skin?"
Beyoncé is known for keeping her cool in public, but sister Solange Knowles is another story.
Rumors that Jay Z cheated with Rachel Roy first started when Solange attacked the rapper in an elevator after the 2014 Met Gala. The security camera footage was leaked soon after the fight.
This year, Jay Z was nowhere in sight at the event, but Solange showed up wearing a very yellow dress — perhaps a nod to her big sister's Lemonade theme.
Do you think Beyoncé is faking her friendship with Rita Ora? Let us know in the comments below!