Exclusive
Olympic Gold-Medal Gymnast Nastia Liukin Exposes 'Dancing With The Stars' Fakery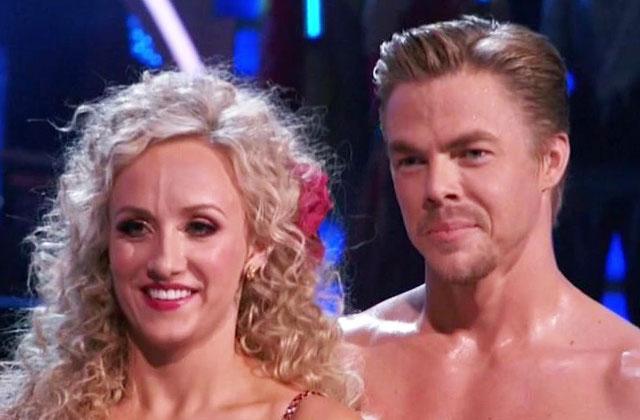 Could reality TV be a more brutal experience than the prestigious Olympic Games?
In her new memoir, Finding My Shine, U.S. gold-medal Olympic gymnast Nastia Liukin claimed competing on Dancing with the Stars during the show's 20th season was a "huge challenge"— a challenge she didn't always find fair.
The Beijing winner, 22, who partnered with Derek Hough and then Sasha Farber in the 2015 cast, called out the ABC series' producers for misleading editing and other ratings' tricks that left her deeply "disappointed."
Article continues below advertisement
During one rehearsal scene before the live performance, Liukin said she appeared to be fighting with Hough and Farber.
"The package showed us getting frustrated, then a producer asked me a question that had nothing to do with the show or what we were doing. Were we frustrated and exhausted at times? Of course," she wrote. "But we never had an argument, and that is what they tried to make out of it."
"We had not seen it before and I was very disappointed in it, as I looked like a spoiled brat!"
She went on to insist she spent every other minute of the filmed rehearsal days "laughing and smiling," but none of these clips ever aired.
"The main reason for my disappointment was that I had tried very hard to show the real me throughout the show, and that package was not who I was," she continued. "They took a single 30-secnd segment of an entire week and made me look like something I was not."
She also accused producers of attempting to get her to answer questions in a specific way.
Despite her negative experience with reality fakery, Liukin claims she "loved" being on the show.
"I did so many things that were out of my comfort zone," she summed up. "I also met a number of incredible people, and even learned to dance some along the way."
"Without a doubt, I know I will always be glad that I put my fears aside to go on this incredible journey."