Exclusive
Mobsters Mark Michael Douglas & Paroled Junkie Son For Death!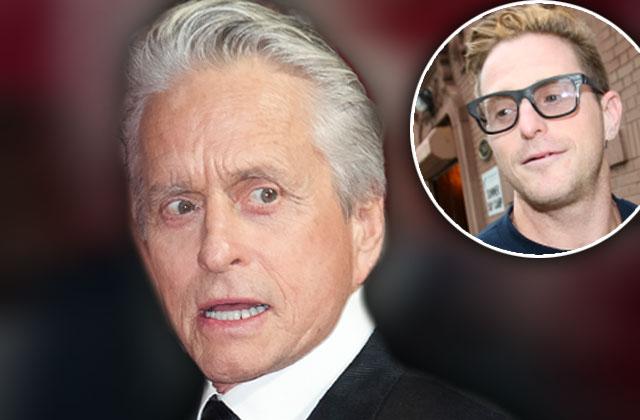 Jailed gangsters with strong ties to America's organized crime families have targeted Michael Douglas and his just-paroled junkie son Cameron for blackmail and violence, The National ENQUIRER reported.
Chillingly, inmates at the prison where Cameron served stretches of his seven-year sentence on drug-dealing charges are insisting bloodthirsty Mafia killers for hire are controlling the Hollywood scion as he attempts to rebuild his shattered life on the outside.
Article continues below advertisement
Now his family — grandfather Kirk Douglas, Hollywood parents Michael and Diandra Douglas and movie-queen stepmom Catherine Zeta-Jones — are living in terror of being muscled by the mob, showbiz insiders revealed.
"Cameron's troubles have created a crisis in his family, which could be trapped in a mob war," said the showbiz source.
As RadarOnline.com reported, Cameron was released to live in a halfway house in the Bronx, N.Y., on Aug. 1.
However, Cameron landed in the racketeers' crosshairs after he was accused of being a prison snitch.
On the orders of an underworld goon, the 37-year-old junkie was bullied and beaten in the slammer — and had his leg and finger broken in 2012.
"A crime family henchman put a $100 bounty on him for being a stoolie," a prison insider told The ENQUIRER. "The plan was for him to be taken out during a flag football game. But when Cameron got wind of the scheme, he dropped out of the league."
Article continues below advertisement
Even so, the drug-addled Hollywood heir, who feds caught with a half-pound of methamphetamine in 2009, still turned up at the prison sick bay "looking like he'd been run over by a truck."
Then Cameron's psychiatrist told a judge his celebrity client was prepared to testify in court against Mexican drug dealers, who used him as a "mule" to transport meth from Los Angeles to New York.
Fearing the psychiatrist's testimony would spark more jailhouse retribution — like a shank in the back — Cameron begged Italian gangsters for protection and joined their ranks, the prison inmate said.
"Cameron could have faced more beat-downs, and even risked his life and more broken limbs. Instead, he was seduced into joining the mob — and pledged to do its bidding for the remainder of his time — inside prison and on the outside," a gangland informant told The ENQUIRER.
"Once you're in, you're in. There's no getting out!"
Now, as Cameron's rep insisted he's not involved with the mafia and is attempting to "heal with his family" and "contribute positively to society," he's unable to shake the stronghold of his masters or break the Mafia code of omertà — silence.