The Untold Story Of Tiffany Trump's Birth EXPOSED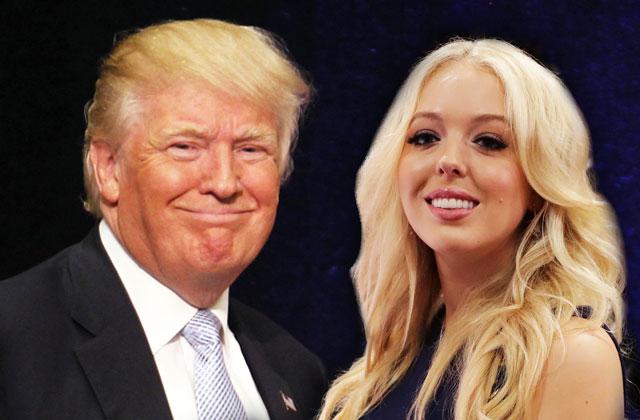 Before she was a blonde bombshell, Tiffany Trump was Donald's little girl, and RadarOnline.com has all the details of her birth!
Little Tiffany arrived at St. Mary's Hospital in West Palm Beach, Fla., shortly before 1 p.m. on October 13, 1993.
According to insiders, Donald was astounded when he watched Marla Maples give birth to their baby without any painkillers. The business tycoon — who even cut the cord — was a changed man after sharing in the birth.
Article continues below advertisement
Donald told a friend: "This baby has made me realize what life is all about. Being with Marla as she brought our child into the world left me in awe. All my casinos, hotels and big deals paled in comparison to what I shared with her at that moment."
The drama began when Marla awoke in pain at Donald's posh Palm Beach mansion Mar-a-Lago, where she'd spent the last few weeks of her pregnancy. She hurriedly phoned Donald, then 47, at his apartment in New York's Trump Tower and told him, "I think the baby's coming. Get down here now!" But Donald, still groggy after an exhausting business day, mumbled sleepily: "O.K., honey, hurry home" — and hung up! Marla told a pal, "I called my PR agent, who hurried over and asked my sleepy honey to get down to Palm Beach."
The tycoon boarded a private jet at 2 a.m. and flew to West Palm Beach where a limo whisked him to St. Mary's Hospital. At 6:50 a.m. Donald joined Marla, who'd been driven to the hospital by her mother Ann Ogletree. He stayed with her until Tiffany's birth six hours later.
Several close friends also were on hand to give Marla support. A massage therapist, Aiko Aiyana, rubbed Marla's feet to help her relax as her labor pains increased. Donald experienced the birth of his three other children while married to ex-wife Ivana. But it had been nearly 10 years since their last child was born. Becoming a father again was almost like a first-time experience for him, insiders said.
Article continues below advertisement
"At times, Marla's labor pains were so severe that her back arched up and she clenched her fists until the knuckles were white," according to a source. By noon, her obstetrician, Dr. Jay Trabin asked everyone except Trump, her mom and Aiko to wait in a lounge adjoining the delivery room.
"Marla was so strong," Donald told his friend. "One moment she'd be smiling and holding my hand, the next minute she was convulsed by wracking labor pains." Donald said he felt helpless and begged Marla to let the doctor give her something to ease her pain, but she refused. "She said, 'I want our baby to be born naturally. The pain is terrible but it's beautiful because it's bringing our baby to us.'" Donald said, "As Marla rested between spasms, I kissed her and stroked her head. She looked so angelic, so radiant. And I felt a deep sense of admiration and respect for the woman I love."
At 12:47 p.m., the baby's head emerged. Donald excitedly told Marla, "Just a bit more, baby! She's almost here. Push . . . push!" Three minutes later, Tiffany came into the world. Dr. Trabin placed the baby on Marla's stomach and handed a pair of scissors to Donald, telling him: "Now cut the cord. It's a magical moment. You'll never forget it." Trump hesitated, saying, "Well ... I don't know." Dr. Trabin urged, "Go ahead, cut it. It won't hurt Marla or the baby." With a quick snip, Donald did the deed. He smiled broadly as he looked at his new daughter, and Marla lovingly told the baby, "Welcome to the world, Tiffany."
Article continues below advertisement
The infant weighed 7 pounds 7 1/2 ounces at birth, and measured 20 1/2 inches long. She was born with light brown hair, like her dad. Soon Marla was sitting up in bed holding Tiffany as her friends gathered around to admire the child. Her room was filled with gifts and flowers from well-wishers.
One bouquet was from then President Bill Clinton and First Lady Hillary, now the Donald's chief rival!
Donald proudly told his friend at the time, "Tiffany is a combination of Marla and me. She has Marla's legs and my lips. Our little Tiffany is perfect. She's beautiful!" After less than 24 hours in the hospital, Marla took her new baby home to Mar-a-Lago, where a beautiful new nursery was waiting. Donald spent tens of thousands of dollars on the nursery and baby clothes, and said he'd always love Tiffany and will make sure she has a happy, wonderful life.