Bad Decision: Disgraced Anthony Weiner Picks A Fight With Donald Trump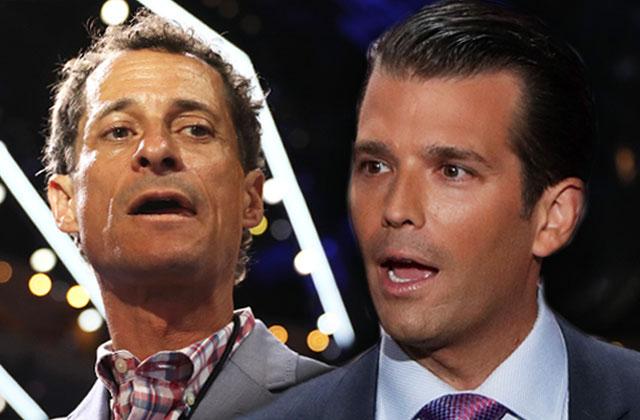 Three years after his latest sexting scandal, Anthony Weiner has claimed he would come out of political retirement to run against Donald Trump Jr. for mayor of New York City.
The disgraced congressman has seemed hungry for the spotlight in recent weeks, making the rounds across several media outlets, laughing off his scandals on The Late Show and giving interviews about his political future.
But in a recent appearance with a Fox affiliate at the Democratic National Convention, Weiner ignited a fire saying: "The only thing that could make me come out of retirement and run for mayor again is if anyone named Trump ran."
Article continues below advertisement
Then came Weiner's outrageous fighting words: "I would come out of retirement just to beat him like a rented mule, and then I'd turn the keys back over to de Blasio."
Trump Jr. did not take Weiner's attack lightly, immediately reminding fans of the infamous Weinergate scandals, which exposed the Congressman sent sexually explicit photos and messages over Twitter and Facebook in 2011 and 2013.
"Too soon Anthony!!! You probably shouldn't be talking about beating anything ever again," Trump Jr. wrote. "Go back to your cave."
The younger Trump has been rumored to be a potential challenger in the upcoming New York mayoral election.
But his presidential dad has insisted, "My son doesn't want to run for mayor."
In a statement to Fox News the Republican Nominee reminded viewers that he was also the one who "predicted Weiner would flame out and not be able to run for mayor…People were amazed at how insightful I was."
Weiner ran for mayor in 2005 and 2013 and lost both times. He is also married to Huma Abedin, one of Hillary Clinton's top advisers.