'Miserable' Cher Wages Bizarre Twitter War On Donald Trump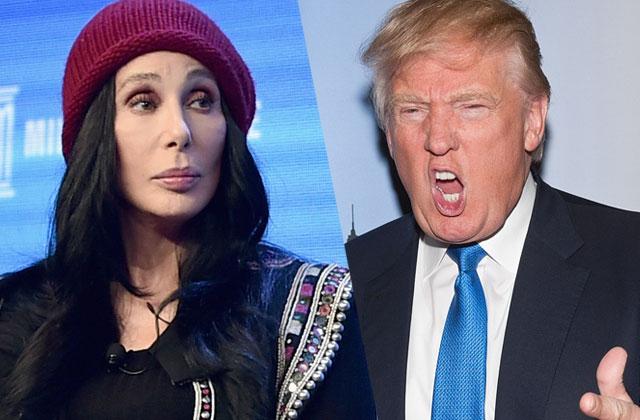 Article continues below advertisement
Embittered by years of personal and professional struggles, and battling the crippling Epstein-Barr virus, Cher, 70, first launched her war against "The Donald" back in 2011 when he began testing the waters for a presidential run.
In one post, she wrote about Trump: "LOUD, CRUSHES EVERY1 IN HIS WAY, MAKES LOTTA NOISE, BUT SAYS NOTHING…"
Her ridiculous attack became even more outlandish last February, when she tried to link Trump to brutal Nazi dictator, Adolf Hitler!
"HEIL, MEIN FÜHRER TRUMP!" the unhinged star raved in a deranged tweet.
In July, the over-the-hill entertainer posted a photo-shopped image of Trump cuddled up in bed with war-mongering Russian President Vladimir Putin!
At first, the big-hearted billionaire took pity on the ailing songbird by pointing out on FOX News, "She's lonely, she's unhappy, she's very miserable."
He also noted her "music doesn't do it for me, believe me ... Cher is an average talent who is out of touch with reality. Like Rosie O'Donnell, a total loser!"
More recently, Trump said her slurs were false and not worth serious consideration.
"@cher should spend more time focusing on her family and dying career!" Trump wrote.
"He is no longer replying to Cher. He has more important things occupying his time, like foreign policy," says an insider.
But Cher has grown more desperate for attention and recently ranted: "SUPPORT HIM!? ID RATHER CHEW GLASS."
While Trump has obviously moved on, a supporter replied for him, tweeting, "Would love to see you chew glass. Go for it!"