Medical Experiments Ravage Cher — Radical Treatments Save Life... But Ruin Diva's Body!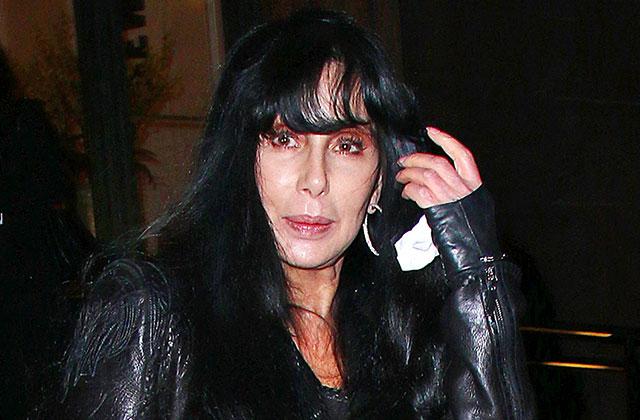 ≠–Gutsy Cher fought back from the brink of death using an experimental medical treatment, but the life-saving therapy destroyed her body — and her famous face, stunned insiders exclusively reveal to RadarOnline.com.
Crippled by the vicious Epstein-Barr virus, the 70-year-old superstar had controversial stem cell treatments to combat the disease. Her life was saved, but insiders said the experimental medical technique took a terrible toll, especially on her face, which has undergone extensive plastic surgery.
Article continues below advertisement
"Cher's face is beginning to come apart," says a source. "It's drooping and sagging and she doesn't know how to rectify it!
"Part of that has to do with too many cosmetic procedures and her advancing age. But all the aggressive stem cell treatments she's received over the years have adversely affected her body, too," the source claimed.
New York internist Dr. Stuart Fisher, who has not treated Cher, notes stem cell treatments can have horrible side effects, especially for patients seeking youth rejuvenation.
"If you get stem cell treatment, you don't necessarily know what it's going to do," he explains. "There's an inflammation that occurs.
"If they are injected into the face they would inflame and distort things. Some people get blotches, some get puffier, some get lumps and bumps."
The outlook for Cher's body and face to rebound is dim, the doctor says.
Just months ago, sources say the shocked "Turn Back Time" diva said she looked like a figure in Madame Tussauds wax museum and said she wanted her old face back.
Article continues below advertisement
The trip wasn't her first. She had also previously gone to a clinic in Germany's Black Forest for the treatments, as had Elijah Blue Allman, her son with rocker and ex-husband Gregg Allman.
He got the procedure for Lyme disease at the facility; spending two weeks with cancer-stricken Charlie's Angels star Farrah Fawcett, who'd also gone there at Cher's urging.
Insiders claim the virus had left the "Moonstruck" sensation bedridden for months fighting depression and wreaked havoc on her heart and kidneys.
Two years ago, her publicist, Liz Rosenberg, even admitted Cher's heart condition was so dire, she needed a cardiac monitor.
Meanwhile, Cher has shelled out millions of dollars on plastic surgery in a desperate bid to turn back the clock.
"It's a lot of money for nothing," says a close pal.
An insider notes, "Between the plastic surgery and the treatments, her face and body are falling apart!"