Exclusive
Vicious Attack! Blac Chyna's Father Arrested For 'Choking' Girlfriend In Assault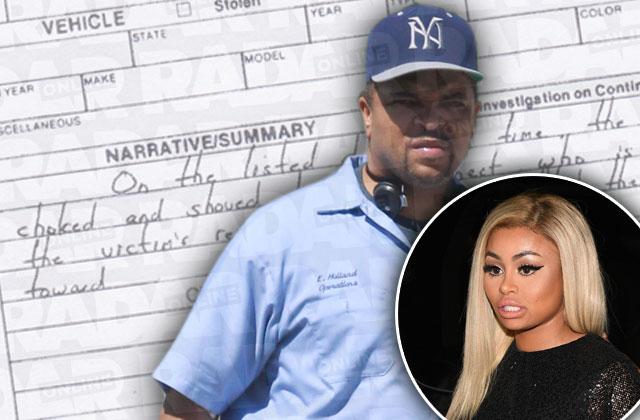 Blac Chyna has created plenty of havoc in the lives of the Kardashians, and now the family of Rob Kardashian's future wife is causing the clan even more embarrassment! RadarOnline.com has uncovered exclusive details about how the stripper's dad was once arrested for viciously attacking his girlfriend.
Blac's father, Eric Holland, 49, was accused of choking his lover during a violent argument, which led to his arrest and a charge of second-degree assault.
Article continues below advertisement
The bombshell revelation is bound to especially upset Kardashian matriarch Kris Jenner, who will become pregnant Blac's mother-in-law when she marries her 29-year-old son after his and 28-year-old Blac's baby is born later this year.
Details of the attack have emerged just weeks after it was revealed Blac's mom, Tokyo Toni, 46, was handed a restraining order in 2013 after she threatened to kill her husband and leave his body in a landfill after the two fought about him staying away from the marital home for days on end.
In the 2003 alleged attack on his girlfriend, Holland had been dating his victim, now 45, for four years when the assault occurred, according to a newly-released police report.
The report reveals Holland was accused of attacking his then-girlfriend at 9 a.m. during an argument about her seeing other men at her Washington D.C. home. As she fought to get away, the report notes, he "began choking her with his hands."
Article continues below advertisement
Holland finally ran off after the woman managed to activate an alarm.
"The suspect, who is her boyfriend for the past (4) years, came to her residence to argue about the victim seeing other men," reads the police report. "Victim further stated that during the argument the suspect began shoving her with his hands in order for the victim not to call the Sheriff's Dept. As she attempted to get away from the suspect… he began choking her with his hands."
Speaking to police afterwards, the alleged victim claimed the school janitor had assaulted her on other occasions and that she had sought a protective order in the past.
However, prosecutors eventually decided the case should not be pursued but could still be reopened.
When asked about the incident this week, his victim, who asked to remain anonymous, told RadarOnline.com: "I have not spoken to him since it happened. I don't want to say any more than that."
Holland, who has 12 children, was married when he fathered Angela Renee White — a.ka. Blac Chyna — with a teenaged Tokyo Toni in the late 1980s.
He was recently reunited with Tokyo when Blac and her famous reality star fiancé visited Washington D.C. over the July 4th holiday to film scenes for their new reality show.
As RadarOnline.com reported, Blac recently had her own run-in with the law and was arrested in Texas in January for public intoxication and carrying a controlled substance after allegedly being caught with two ecstasy pills.