Exclusive
Another Clinton Cover-Up? FBI Bans Release Of Pedo Pal's Sex Den Surveillance Video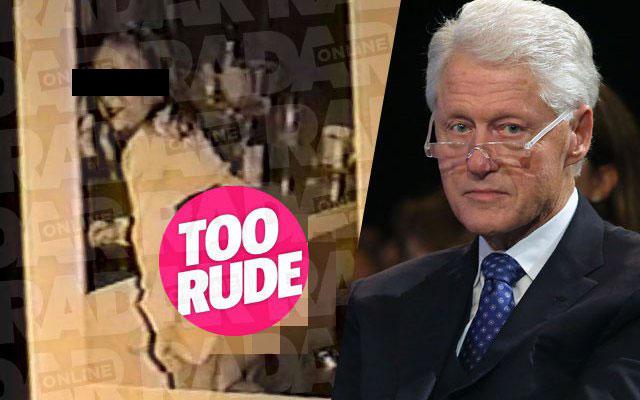 Bill Clinton's pedophile pal Jeffrey Epstein secretly filmed visitors to his sordid Palm Beach sex den — but RadarOnline.com has learned that the FBI doesn't want the world to know who was caught on camera!
Palm Beach Police raided Epstein's Florida mansion in October 2005, after speaking to multiple teen girls who claimed to have been sexually assaulted inside. (Epstein later pleaded guilty to a minor solicitation charge and spent six months in prison.)
Article continues below advertisement
There, they found disturbing kiddie porn, disgusting sex toys, and — most explosively — two hidden cameras.
A police incident report obtained by RadarOnline.com claims officers, "located two covert (hidden) cameras. The first camera was a covert wall clock in the garage area. … The other covert camera was located within a desk clock beside Epstein's desk."
However, "a review of the video disks which was extracted at the Balm Beach County Sheriff's Office Computer Crime Unit revealed that only one hidden camera was functional at the time," police documents state.
At least four tapes containing more than four hours of footage were uncovered. Could Clinton have been seen on the tapes? Or Hillary?
Although there is no record of him visiting the Palm Beach home, Bill and Epstein were fast friends. As RadarOnline.com reported, Hillary's husband flew on Epstein's so-called "Lolita Express" more than ten times in the early 2000s, according to flight logs. And Epstein bragged he was one of the founders of the infamous Clinton Foundation.
Article continues below advertisement
But the world may never know the true content of those tapes — and in particular, just who is on them — since the FBI seems determined to keep them locked away forever.
Responding to a Freedom of Information Act request for the materials from RadarOnline.com, FBI section chief David Hardy told RadarOnline.com that "Mr. Epstein's relationship with" the Clintons, as well as their "possible participation in and knowledge of his activities" "do not outweigh Mr. Epstein's privacy interests."
Reminded by RadarOnline.com that Clinton is a "presumptive" nominee with the potential to make it to the White House, the FBI refused to change their decision, writing, "You have not sufficiently demonstrated that the public's interest in disclosure outweighs personal privacy interests of Mr. Jeffrey Epstein."
Story developing.