Exclusive
Something To Hide? Jeffrey Epstein Orgy Plane Sex Logs 'Sanitized' To Protect Pals Like Clinton, Attorneys Claim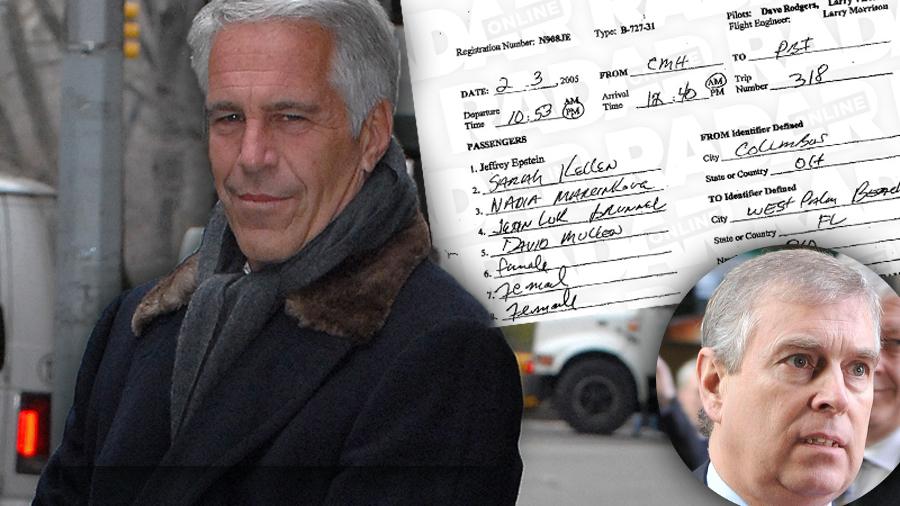 Article continues below advertisement
Several of Epstein's alleged victims are now suing the U.S. government for not alerting them to the terms of the plea deal they engineered with the sex-crazed financier. In documents filed on January 21, the women's attorneys make the explosive claim that the flight logs — cited by some of Epstein's friends as proof of their innocence — have been one big farce all along.
In particular, the attorneys note, "Dershowitz suggests that the aircraft flight manifests will exonerate him. … In media statements, Dershowitz has repeatedly brought up the manifests as proof of innocence."
But they point out, "Coincidentally and remarkably, it was Dershowitz himself, acting as Epstein's attorney, who personally collected and then provided flight manifests to the Palm Beach Police Department."
That document dump covered just ten months: January 1, 2005, through October 17, 2005. Attorneys involved with Epstein's civil litigation found those logs to be "grossly incomplete," and thus subpoenaed Epstein to force him to produce all of the documents in his possession. "Epstein failed to provide any information at all," the new court documents claim, and so the search moved on to Epstein's pilots.
Article continues below advertisement
One pilot, David Rogers, was able to provide documentation for flights taken from 1997 to 2005. "This production confirmed that the flight information Dershowitz provided to police was incomplete," the new documents state.
However, "A comparison of the flight manifests and logs confirms that the flight logs provided by Rogers were also incomplete. A cursory review of both logs reveals that together the logs produced cover only a small fraction of the flights taken and the passengers on board."
The attorneys claim, "Multiple examples lead to the clear conclusion that all produced logs are incomplete and may well have been heavily sanitized."
In just one example of disparity between the logs, "the flight records provided by Dershowitz for a February 3, 2005, flight from CMH (Columbus, Ohio) to PBI (Palm Beach, Florida), indicated that in addition to Jeffrey Epstein, his assistant Sarah Kellen, Yugoslavian model Nadia Marcinkova and model agency owner Jean Luc Brunel, on board there were three 'females.' The existence of these three 'females ' is conspicuously absent from the Rogers' logs," the new documents explain.
Article continues below advertisement
In addition, the documents claim the log shows that "on February 9, 1998, Dershowitz flew on Epstein's private plane from Palm Beach, Florida, to Teterboro, New Jersey. One of the passengers is listed as '1 female.' Who is that female and what is her age?"
Claiming that the logs only show "some of the individuals who were on some of the flights," the attorneys now allege that "it would not be surprising to find that some of these flight logs do not mention Dershowitz because they were likely designed to hide evidence of criminal activity — or perhaps later cleansed of such evidence."
In terms of criminal activity, Dershowitz was accused by alleged victim Virginia Roberts of having sex with her six times, including when she was underage. He has strenuously denied all of her accusations, but her attorneys believe that more information may be hidden in the logs.
"Dershowitz also appears on flights with various females, including Epstein's known procurer of underage girls, Sarah Kellen," they state in the filing. "And in contrast to recent media suggestions by Dershowitz, his family does not appear on any of the flights with him."
Article continues below advertisement
Roberts, in particular, "is listed on the logs as the passenger at a time when she is under age 18. While the logs do not show Dershowitz on the same flight with her, it is abundantly clear that the logs do not contain evidence of all the flights that she was on and that they are grossly incomplete," they allege.
What else could the logs be hiding?
As RadarOnline.com reported, Roberts has claimed to have witnessed and participated in orgies aboard the notorious jet. She insisted in her affidavit that she did not engage in sex with Clinton, nor witness him engaging in sex with others, and there is no indication that other passengers witnessed or participated in such behavior.