Exclusive
9 Young Girls, 2 Men! 'Sex Slave' Reveals 'Disgusting' Details Of Prince Andrew Orgy Claims Under Oath — Read The Bombshell Affidavit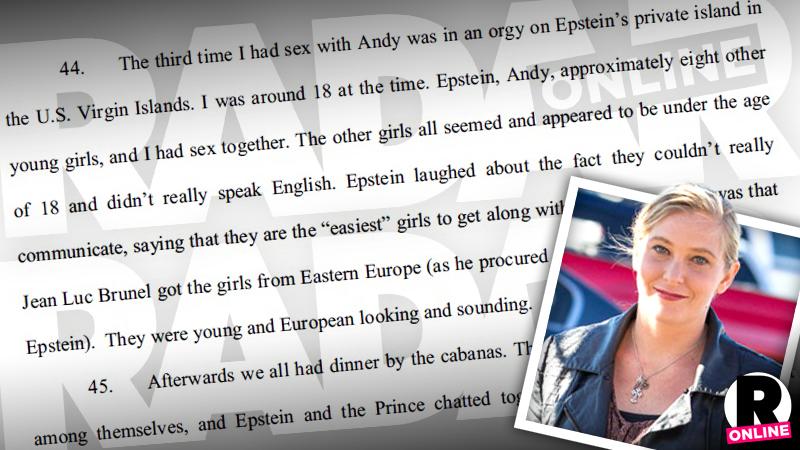 In recent weeks, Prince Andrew's alleged "sex slave" Virginia Roberts has come forward with lurid claims about their sexual encounters, and her time with billionaire pedophile Jeffrey Epstein. But the true extent of the alleged depravity that happened with the royal on Epstein's infamous orgy island has been shrouded in secrecy — until now. In a shocking new affidavit obtained by RadarOnline.com, Roberts revealed new claims about how she and "eight other young girls" were forced to have group sex with the royal and his pedophile pal, and how the entire scene left her "disgusted."
Article continues below advertisement
As RadarOnline.com has reported, Roberts has claimed she had three sexual encounters with Prince Andrew. Her allegations are laid bare in a new affidavit filed in Florida as part of her ongoing suit, with other alleged victims, against the US government for giving Epstein a plea deal without consulting them. And the claims in the new documents are perhaps the most disturbing yet.
According to Roberts' under-oath statement, the third time she allegedly had sex with Prince Andrew was "in an orgy on Epstein's private island in the U.S. Virgin Islands. I was around 18 at the time."
"Epstein, Andy, approximately eight other young girls, and I had sex together," she claimed in the affidavit. "The other girls all seemed and appeared to be under the age of 18 and didn't really speak English. Epstein laughed about the fact that they couldn't really communicate, saying that they are the 'easiest' girls to get along with."
"My assumption was that model scout Jean Luc Brunel got the girls from Eastern Europe (as he procured many young foreign girls for Epstein)," she claimed. "They were young and European looking and sounding."
Article continues below advertisement
"Afterwards we all had dinner by the cabanas. The other girls were chatting away among themselves, and Epstein and the prince chatted together. I felt disgusted, and went quickly to my own cabana that night and went to sleep. Prince Andrew must have flown out early the next morning, as I did not see him when I got up."
So far, Prince Andrew has not personally commented on the allegations. But a spokesperson released the following statement: "It is emphatically denied that HRH The Duke of York had any form of sexual contact or relationship with Virginia Roberts. The allegations made are false and without any foundation."
"That denial is false and hurtful to me," Roberts insisted in the affidavit. "I did have sexual contact with him as I have described here — under oath. Given what he knows and has seen, I was hoping that he would simply voluntarily tell the truth about everything. I hope my attorneys can interview Prince Andrew under oath about the contacts and that he will tell the truth."
Indeed, as RadarOnline.com has reported, Roberts has instructed her legal team to pursue "criminal charges" against Epstein and his coterie of high-powered friends.