Booze, Sex & Drugs! Inside The Twisted Life Of 'First Brother' Roger Clinton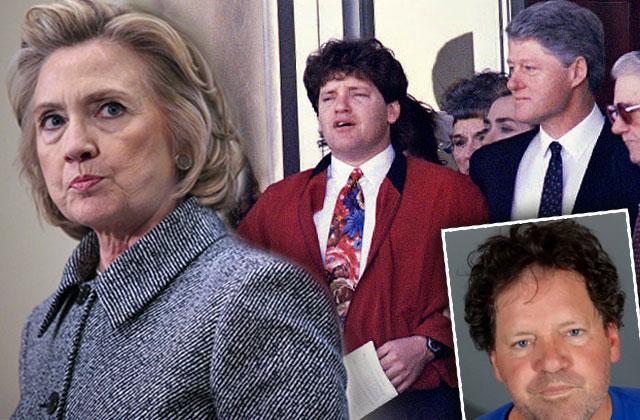 Article continues below advertisement
He was once so deep into his out-of-control drug habit and excess partying that friends feared he was hell-bent on self-destruction.
RadarOnline.com exclusively found out that the former "First Brother" – who Bill praised for cleaning up his act after Roger served 15 months in prison for dealing cocaine — found himself in a wild cross-country drive fueled by booze, drugs, and sex only days after his brother's inauguration in 1992.
One of Roger's longtime friends, Fred Martin, recounted the story, claiming that Roger was a "monster" and "out of control." Roger bragged that he was going to make big bucks by cashing in on his brother's fame and shamelessly used the Clinton name to lure women into bed, Martin said.
Martin met Roger in 1978 when they were performing at clubs in Little Rock, Ark. "He was heavily into cocaine then, and I was snorting a little bit too," admitted Martin, who said he beat his own cocaine habit. "I lost touch with Roger after he went to jail in 1984."
Article continues below advertisement
Martin said he reconnected with Roger after Bill was elected president, and Roger asked him to join his band, called Politics. "He bragged: 'Big brother's finally made it - and I'm right there along with him. I'm on top of the world. Man, you've no idea how much money we're gonna make!'" Martin said.
Roger promised his friend a 100-date tour and big money from an album he was going to make for Atlantic Records, according to Martin.
"It seemed too good to pass up. I quit my job and got ready to go to Los Angeles," he claimed. But as they drove out to California, he quickly grew suspicious.
Martin claims he asked Roger if he was back on cocaine. "He said: 'I'm not messing with that anymore. My brother's the president now - I can't do that to him.'"
But the next day, as Roger packed for the trip at his mother's home in Hot Springs, Martin says he downed two vodka-and-orange juice screwdrivers and started smoking a joint on the road.
Article continues below advertisement
Martin said Roger "was smoking and drinking beer like a wild man. I saw the speedometer needle go over 100 miles an hour. I was terrified." When they stopped in Dallas, Roger wanted an eight-ball, he alleged.
"My heart sank. An eight-ball is an eighth of an ounce of cocaine. I said, 'Roger, you told me you weren't doing that anymore.' He replied, 'I just want to do some tonight.' Then he pulled over and made a call to someone in Dallas."
When the two arrived in Dallas, Roger dropped Martin off at the home of a longtime Clinton family friend and immediately took off, explaining he was going to "see a girlfriend," Martin said.
After that brief stopover, Martin and Roger set off on the final leg of their bizarre journey. "We smoked pot all the way to Los Angeles," Martin said. The two arrived in Los Angeles, and soon after their arrival, Martin said he learned that Roger's record deal with Atlantic had been put on hold.
Article continues below advertisement
"To make matters worse for me, I found out that Roger's band already had a bass player for the TV show warm-ups -- so I wouldn't even be getting the $200 a week he'd promised," he alleged.
Despite his record-deal disappointment, Roger's life in the fast lane never slowed, according to Martin: "He had a different woman every night. I saw him with at least five in Los Angeles. He had no shame about using the Clinton name to get them in bed."
"The first thing he did when he woke up in the morning was light a joint. If he had no appointments he'd go through 10 joints a day. In 10 days, he must've spent at least $900 on pot," Martin alleged. "He'd sit and smoke pot and watch Bill Clinton on the TV news."
Martin claimed that by 10 a.m. Roger usually had his first beer of the day in his hand and would boast "about what he'd done with a girl the night before."
Roger was just "a bomb waiting to explode," Martin said.
Indeed, he was arrested for DUI on June 6 after a concerned driver saw him driving in "an erratic manner." He's due back in court in July for the case.