'You Were Mean!' Kelly Dodd Slams The 'Wives For Bullying Vicki Gunvalson On 'RHOC'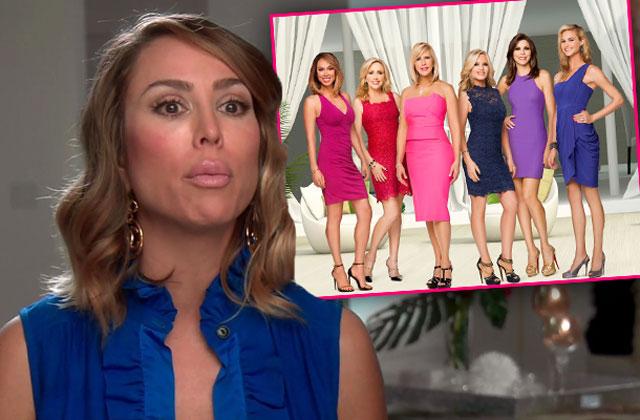 This week on the Real Housewives of Orange County, Vicki Gunvalson and Heather Dubrow picked up where they left off, with a big tête-à-tête over Gunvalson's shamed ex Brooks Ayers during the girls' yacht party.
"I went about everything wrong last year, and I'm sorry," Gunvalson told Dubrow of Ayer's cancer fakery on the yacht's lower deck. "I didn't want to believe what you guys were saying. I was fighting to hang onto something that was slipping through my fingers. I want to ask for forgiveness. Forgive me!"
Article continues below advertisement
"I still don't understand why he did what he did," she added.
But Dubrow wasn't about to forgive and forget, telling Gunvalson, "You were a part of it and that's what makes me sick."
On the way home from the party, Gunvalson broke down in tears, confessing, "I'm sad because I think the women lost respect for me."
Luckily for Gunvalson, a fresh ally soon came to the rescue. RHOC newcomer Kelly Dodd quickly sought the 54-year-old out for a good time, learning how to "whoop it up" just like Gunvalson.
Watch the Video on RadarOnline.com:
Meanwhile, in an effort to spend more time together as a family, Heather Dubrow and plastic surgeon husband Terry headed to the Turks and Caicos for a fun-filled vacation.
Back in Orange County, Meghan King Edmonds invited Judge, Beador, and Dodd over for some kitchen demolition fun, but it quickly turned into a shame-fest when Dodd accused her fellow 'Wives of bullying Gunvalson at the yacht party.
MORE ON:
The Real Housewives of Orange County
Article continues below advertisement
"I felt like Vicki was very kind and very nice," Dodd told the ladies, calling Beador out specifically for being standoffish. "You guys were mean to her; kind of like, ignoring her."
"I have a long history with her and she's done a lot of sh*tty things to me," Judge defended herself, shocked by Dodd's brazen behavior.
It's safe to say Dodd is off to a rocky start when it comes to the women of Orange County.
The Real Housewives of Orange County airs Mondays at 9 p.m. EST on Bravo.