Peace Talks! Donald Trump Meets With Paul Ryan In DC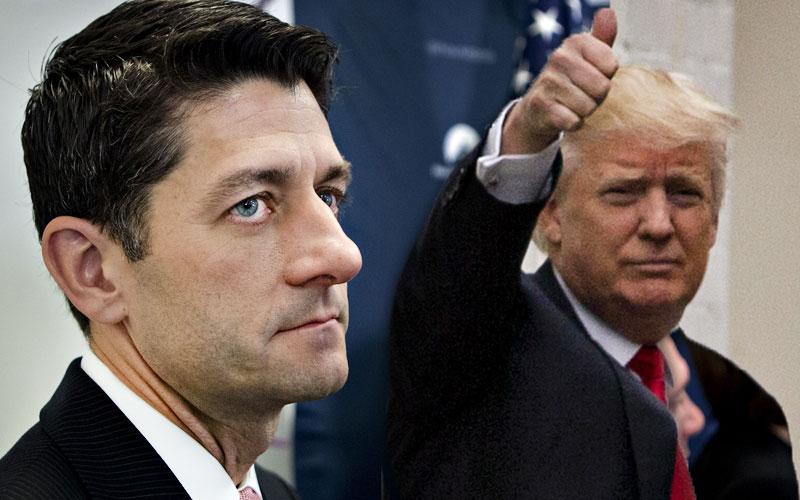 Donald Trump is getting another chance to put his negotiating skills to the test in Washington, D.C. today. According to reports, the presumptive Republican nominee is meeting with combative House Speaker Paul Ryan.
Ryan previously told CNN that he wasn't ready to support Trump as the Republican nominee, despite his crushing victories in the primaries. In response, Trump said he wasn't "ready to support Speaker Ryan's agenda."
Article continues below advertisement
Trump insisted, "I'd like to have his support, but if he doesn't want to support me, that's fine."
However, ahead of the meeting, Ryan was already singing a different tune, hinting at an eventual truce.
"We come from different wings of the party," he told reporters Wednesday. "The goal here is to unify the various wings of the party around common principles, so that we can go forward to unify it."
Ryan said he's only met Trump once briefly, at a 2012 fundraiser for his Vice Presidential campaign. "We just need to get to know each other," he said.
Trump certainly has a good track record with winning over his critics: As RadarOnline.com reported, his closed-door meeting with Megyn Kelly last month resulted in a detente between the former foes, as well as a primetime television special to air on May 17, featuring the presidential candidate with Kelly. (Megyn Kelly Presents will air on FOX.)
However, Trump said he was entering the meeting with Ryan with few expectations.
"If we make a deal, that will be great," he told Fox News. "And if we don't, we will trudge forward like I've been doing, and winning all the time!"