Court Papers Show Joe Paterno Probably Knew About Jerry Sandusky Child Sex Abuse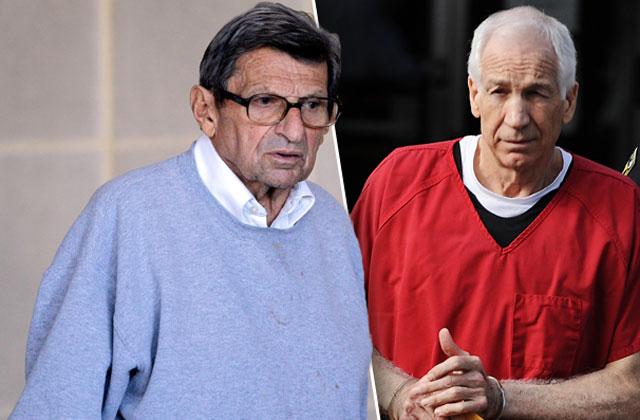 While the late Penn State Head Coach Joe Paterno always claimed he didn't know about his longtime colleague Jerry Sandusky's abuse of children, shocking new documents seem to prove otherwise.
A new court order reveals that one of the insurance companies for Penn State now alleges that "in 1976, a child allegedly reported to PSU's Head Coach Joseph Paterno that he the child was sexually molested by Sandusky."
Article continues below advertisement
The order in question also states that between 1987 and 1988 there were multiple assistant coaches who witnessed Sandusky's inappropriate interactions with kids, and one case, state the papers, was allegedly referred to the school's top official in the athletic department.
Sandusky, who worked under Paterno for thirty years, was convicted in 2012 on charges he sexually abused 10 boys between 1994 and 2008 . Penn State has had to dole out over $60 million to settle the dozens of civil claims stemming from Sandusky's actions during that period.
Paterno's family has released a statement dismissing the latest revelations in the insurance case, insisting the coach, who died in January 2012, was completely in the dark about Sandusky and never covered anything up.
"Over the past four-and-a-half years Joe Paterno's conduct has been scrutinized by an endless list of investigators and attorneys," said Wick Sollers, the Paternos' lawyer.
"Through all of this review there has never been any evidence of inappropriate conduct by Coach Paterno. To the contrary, the evidence clearly shows he shared information with his superiors as appropriate."
"An allegation now about an alleged event 40 years ago, as represented by a single line in a court document regarding an insurance issue, with no corroborating evidence, does not change the facts," Sollers noted, adding, "Joe Paterno did not, at any time, cover up conduct by Jerry Sandusky."