Joe Paterno's Widow Defends Him Against Charges He Covered Up Penn State Sex Abuse Scandal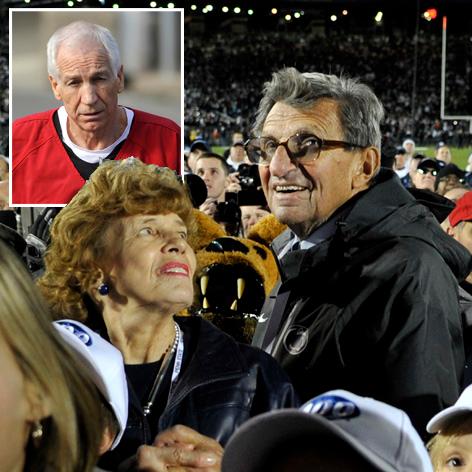 As she approaches the January 22nd anniversary of her husband's death, Joe Paterno's widow, Sue Paterno, is speaking out for the first time.
In both a letter she sent to all the former Penn State students who played football during her husband's tenure, and in an interview with Katie Couric set to be broadcast on Monday, Sue called Joe "the moral, disciplined and demanding man you knew him to be."
Sue is fighting back against the allegations made against Joe in the wake of the Jerry Sandusky sex abuse scandal. Heading an investigation commissioned by the University following the conviction of assistant coach Jerry Sandusky on 45 counts of child sex abuse, former FBI Director Louis Freeh found that Paterno and other top school officials showed a "shocking disregard for child victims" as they prioritized covering up the scandal.
Article continues below advertisement
"Mr. Freeh could not have been more off base in his assessment of Joe," Sue said in her letter.
The Paterno family launched their own investigation into what Joe may have known about Sandusky's activities, and are issuing a report on their findings on Sunday.
As RadarOnline.com previously reported, former PSU president Graham Spanier and two of his top administers have been charged with conspiring to cover up Sandusky's sex abuse crimes. They are awaiting trial.