Stepmom Vs. Monster Mom! Simon Barney's New Fiancée Slams Tamra Judge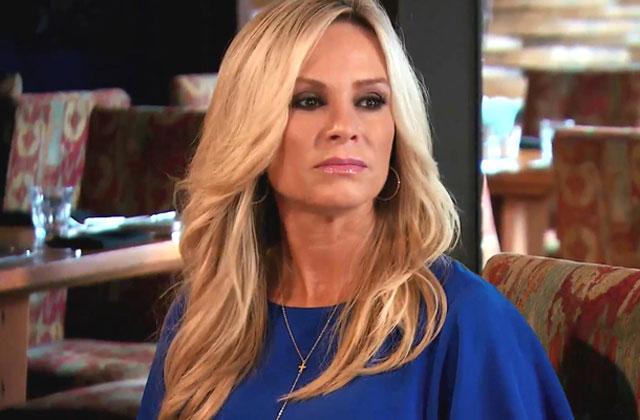 Is Tamra Judge dealing with an evil stepmother?
After the Real Housewives of Orange County star unleashed a torrent of nasty comments about her ex-husband's fiancée, Catushia Ienni, online this week, Ienni broke her silence and slammed the reality star in an exclusive interview with RadarOnline.com.
It all started when Judge raged against Simon Barney's "girlfriend" of four years, even calling her a "b***h," in comments on TheDirty.com founder Nik Richie's Instagram page on January 5, 2016.
Article continues below advertisement
Judge, who has been locked in a bitter custody battle with Barney, gave an example of what she claims is bad behavior by Ienni.
"My ex's 'girlfriend' writes me notes on my daughter's homework telling me what MY daughter needs to do. Like I'm a moron. I so bad want to say STFU and have your own kids. But I don't... it's called boundaries. It's great to have an involved step parent. But know your boundaries....b***h," she wrote.
Ienni defended her actions, telling RadarOnline.com: "The homework notes is something I occasionally have to do to relay information back to her. We don't have a relationship where I could call or text her, I wish we did. Unfortunately we don't have a healthy co-parenting relationship, mainly because of Tamra's actions."
As RadarOnline.com reported, Barney and Judge's teen daughter Sidney Barney now lives with her father and Ienni, after declaring that she no longer wanted to live with the Real Housewives of Orange County star.
Article continues below advertisement
Ienni says that she and her fiancé have struggled to co-parent with Judge.
"Simon and I have tried many times to establish some kind of relationship with Tamra for the kids' sake, with very little success," she told RadarOnline.com. "So writing a note to let her know what needs to be done on her day is what I need to do. I can't rely on a ten-year-old to relay information correctly."
Ienni also told RadarOnline.com that Judge has been unfairly bashing her relationship with Barney, 51.
As RadarOnline.com exclusively reported, he and Ienni, 35, are engaged to be married.
"Tamra keeps referring to me as Simon's girlfriend when she knows all too well that I'm his fiancée and have been for a year and five months," she told RadarOnline.com.
Another comment by Judge, 48, details an incident she claimed happened at Sophia's school.
"My ex's gf sat in my daughter's classroom seat at back to school night and I had to stand in the corner. BEYOND BULLSHIT!" Judge wrote. "I'm married to Eddie and he has enough respect to stay home! I deal with this kind of crap all the time. It's heart breaking."
Article continues below advertisement
Ienni hit back to RadarOnline.com, painting a different picture of the monster mom.
"The back to school night that Tamra keeps referring to happened a year and half ago. At the time, Tamra hadn't gone to one school event in the four years I had been with Simon," Ienni claimed.
"So as usual, we figured she wouldn't be showing up, considering when we got there she wasn't there. She ended up showing up 45 minutes late," Ienni claimed. "This was the first time she showed up in four years and I would assume it was because she was going through the custody battle with Simon. Other than that she's never shown up to any conferences or school functions until that night."
"Sophia considers me as her stepmom and I consider her as my stepdaughter," Ienni said. "I went because I wanted to know what to expect since I do homework and study with her every night she's with us."
Barney's fiancée told RadarOnline.com that she finally decided to break her silence when Judge accused her of crossing the line with the children.
"I'm really confused why Tamra has to continually talk about Simon and I in the public (social and regular media) when clearly we want nothing to do with being famous and/or included in her public life," she said. "I'm sure she will even comment that these comments are in an attempt to get my 15 minutes of fame. When clearly my actions thus far have shown I don't want 15 seconds."
Still, Ienni told RadarOnline.com that she harbors no ill will towards Judge: "This is about what's best for the kids and their happiness. I hope that Tamra finds happiness in her life and leaves us alone and out of her public life. I wish her nothing but the best."