Kate Gosselin Micromanages A Magic Show On 'Kate Plus 8'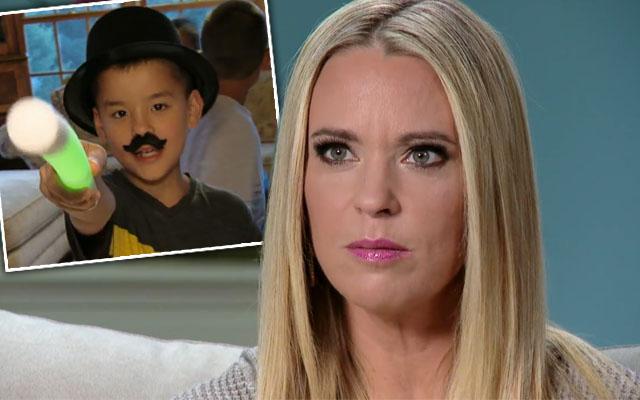 On Kate Plus 8 Episode 5, Kate Gosselin plans an epic deck party, but first — there are tricks! Tricks are for kids as the saying goes but in this case, tricks are also for Kate.
Kate decides that the boys will take a magic class to learn enough in order to put on a show for Kate and the girls. Why was this show so important and so stressful for Kate? No one knows. During the magic class, the so-called "monster mom" even pretended to be stressed out while her boys learned how to put on a convincing magic act for their sisters. Eddie was the "worker" as Kate calls every stranger, or some might refer to him as the Magic Teacher. Eddie "The Magician" managed to pull off a balloon stunt, putting Kate's cell phone in a balloon as Kate pretended to be worried about it. The boys were not impressed.
Article continues below advertisement
At this point in the episode one might ask, "What is this really all about?" or "Why is Kate so involved in their magic learning?" This wasn't about the boys at all. Kate, the perennial stage mother, was planning a show and the show needed to be perfect.
"I wasn't trying to micromanage them. I was trying to look out for their best interests so I was helping them along...I really really wanted this to go well for them," she told cameras.
At lunch, Kate let the boys relax, giving them some room to talk amongst themselves — just kidding! Instead, she went over planning for how the show was going to work, repeating over and over that it doesn't matter if the girls make fun of them. Thanks, Mom!
The next stop was the party store where the boys (mostly Kate) picked out festive decorations for the magic show. At the store, Kate pondered the great questions in life, "Is magic spelled with a g or a j?" and picked out some silver chocolate coins for the girls, aka, "It will give them something to do while they're watching lame magic."
Article continues below advertisement
"Since I didn't quite fit in as an audience member we decided I would be the assistant," she told the camera as she instructed the boys to "remember to introduce me as your assistant!"
Delusional, she explains, "That way, I'm an assistant and not a micromanaging mother."
Despite Kate's meddling, the magic show went off without a hitch and only received minor heckling from the girls.
As evident in episodes of Kate Plus 8, Kate's number one skill is to take inherently fun actives and turn them into a painful disappointments for everyone around her. The deck "party of a lifetime" was no different. Setting up for the party included stressing out unnecessarily, decorating with the perfect pillows, manual labor, bossing the kids around in a very shrill tone, pointless complaints about wanting things be perfect and repeating that this is her "dream deck."
Kate has friends! She said there were about 30 people in attendance including babysitter Andrea. Unfortunately, she was only filmed talking to about two of them.
By all appearances, the deck party was a success. The kids had a blast in the pool, Kate grilled pounds of shrimp, and the pillows (oh the pillows!) were just perfect.
The party concluded with a toast from Kate — who was really toasting herself for putting on such a great party — and a reminder to all that this is Kate's deck, they're just sitting' on it.
Kate Plus 8 airs Tuesdays at 9 p.m. ET on TLC.