Kate Gosselin Has Her Kids Landscape For Fun On 'Kate Plus 8'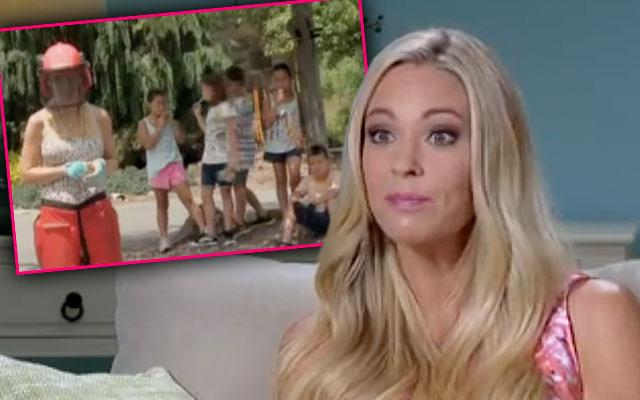 The Gosselin gang was in full work mode this week on Kate Plus 8, with Kate Gosselin as the foreman, of course. This time, Kate and her eight kids tackled a landscaping project which sought to disrupt a sacred hideout spot as well as a Gosselin pet cemetery.
As we found out, Kate, who told her children last season that animals don't have souls, freezes goldfish in her refrigerator until enough of them have died to have an efficient funeral.
Article continues below advertisement
"I'm glad they value our pets and they value life," Kate explained as we watched her bury six frozen goldfish in their front yard.
Though Kate has hired a landscape architect and many "workers" to complete this project, there wouldn't really be a show to watch if the kids weren't doing any manual labor.
Kate announced that she's done with stones and all the stones in her garden must go. In Kate Gosselin's garden kingdom, mulch is king.
Hannah, Collin, Alexis, Joel, Aaden, and Leah agreed to rake and shovel stones in exchange for turns driving the "gator" (a John Deere all terrain vehicle) to the chicken coop trail where they deposited the stones to pave Kate's road. There's no doubt Mady and Cara were laughing to themselves while watching the efforts go down from the comfort of the air conditioned house.
Meanwhile, Hannah, Collin, Alexis, Joel, Aaden and Leah quickly figured out what kind of horrible deal they had made with the devil, as their project concluded before the commercial break could even take place.
Article continues below advertisement
Watch the Video on RadarOnline.com
Later, a hunky chainsaw wielder comes over to help Kate achieve her dream of wielding a chainsaw.
In reality, however, Kate mostly stood around, saying things like, "this is so heavy!" and "I'm scared but I'm doing this for the boys because they think it's cool."
We don't know for sure but it's probably safe to say that Hunky Chainsaw Wielder did not ask for her number despite the damsel-in-distress act.
A bit of drama ensued when Kate's landscaping project threatened a sacred piece of their plot that the kids refer to as their "secret hideout." Mady reminded the cameras that she was the one who founded the "secret hideout" and had passed this on to her younger siblings.
The sextuplets got over the the territorial dispute with Kate almost as quickly as they quit the stone removal project — either because sparring with Kate over eminent domain issues seemed outright futile or because they got distracted by a soft-leafed plant called lambs ear. In any case, the sextuplets are used to making concessions and in this case, Kate allowed each of the six to plant their own lambs ear in the landscaping process.
Article continues below advertisement
Andrea the babysitter, or nanny, or "worker" (as Kate likes to refer to people she hires), is finally — albeit vaguely — addressed in this episode: "Andrea joined us for the summer to help around the house and just be another me."
It's in this episode that Leah delivers the ubiquitous quote echoed in nearly every clip: "This show should be called Kate Plus Kate because mommy gets to do everything."
This mantra is never more evident than in this episode when Kate gets her landscaping done, her kids taken care of, and she gets a TV show too.
Kate Plus 8 airs Tuesdays at 9 p.m. ET on TLC.