Presidential Election 2016
'Duck Dynasty' Star Phil Robertson Endorses Ted Cruz In Bizarre Hunting Video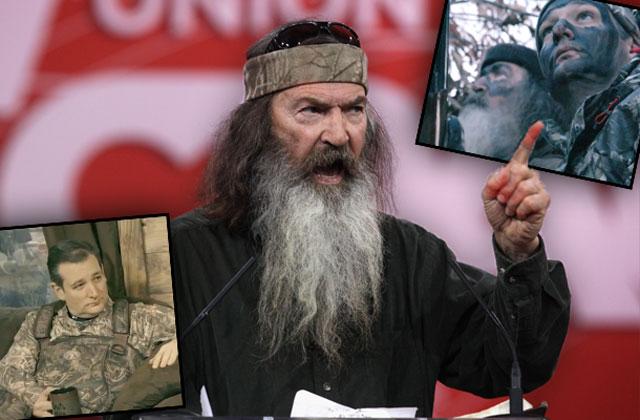 It's official; Duck Dynasty's patriarch Phil Robertson is in full support of presidential candidate Ted Cruz.
In a new video released by Cruz, the pair goes duck hunting together (because, why not?), discussing Robertson's reasons for backing the conservative prez contender.
"My qualifications for president of the United States are rather narrow: Is he or she godly, does he or she love us, can he or she do the job, and finally would they kill a duck and put him in a pot and make him a good duck gumbo?" the reality TV star says in the video. "I've looked at the candidates. Ted Cruz is my man. He fits the bill."
Article continues below advertisement
"The reason we're going to vote for you, all of us, is because you're one of us, my man," Robertson continues, wearing camouflaged hunting garb and black paint over his face. "It's now or never."
Watch the Video on RadarOnline.com:
"I am thrilled to have Phil's support for our campaign," Cruz said of Robertson's testimony in a recent statement. "The Robertson's are a strong family of great Christian faith and conservative values."
Of course, the Duck Dynasty star is no stranger to controversy, raising eyebrows last year after delivering a speech at a religious gathering that used murder, child rape and castration to illustrate the flaw in atheism.
Throughout his career, Robertson has consistently made bold, public remarks about politics, sex and homosexuality on a number of occasions, making this most recent declaration of support for Ted Cruz just another drop in the ocean.