SHOCKING AUDIO: 'Duck Dynasty's' Phil Robertson Story Uses Child Rape, Castration, Murder To Discount Atheist Beliefs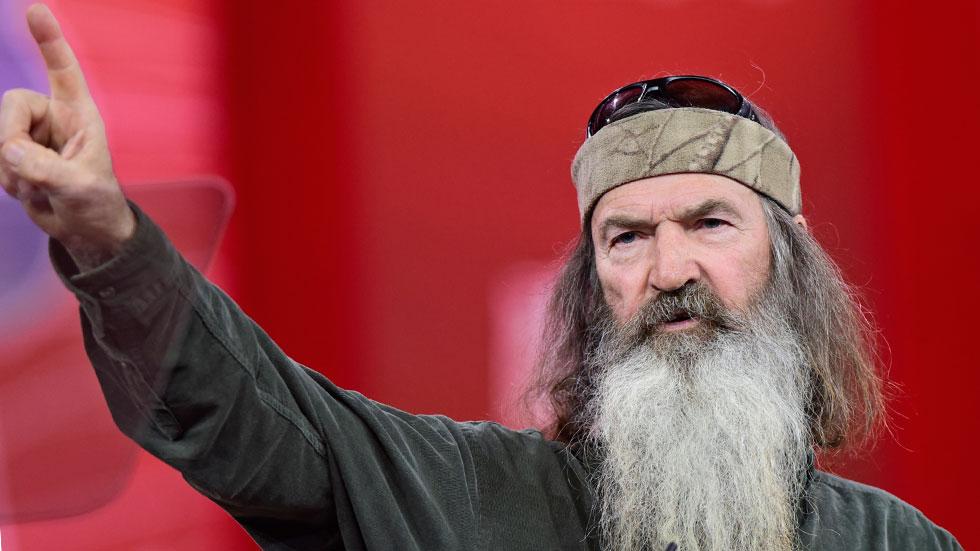 Duck Dynasty's Phil Robertson has raised eyebrows with a recent speech at a religious gathering that used murder, child rape and castration to illustrate the flaw in atheism.
Robertson talked to the Vero Beach Prayer Breakfast Friday, and his comments were later broadcast on the Christian radio show Trunews, and posted on Right Wing Watch.
The opinionated reality TV dad started his story, "I'll make a bet with you: Two guys break into an atheist's home. He has a little atheist wife and two little atheist daughters. Two guys break into his home and tie him up in a chair and gag him."
Article continues below advertisement
That's where things took a turn for the graphic.
Hear the audio on RadarOnline.com
"Then they take his two daughters in front of him and rape both of them and then shoot them, and they take his wife and then decapitate her head off in front of him and then they can look at him and say, 'Isn't it great that I don't have to worry about being judged? Isn't it great that there's nothing wrong with this?'" Robertson said. "There's no right or wrong, now, is it dude?'"
Robertson continued his strong speech with a reference to castration.
"Then you take a sharp knife and take his manhood and hold it in front of him and say, 'Wouldn't it be something if there was something wrong with this? But you're the one who says there is no God, there's no right, there's no wrong, so we're just having fun. We're sick in the head, have a nice day.'"
He concluded, "If it happened to them, they probably would say, 'Something about this just ain't right.'"
Of course, the outspoken Robertson is no stranger to controversy, having made bold, public remarks about politics, sex and homosexuality on a number of occasions.