Fairy Tale Love To 'Nightmare!' Why Javi's New Tat May Be Dig At Kail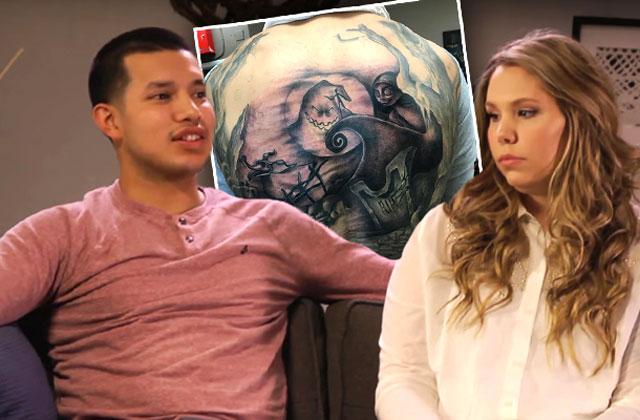 Over a year ago, Kailyn Lowry's husband Javi Marroquin shared on Instagram a picture of his plans for a new tattoo on his back.
In a descriptive caption, he explained that the tattoo would be symbolic of his life with his wife.
"There's more to life I still have yet to discover, exploring with my family," he wrote. "@sickinkstudios just some lines to get the idea out there!"
But now, RadarOnline.com has learned that Marroquin has decided to change up his ink big time — instead of a lunar landscape, he is going for a Nightmare Before Christmas theme.
Article continues below advertisement
"My nightmare before Christmas piece is finally coming together!" he posted along with a shot of his new art. "The guys over @aggressiontattoo really hooked it up. Sat for 8 hours today to make sure I got most of it done. Thank you @mikemaratattoo and @adamlerchtattoos you guys are awesome. Check them out, you won't be disappointed."
"He wasn't happy with what he had there," Marroquin's tattoo artist and owner of Aggression Tattoo Whitehall, Pennsylvania, Mike Mara, explained to Radar. "So I am fixing what he has and I am adding The Nightmare Before Christmas."
According to Mara, Marroquin decided on his new theme because "that's his favorite movie — he really enjoys it."
"He loves it," Mara said. "And he had the open space for it, so we could blend everything in and do a partial cover-up."
Article continues below advertisement
Marroquin's new tattoo requires a lot of time in the studio.
"He was in on Monday Dec. 14 — that was an 8-hour tattoo," Mara said. "We did a 4-hour session prior to that. There are about another 20-30 hours left. We are just getting started."
But unlike many of his other customers, Marroquin, 22, can handle the pain of the needle.
"To be honest, not too many people can do it," Mara said. "He took a catnap. He doesn't flinch. And he said it was awesome. He is definitely one of the better clients who sits for a tattoo."
Mara has also worked on Lowry before.
"Kaily sits great too," he said. "I did the script on her and I'm working on a cover-up on her arm."
So what could this ink mean about their marriage?
As Radar previously reported, Marroquin and Lowry are still working on their issues.
"I think it's been hard because I'm a college student and it's hard for me to balance a family life and a social life knowing that I can't relate to a lot of the kids that I go to school with," Lowry, 23, admitted. "I can, but I can't at the same time."
She added, "It's like this weird dynamic and I think just finding a balance where I can have my family and my social life — that's where we have to figure it out."