Actor's Ex Porn Star Lover Bree Olson Says Actor Told Her, 'I'm Clean'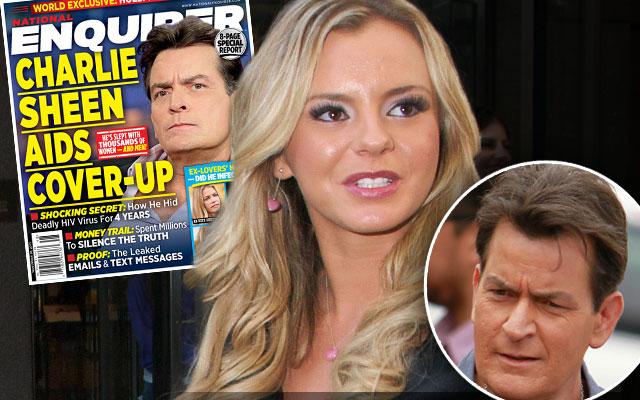 Bree Olson said that Charlie Sheen told her, "I'm clean," when they were sex partners following his 2011 HIV diagnosis, a timeframe she compared to playing "Russian roulette every day for a year."
"He can claim drugs and alcohol … he knew exactly what he was doing," she told Howard Stern on Tuesday, adding that "it is a crime" to have sex with someone while knowingly infected with HIV in California, where they lived at the time of their relationship.
Article continues below advertisement
The former porn actress was one of the two "Goddesses" at the actor's side (alongside model Natalie Kenly) during his self-proclaimed "media tsunami" following his public falling-out with Two and a Half Men creator Chuck Lorre in 2011 — the year he learned he was HIV-positive.
Olson, whose real name is Rachel Oberlin, expressed her outrage toward the Anger Management actor, affirming Stern's observation that she believed the TODAY interview was a pack of lies.
"I have a family, I have a future … to think that you could have taken that away from me, that you knowingly were doing that," she said. (In his TODAY interview, Sheen said that he "always led with condoms and honesty when it came to his condition," and with "no exception," told every partner about his HIV-positive status.)
Olson, an ex-porn star who appeared in hundreds of XXX titles, said that Sheen twisted his narrative in his TODAY show interview to cast shame on the adult stars he was admitted fond of sleeping with.
Article continues below advertisement
"Just because I'm a former sex worker, I'm a human being," she said. "In that interview … he said he came up with this word of saying, 'I made this choice of sleeping with low-class women' or whatever the word is … that's how he had to have seen me, and almost every other woman."
Olson said that she's tested "negative for HIV," and feels "very fortunate" and "lucky" that her genetics make it less likely for her to contract the disease.
Despite that, she said that she's feeling a ton of blowback in the wake of Sheen's health crisis going public — "Now when people hear the name Bree Olson, they will think of HIV," she said — and has even received death threats.
"Some guy called me and said, 'B**ch, you need to die before you give AIDS to anyone else,'" she told Stern. "People are blaming me, saying that I gave Charlie AIDS because I'm the porn star, I'm the sex worker."
Article continues below advertisement
The Indiana native, 29, said that she would not accept any apologies from the embattled actor.
"I don't want it," she said. "I'd say, 'F**k you!'"
Olson, who landed in Playboy magazine after gaining fame as a result of her association with the actor, said that she was "f**king crazy" during her time at Sheen's side, a chaotic period in which there were "a stream of women in that house, going in and out … these prostitutes would be walking through our kitchen.
"It's seriously the stupidest thing I've ever done by far — the most stupid thing i've ever done," she told Stern.
The Howard Stern Show airs live on SiriusXM Mondays thru Wednesdays.