'Everything Is A Mess Right Now': 'Sister Wives' Meri Brown's Catfish Controversy EXPLODES –– All The Shocking Details Of Reality TV Fiasco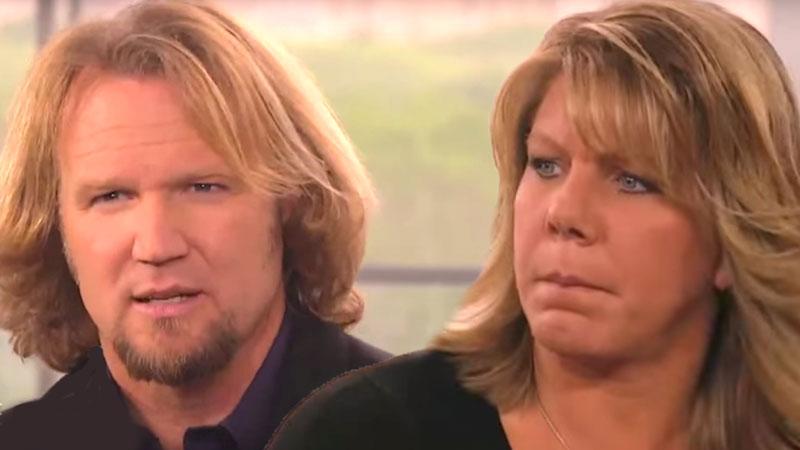 In the latest surrounding Sister Wives star Meri Brown's catfish scandal, fourth wife Robyn has been implicated in the incident, while a woman named Jackie Overton could possibly be behind the whole thing.
"This scandal has caused the whole family to implode -- everything is a mess right now," a source close to the reality TV family told In Touch Weekly.
Sources told the magazine that "Robyn absolutely knew from the beginning that Meri was being Catfished," and "sat back and just watched as the whole scam unraveled." (A pal of Robin's named Kendra Pollard-Parra insisted to the magazine that the man exists.)
Article continues below advertisement
Meri's ties to the man reportedly named "Sam Cooper" -- purportedly a tall Chicago businessman -- have been documented in 11 voicemails in which she's practically begging the mystery man for his love and acceptance.
"Being with you is very special to me. It really is. Please don't take that away from us okay?" she groveled in one, the magazine reported, while in another, she's heard saying, "I love you. I love you. I love you. I love you -- I just do."
In another she said, "It's very special to me you know that … I guess I'll just give you your space. I understand you need that. All of this just breaks my heart because I don't know what is going on.
"Anyway I wish you weren't so mad at me right now. I really hate it when you're mad at me. I wish you weren't mad."
While the online persona identifying themselves as Sam claimed to have had sex with Meri as many as 60 times, the magazine, through its investigation, reported that they didn't believe Sam or his purported assistant Lindsey, were real.
Article continues below advertisement
In Touch turned the focus on Oklahoma woman named Jackie Overton, citing a number of unreturned requests of evidence, including Skype calls, forms of identification and dated materials.
Cheryl Crisafulli, a Georgia woman who claims to have fallen prey to a similar ruse at Overton's hands, said that she thinks Overton "is addicted to this chase."
The ongoing controversy has caused a ton of stress and heartbreak for the polygamist family, as the family believes that Meri's emotional straying violates her pact with Kody.
As for Robyn's involvement, sources said that she knew about the communications, but "never confronted Meri about what was going on," as she "wanted to just let it play out.
"She wasn't going to try to intervene. Whatever happened at the end of it, the family would be better off because the affair would come back to light."
While an insider tells In Touch Meri and Sam's relationship began because she was lonely and unhappy in her spiritual marriage to Kody, (they divorced earlier this year after 24 years of marriage so he could legally marry Robyn), the voicemails make clear Meri took things very seriously.
Article continues below advertisement
The sadness possibly hits Meri the hardest, as she's upset about the infertility issues that only enable her to have one child with Kody; as well as reeling from loneliness and shame over her actions, which come just more than a year after they divorced, allowing Kody to wed Robyn and adopt her kids legally.
Meri, 44, admitted her indiscretions in a statement to the magazine, saying that "during an emotional and vulnerable time earlier this year, I began speaking with someone online who turned out not to be who they said they were.
"I never met this person and I regret being drawn into the situation, but I hope because of it I can help others who find themselves in similar circumstances. Throughout this whole ordeal, my family has supported and stood by me. I am grateful to them for their love and strength through this difficult time."