Murder? Mickey Rooney's Daughters Claim He Was POISONED!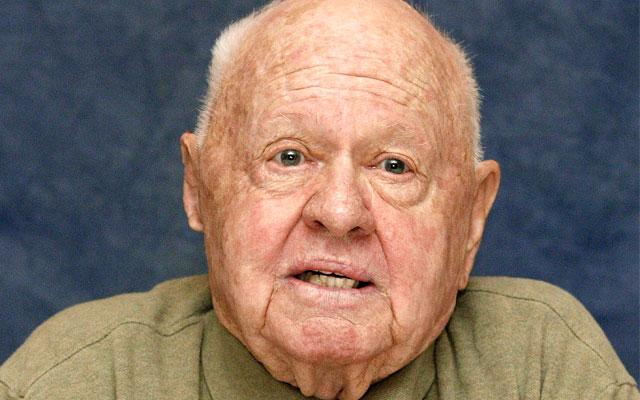 Lovable Mickey Rooney was poisoned, his two daughters have sensationally claimed — and they believe they have the evidence to catch his killer!
As the Hollywood legend lay in his coffin, Kelly Rooney clipped several strands of hair from her father's corpse, believing they would be the key forensic proof that will confirm he was poisoned, RadarOnline.com has exclusively learned.
The daughters and other family members were not immediately notified of Mickey's April 6, 2014, death at the age of 93 — and now they say they want his body exhumed.
Article continues below advertisement
No autopsy or toxicology tests were performed at the time of his death, rousing suspicions of foul play, accusations of elder abuse and a nasty battle over a surprise new will.
"Their father was immediately taken and embalmed as if they were hiding something!" said Mickey's biographer, William J. Birnes.
"Why was there no autopsy? Why was this done so quickly, and the way they learned about their father's death was through the news media?"
The bitter family feud set his biological kids and estranged wife, Jan Chamberlin, against her son, Mark, who, along with his wife, Charlene, lived with Mickey during his final days.
Sisters Kerry and Kelly became suspicious after they learned Mickey, who was suffering from dementia, signed a new will on March 11, 2014, just weeks before his death. The shocking change left absolutely nothing to his eight biological children or to Jan, his wife of 35 years. The sole heirs were Mark and Charlene, who had both adopted the Rooney surname.
Article continues below advertisement
"Why did he change his will weeks before he dies? It's strange," questioned Birnes.
Kelly told RadarOnline.com that for years prior to his death, she, Kerry, 54, and other biological siblings were kept from their famous movie star dad despite many desperate attempts to check on him!
"Most of my dad's kids were isolated from him," Kelly told RadarOnline.com. "It was a gradual isolation and, as his first daughter, I was very close to him growing up."
Burning anger over the estrangement boiled over on the day Mickey died.
The family discovered that when EMTs arrived they were unable to revive Mickey — even though he was still struggling to breathe, said Birnes.
Suspicion deepened when they learned a doctor had signed off on the death certificate and Mickey was buried at the Hollywood Forever cemetery without an autopsy.
"They wanted the body exhumed," said Birnes, "but they did not have the money to engage in the legal process."
Article continues below advertisement
Ed Winter, assistant chief medical examiner for Los Angeles County, told RadarOnline.com no autopsy was done because the doctor's signature ended his jurisdiction.
Winter also revealed he conducted an examination of Mickey's corpse after reports of possible abuse.
"It turned out not to be true," Winter told RadarOnline.com. But he admitted there were no toxicology tests, which could have detected if foreign chemicals were in his bloodstream at the time of his death!
That's why Kelly took dramatic action.
"What she did was, when Mickey was lying in state in his coffin, she leaned over and cut off a bunch of Mickey's hair, because she figured that he may have been poisoned," said Birnes, who co-authored the recently released book, The Life and Times of Mickey Rooney. "She felt something was amiss."
Mickey's daughter cannot afford to run forensic tests on the hair samples, but for now, they have the "evidence," hoping something could turn up in Mickey's hair follicles!"