Mickey Rooney's Widow Jan Denies Elder Abuse Allegations: 'I Didn't Kill' Him!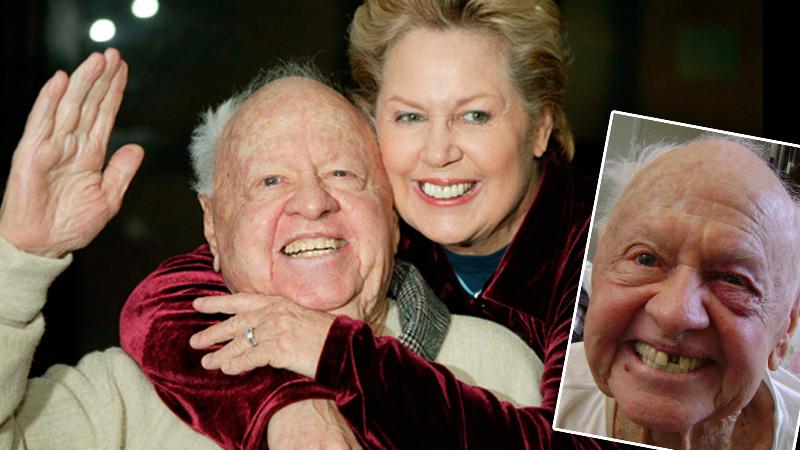 The world was shocked when RadarOnline.com released photos of a bloodied and bruised Mickey Rooney eight months after his April 2014 death. But now, his widow is speaking out to insist the injuries were caused was caused by a fall and "not elder abuse."
"I didn't kill Mickey! I loved him!," Rooney's widow Jan Chamberlin told The National ENQUIRER in an exclusive interview as she stood by his Hollywood grave.
Article continues below advertisement
Chamberlin is fighting back against allegations that she terrorized the legendary actor, which resurfaced after the frightening photos were released.
"There was no elder abuse," she said. "He tripped on the doorstep. That's how he hurt his head!"
A former nightclub singer, Chamberlin became Rooney's eighth wife in 1978.
"I cry every day without my Mickey" she told The ENQUIRER. "We had a wonderful life together. He treated me like a queen."
Rooney was separated from his wife and she had not seen her husband for a year before his 2014 death. He was living with a stepson and his wife when he died. Chamberlin only learned of his death from a reporter.
In addition to the photos, RadarOnline.com also released audio recordings of vicious arguments between Rooney and Chamberlin recorded between 2010 and 2012. On one tape, Chamberlin is heard saying, "You lying piece of s---! Get out of my life!"
Article continues below advertisement
The revelations prompted family members to call on authorities to investigate possible elder abuse.
"I deny each and every allegation that I mistreated Mickey," Chamberlin told The ENQUIRER.
After a recent visit to Rooney's grave at Hollywood Forever Cemetery, her son, Chris Aber, said his mother wanted to clear up the mistreatment issues.
"Mickey would yell and I would yell back," she said about the recordings. "That's the way we communicated."
As for the photos, she said "He tripped on the back doorstep and that's how he hurt his head. And Mickey always had a missing tooth. He had posts, so he was always losing a tooth."
"There was no abuse!" Chamberlin insisted.