Brooks Ayers Says He's 'Scaled Back' His Drinking Amid Cancer Battle –– 'It's Nothing Like It Used To Be'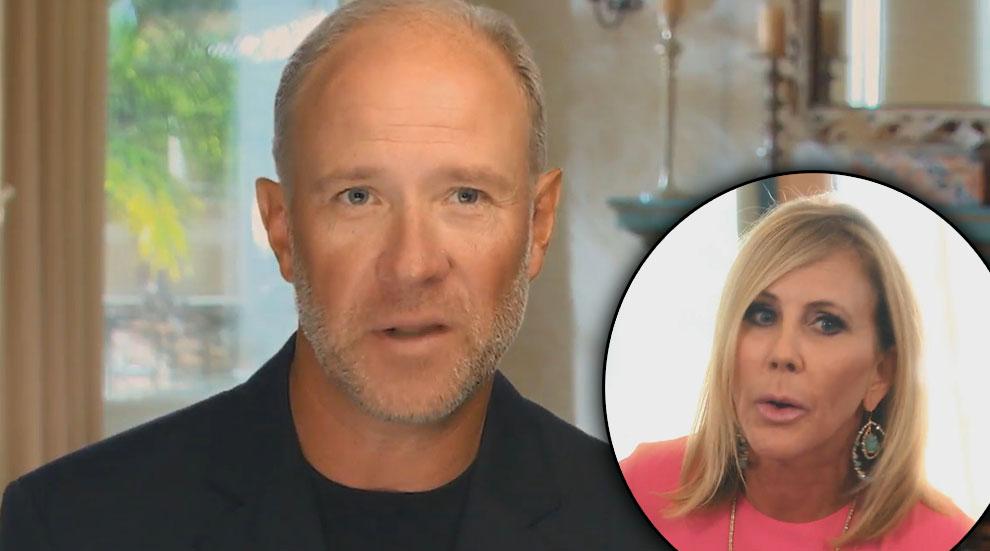 Vicki Gunvalson's ex-beau Brooks Ayers says he's drastically cut back on boozing as he undergoes chemotherapy for his cancer battle, amid a recent hubbub.
The Real Housewives of Orange County cast member spoke to US Weekly after a recent controversy in which he was spotted in Fort Lauderdale, Fla. boozing last week, admitting to a few drinks, but on a "very, very scaled back" basis.
"The story took legs when it said that I was out partying in the midst of dealing with chemo, which is a no-no -- you don't do that -- so I haven't been doing that," he told the magazine, amid an ongoing controversy on the Bravo hit in which many of the castmates -- most vocally, Vicki's rival Meghan King Edmonds -- have expressed their doubt as to whether he's really fighting non-Hodgkin's lymphoma, as he claims.
Article continues below advertisement
Ayers conceded that he will "have a drink on occasion," but "it's nothing like it used to be," which was "three or four times a week socially."
Ayers said he now limits his boozing to "a couple of times a month," saying that on the night in question in South Florida, he "had two cocktails and that was it.
"I wasn't over the top drunk, I wasn't with any woman ... I was with three of my buddies."
Ayers told the magazine that he hasn't undergone chemotherapy in more than eight months, and when he was, it was on a limited, but powerful, basis.
"It's implied -- people say chemotherapy, they think the worst, they think three or four days a week -- and it is awful," he explained. "I'm not demeaning that at all, but the route I went was a more potent chemotherapy treatment, one time, every six weeks.
"I did not have to get a port for that, one day of receiving via IV chemo was fine."
Ayers slammed the scrutiny he's received from the Gunvalson's skeptical castmates, saying that he's "barely acquaintances" with "these ladies" who he sees "three or four times a year.
Article continues below advertisement
"For them to pretend like they know everything that's going on in my head and my doctor's appointments and what I'm doing and what I'm going through -- that's the sad part, where I'm having to spend negative energy and unnecessary stress to be able to deal with an issue to try and rid my body of this cancer."
Ayers admitted to the magazine that the Bravo show took a huge toll on his relationship with Gunvalson, an original cast member of the Southern California reality series.
"Part of the reason why we didn't make it," he said, was "the unnecessary stress is part of Vicki's work four or five months of the year that carries on for the balance of the year because of the show airing, not just filming.
"That's her work and nobody can ask her to walk away from that ... It was just too much for me and her to survive with our personalities.
He put a bow on things, saying that "she'll be fine and I'll be fine and we've moved on."
The Real Housewives of Orange County airs Mondays at 9/8c on Bravo.