Vicki Gunvalson Struggles As Castmates Question Her About Brooks Ayers' Cancer Battle –– 'I'm Trying To Be As Strong As I Can Be'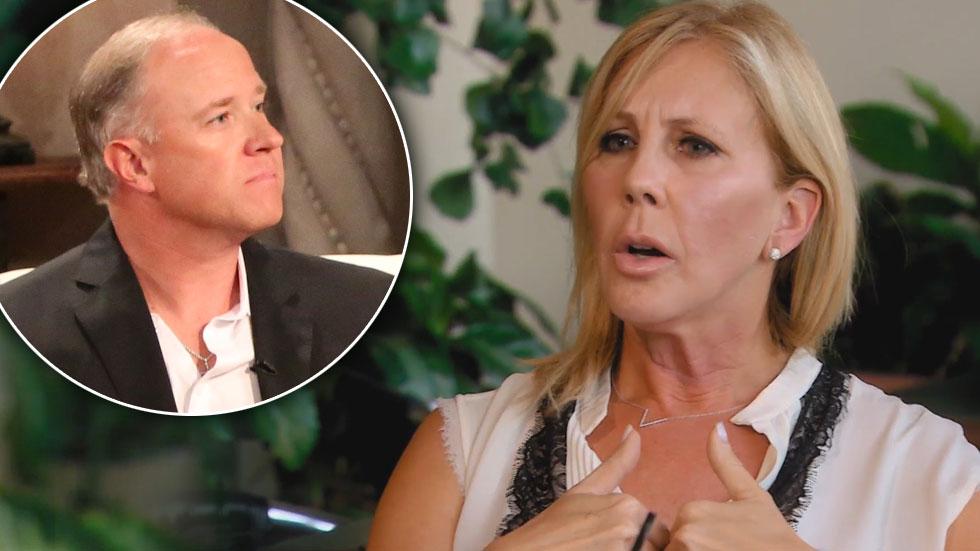 On Monday's Real Housewives of Orange County, Vicki Gunvalson was confronted by three of her castmates, as to whether her then-love Brooks Ayers was really battling cancer.
Heather Dubrow -- who said that she's "always supported Brooks" -- pulled Vicki aside to gently nudge her to push Ayers to show medical documentation of his cancer battle, noting that his doctor is not an oncologist primarily focused on battling cancer.
Article continues below advertisement
"This is a group of people that love you," Heather said, "and want you to have the very, very best."
Vicki resisted her well-meaning castmate's overtures, saying that "it's not any of Heather's business," and that they have no business prying into the confidential documents.
Watch the video on RadarOnline.com
"I'm not showing anyone his medical records," she said.
Vicki compared giving into the nosey bunch as "feeding a monster that's never going to be full."
Tamra Judge also confronted Vicki about Brooks to receive a similar hostile reaction, with Vicki warning, "If you're my friend, you don't talk about Brooks."
Tamra responded, "That's not what a friend is," at which point Vicki suggested Tamra not get involved in the sensitive discussion with others.
Vicki -- who asked, "What does Brooks need to do: Die to prove everyone wrong?" -- was so exhausted of defending Ayers, she had little to say when Shannon Beador confronted her, asking her why she didn't use the cancer doctors she'd suggested.
Article continues below advertisement
Watch the video on RadarOnline.com
"Ask Brooks -- I'm done," Vicki said, later adding the constant badgering over the topic made her want to visit her "therapist and tell her about this now."
Weary of the confrontations with friends over the issue, Vicki said she felt betrayed and sad over the constant second-guessing from her inner circle.
"I'm trying to be as strong as I can be ... when you're a friend, you're a friend. I don't know how to end this, I just don't."
The Real Housewives of Orange County airs Mondays at 9/8c on Bravo.