Liar, Liar? The OC Housewives Suspect Vicki's Boyfriend Brooks Is Faking Cancer After Psychic's Shocking Reveal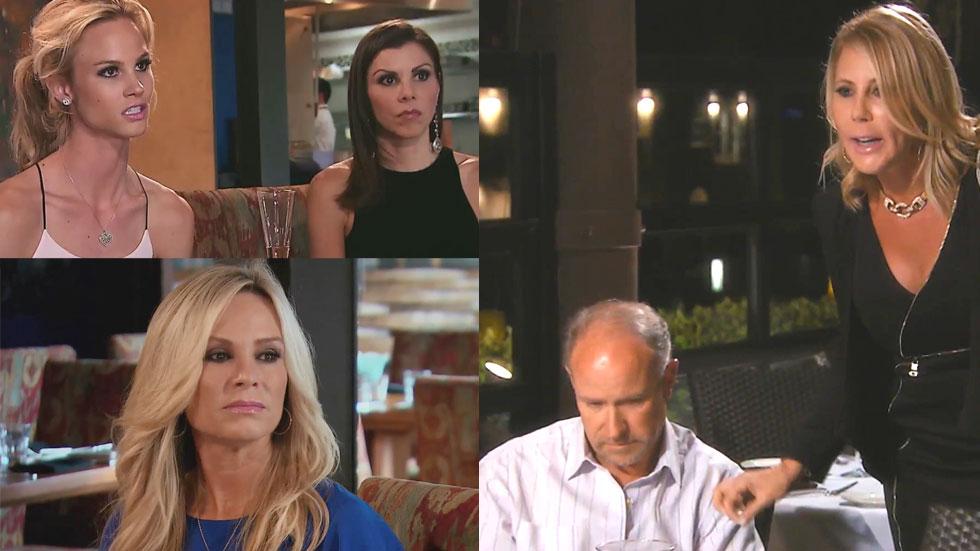 It's back to reality for the Real Housewives of Orange County -- and things are about to take a turn for the serious.
Shannon Beador kicks off the episode by scolding her 10-year-old twin daughters for vandalizing a neighborhood home during their first ever sleepover. While it proves to be a beneficial bonding experience for Shannon and David, they soon learn that they can't control their children as well as they hoped.
Article continues below advertisement
Meanwhile, Meghan King Edmonds worries over her stepdaughter, Hayley, who has been cutting her senior year high school classes and blowing off homework assignments.
But husband Jim Edmonds assures his young wife to let Hayley make her own mistakes.
"I put so much energy and work and time into my relationship with Hayley as a stepmom and now Jimmy is telling me to take a step back," Meghan sighs in confessional.
On the other side of town, Vicki Gunvalson continues to support boyfriend Brooks Ayers through his alleged battle with cancer, despite his choice to end chemotherapy, and try alternative treatments.
But Tamra Judge's psychic, Scott Cruz, is about to stir up some potential secrets regarding Brooks' health.
On a lunch with Scott, Meghan and Heath Dubrow, Tamra drops the big "C" in hopes of uncovering some helpful truth.
Article continues below advertisement
"We have a friend, Vicki, and her boyfriend has cancer right now," she tells Scott.
"She has a great heart," Scott begins to say regarding Vicki, but soon finds himself interrupted by other energies. "Hold on -- here's the thing. The cancer issue is wishy-washy to me. I just don't see it."
"So, he doesn't have cancer," Tamra asks, shocked.
"It's very possible," Scott replies.
"Who would fake cancer?" Heather scoffs as the girls take in the shocking information.
Watch the Video on RadarOnline
After a Tamra-led booty workout later that week, the girls cool down and surprise Brooks with a cake at the fitness studio for his birthday.
But Tamra, Heather and Meghan have a hard time keeping their thoughts to themselves when Brooks shares that he's putting his chemo treatments on hold.
"A psychic told us he doesn't have cancer," Meghan tells Shannon after Vicki and Brooks leave.
Article continues below advertisement
Shocked, Shannon confronts Vicki at dinner that night, but genuine concern doesn't bode well with her volatile pal, who says she doesn't even want to know what Shannon has to say.
"I know there's no ill intent, but I don't like it. It's uncomfortable," Vicki says, before getting truly heated and storming out of their dinner. "You know what -- f**k this, this is bulls**t. I have never been loved like I've been loved by this man!"