'Ignorant, Immature & Naive': Vicki Gunvalson Rails Against Meghan Edmonds For Her Fixation In Brooks Ayers' Cancer Battle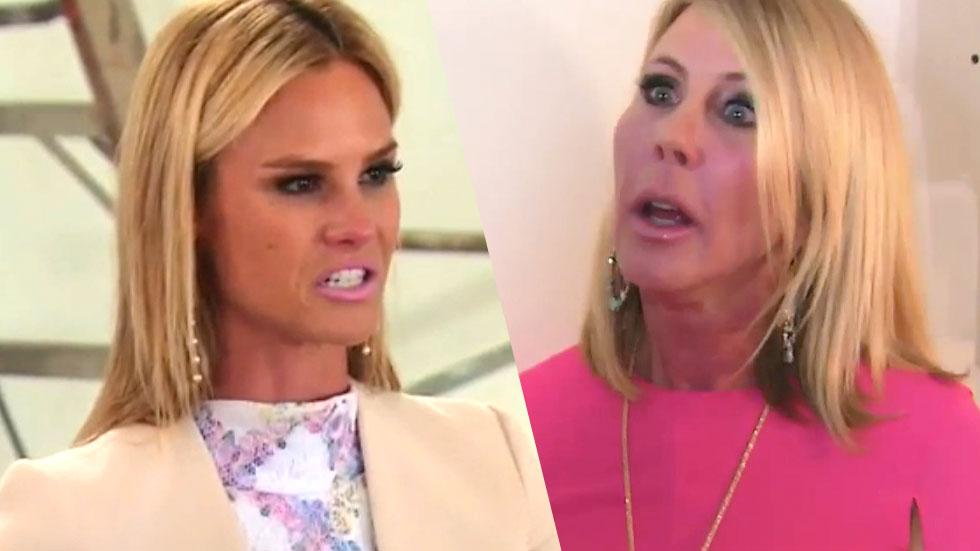 The conflict between Vicki Gunvalson and Meghan Edmonds shows no signs of slowing down, getting more pointed and personal with each passing week.
And in her latest Bravo blog Monday, Vicki got A LOT off her chest in regards to her young, sassy castmate, following an explosive episode so tense, "The O.G from the O.C." called Meghan "evil" -- and predicted her eventual trip to divorce court.
Vicki said she was "shocked" after Meghan called her "old" at a luncheon held by their castmate Heather Dubrow, saying that Meghan's lack of respect for her elders is likely telling of a much more toxic issue underneath the surface.
Article continues below advertisement
"There is zero respect with her," she wrote, "and I have to believe there is much more behind her disrespectful behavior than we know about."
Vicki said that while she's "a calm happy person" for the most part, the first-year housewife has worn her down with her constant "needling" and second-guessing in regards to her then-boyfriend Brooks Ayers' cancer battle.
"This is such a new territory for me," Vicki said, "to constantly have to talk about and defend someone that I love who has cancer is unbelievable."
Vicki said that contrary to the family and community-minded values she grew up with in the Midwest, Meghan has "attacked and questioned" her nonstop "about the existence" and treatment of the disease.
She said that Meghan's husband, Jim Edmonds, was clearly misguided in defending his spouse, who has no business dwelling on the topic in the first place.
"Why is she continuing to talk to me about this?" Vicki asked. "Why is it any of it her concern what treatment plan he is doing?"
Article continues below advertisement
Meghan's mentality that chemotherapy is the only way to fight cancer is "ignorant, immature, and naïve," Vicki said, adding that the whole experience has left both her and Brooks so exhausted, she's refusing to discuss it amongst any of her castmates moving forward.
Watch the video on RadarOnline.com
Meghan "is overstepping her boundaries and I've had it ... enough is enough," Vickie said, calling into question why Meghan continues to obsess about her personal life -- especially regarding Brooks' health crisis.
"Does she not have enough going on in her own life that she can focus on? If she is so concerned about cancer treatments, maybe Meghan should go back to school and be an oncologist if she is so passionate about cancer treatments. That would be a better use of her time I think, don't you?"
Vicki said that a snipe Meghan took at her -- calling her a "b*tch" -- for not matching perfectly at Tamra's sexy get-together "was shocking," and she feels that "Meghan is just being mean towards me.
"And quite frankly I'm tired of it."
We'll see if these two can ever play nice when Real Housewives of Orange County airs Mondays at 9/8c on Bravo.