Bethenny Frankel Accuses Jill Zarin Of Trying To Sabotage Her Career While Aviva Drescher Admits To Staging Leg Toss On 'RHONY' 100th Episode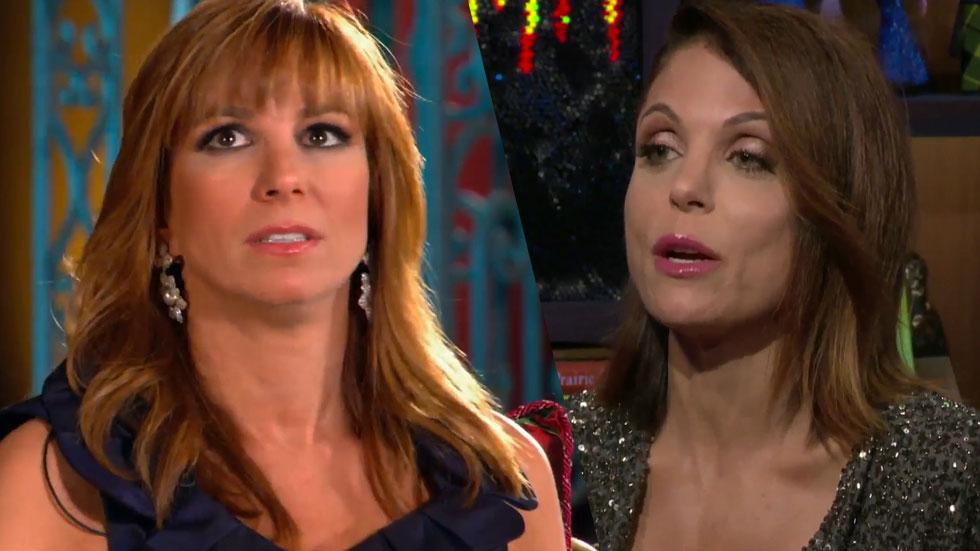 From Bethenny Frankel and Jill Zarin's explosive feud to Aviva Drescher's infamous leg toss, no topic was off limits on The Real Housewives of New York:100th Episode Watch What Happens Live Special Thursday.
With cast members from all seasons sitting down with host Andy Cohen to discuss and share secrets behind the show's history-making moments, Frankel finally set the record straight on what caused her shocking fallout from Zarin.
Article continues below advertisement
The Skinnygirl mogul explained that the turning point in their relationship was when Zarin tried to sabotage her TODAY Show appearance.
"When I got there, the first thing told to me by TODAY producers was that Jill called and she lost her mind saying, 'Why not me? I'd be better than her,'" Frankel recalled. "If someone wanted me to go to Los Angeles to be on their show, she would just say, "Why aren't you bringing me? Tell them we'd be much better, the two of us.'"
Although Frankel admitted that their relationship was "tense," they were on speaking terms when filming for season three began. Frankel even sent Bobby flowers despite Zarin's claims on the show that Frankel didn't reach out to her husband during his bout with cancer.
Frankel said of Zarin lashing out at her for not reaching out to Bobby, "I was like, 'Whoa, this is one cunning b*tch,' She's waiting on-camera to come at me and make America hate me.
Article continues below advertisement
Watch the video right here on RadarOnline
Another famous feud that involved Frankel was her Scary Island brawl with former cast member Kelly Bensimon, who feared Frankel was going to kill her during the trip.
While her co-stars considered her paranoia to be a "mini-breakdown," Bensimon accused Frankel of bullying her.
"It's not easy to come back from crazy … that doesn't brand well," Bensimon told Cohen. "No one wanted to be near me. Everyone was like, 'What's wrong with Kelly?'"
Article continues below advertisement
But Frankel refused to take the blame for Bensimon's tarnished reputation, explaining that the model was "not built for reality television."
"She's extremely fragile and extremely sensitive, maybe she perceives it as bullying," Frankel explained. "Kelly couldn't take the heat in the kitchen and she wants to say we ruined her.
"Her not being true to who she is ruined her reputation."
Watch the video right here on RadarOnline
Also on the episode, Drescher admitted to staging the leg toss that has been considered the most infamous moment in the show's history.
"I didn't want to say it before, but yes I did," Drescher came clean of throwing her prosthetic leg at Heather Thomson, which she explained was contrived after she feuded with her co-stars for skipping their trip to Montana. "I kind of just said to a producer, 'I don't know what's going to happen tonight, but I might get really fired up that I may do this.'"
Drescher stood by her scripted leg toss, explaining that she "made great TV."
She quipped, "Someone had to put their foot down!"