'Nobody Trashed Howard': Artie Lange Clarifies Stern Comments On Radio Icon Following Shocking Podcast –– Plus, Which Show Member Would 'Stuttering' John Love To Fight?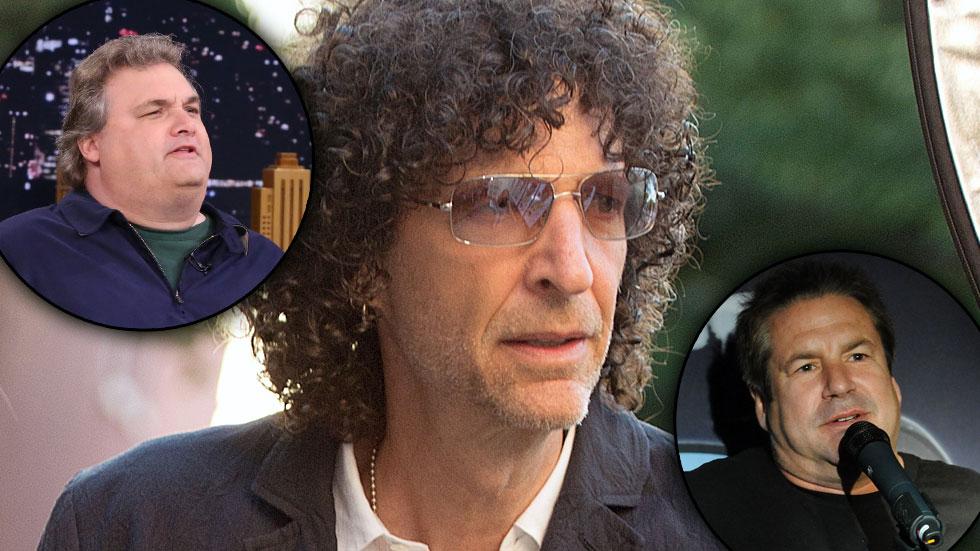 Artie Lange Wednesday stressed that "nobody trashed" Howard Stern during his revealing podcast with "Stuttering" John Melendez, and that the topic was only raised due to demand from his listeners, who "deserve honesty."
As RadarOnline.com previously reported, Lange and Melendez, both former Stern Show stars who have not returned as guests since leaving the show in 2009 and 2004, respectively, raised eyebrows with a chat Tuesday in which they addressed a recent NY Post article that cited efficiency expert Marci Turk as the catalyst in the King Of All Media's transition from bad boy shock jock to family-friendly TV star.
Article continues below advertisement
The Too Fat To Fish author conceded that his comments about Jennifer Aniston's husband Justin Theroux, who Stern has formed a fast friendship with, were "crazy rude."
Lange -- who called Theroux a "f**king pathetic pretty boy a** wipe" and "the type of actor you would like to punch in the face" -- said he didn't intend for it to be mean-spirited, just a funny celebrity jab consistent with his act.
"You guys know me -- it's what I do -- it's a comedy show," Lange said.
Article continues below advertisement
Lange said that "the Stern Show was best time of my life that I screwed up," and that he's sad he's not friends with the cast anymore, but he's "moved on & am happy."
While Lange made clear has no animosity toward his former employer or co workers, Melendez said during the podcast there's one Stern Show regular he remains upset with: Stern's personal stylist, and Sirius radio personality, Ralph Cirella.
Article continues below advertisement
"There's one person who I would love to fight, and I would do it with one arm tied behind my back," Melendez said, identifying Cirella as the target of his anger.
Cirella "is the biggest two faced piece of sh*t in the world," Melendez said, noting how the controversial fashion maven bashed him on the air "nonstop" after he left to work on The Tonight Show in 2004.
Lange told Melendez not to take it personally, as it was just part-and-parcel for the shark tank environment of the show.
"He knew Howard hated you and he knew that was his way of getting on the air, feeding into that -- he didn't have any ability to do anything else," Lange said, adding that "if somebody didn't have the ability to be funny, the only way they could get on air is snitching on people."
Artie Lange's Uncensored Podcast is available at artiequitter.com.