Another Cheater! Tori Spelling Confronts Dean McDermott About Ashley Madison Scandal -- Did He Have An Account Too?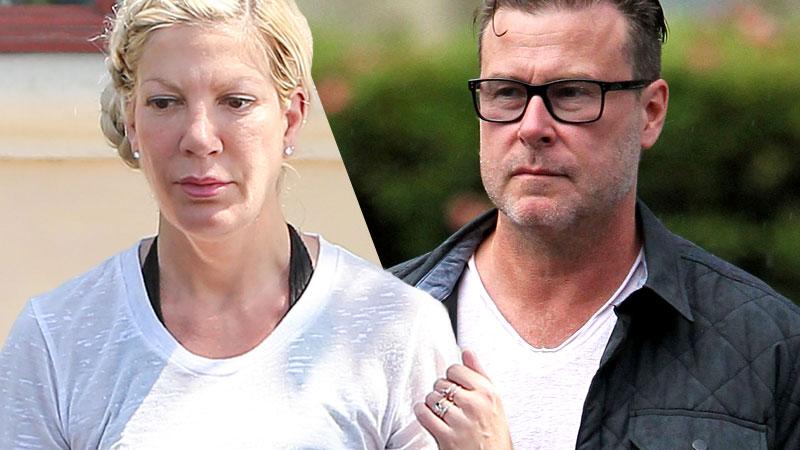 As the list of celebrities caught up in the Ashley Madison hacking scandal continues to go, RadarOnline.com has learned that the reports are putting new pressure on Tori Spelling and Dean McDermott's fragile relationship. According to an insider, Spelling confronted McDermott about her suspicions that he had an account -- even though she has no proof!
The source said, "As soon as it became news that the Ashley Madison website had been hacked, and that users' names were being released, Tori got into a vicious fight with Dean. Convinced Dean had an account on the site, Tori began poring over previous credit card statements looking for proof."
Article continues below advertisement
She found none, and RadarOnline.com has confirmed that none of McDermott's known email accounts can be found in the data dump, released Monday. But the source said Spelling wouldn't drop it.
"Dean handed over his laptop computer for Tori to look over," the source said.
After he admitted to cheating on her with Toronto brunette Emily Goodhand in 2013, "He understood why Tori was questioning him," the source said. "But after six hours, they were still fighting about it! Dean has had enough of Tori's doubts and questions, and has declared there was never any involvement with the website."
As RadarOnline.com has reported, their marriage continues to show signs of trouble as the couple has tried to move on from Dean's affair.
Recently, they moved into a smaller house, and to save money, they rented a U-Haul trailer instead of hiring a luxe moving company.
"They are still living in a beautiful home," the source explained. "Just by Tori Spelling's and her father Aaron's standards, it's obviously far more limited than the past extravagant homes."
Article continues below advertisement
This isn't a permanent move, however. "They're renting," the source said. "Tori realizes that this isn't where they are going to settle forever. It's just where they are right now."
Financial struggles are continuing to be a tough obstacle for the couple to overcome as McDermott has been accused of not paying child support to ex-wife, Mary Jo Eustace.
"Dean hasn't been paying Mary Jo what he owes," an insider previously told RadarOnline.com of the father to Jack, 16. "She's really upset and wants him to pay up!"
Meanwhile, Spelling has "continued to question Dean, even though there has been no evidence that he has cheated on her recently. And Dean has had enough of all the doubts."